Rabek leads the way with 10 as Tatran starts the season with a win
28.01.2023.

•

SEHA - Gazprom League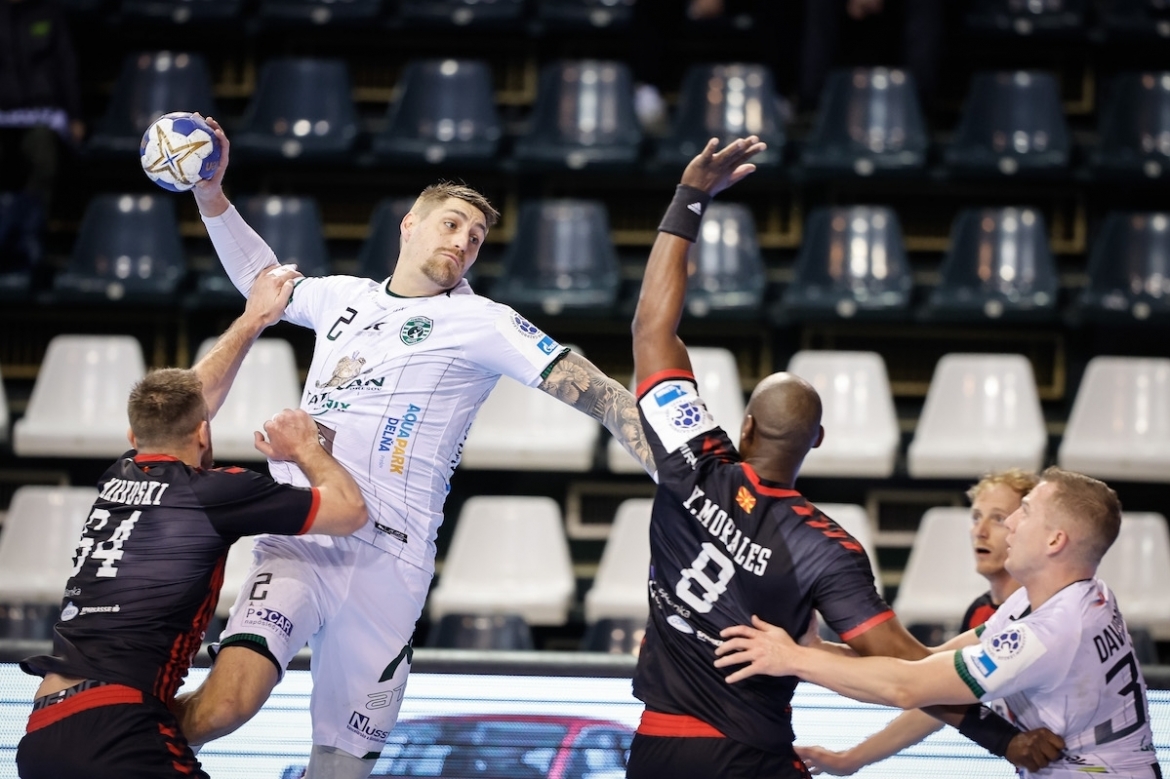 Tatran Presov managed to start the new SEHA – Gazprom League season in the best possible way – with a 27:23 win over favored Vardar 1961. Incredible Oliver Rabek once again led the Slovak team offensively finishing the game with 10 goals!
Guests managed to start the match in a better way opening the gap to three goals in their favor by the middle of the first. Their defense was working incredibly well in those first 15 minutes of the game allowing hosts only four goals. Tatran's coach Marek Gernat however managed to help his team find a way to open up the defense later on with the home team scoring 10 goals in the second part of the first half widening the gap to three goals in their favor by the end of the first (14:11)! Oliver Rabek and Lukas Urban played a big role for their team offensively while Filip Taleski, on the other side, dictated the offensive tempo for the 'Red&Blacks'.
In the beginning of the second half, hosts were successfully pushing Vardar 1961 away with Macedonians doing everything to narrow the gap and get back into this one. After being even five goals behind (21:16) in one point, Macedonians managed to find a way to tighten up their defense and close the gap to only -1 (22:21) with a 1:5 scoring series about seven minutes before the final whistle staying that close all the way until a minute and a half before the final buzzer when Lopez, Rabek and Urban sealed the deal for their team in this one. In the end 27:23 for Tatran Presov. Oliver Rabek led then with 10, Lukas Urban added five. On the other side, eight goals for Filip Taleski, four for Goce Georgievski and Martin Karapalevski.
In the next round of SEHA – Gazprom League's 12th season, Vardar 1961 will in three days try to secure the first win of the season at home against Partizan, and then they will 10 days later have a chance to take revenge for today's loss welcoming Tatran Presov on February 10.

Vlado Nedanovski, Vardar 1961 coach:
Well-deserved win for Tatran here today and I have to congratulate them on that. A lot of our players have only recently returned from the WCh. In addition to that, I have to be honest and say Tatran's defense 5-1 defense surprised us today. When you add incredible Chupryna into the equation and his 15 saves, that's basically it. Good thing is that this was only the first match of the season and we know we'll get better as the days and weeks go by. We have to focus both on attack and defense and do it quickly with the new SEHA encounter approaching rapidly.
Stojanche Stoilov, Vardar 1961 player:
We are basically still in the preparation period with many players returning from the national team duties. Our team is completely different from the last season and we have to be honest and say we didn't perform well tonight. Chupryna was outstanding between the posts but honestly we're not looking the way a team is supposed to look in the second part of the season. We'll surely learn from this. Tatran simply wanted it more today and we have to congratulate them on a well-deserved win.
Marek Gernat, Tatran Presov coach:
We did not start the game well but the things started turning into our favour once we decided to change our defense to 5-1 with Lukas Urban in front. From that moment on we looked like a completely different team and I am sorry we committed some turnovers which caused us not to seal the deal earlier in this one. I have to congratulate my guys on a good defensive performance today. I feel like they managed to raised their confidence levels with this win although I'm sure the match in Skopje will be completely different.
Marko Davidovic, Tatran Presov player:
It was a very good game for us and an important win for our self-confidence. We played as a team today with Rabek and Chupryna showcasing their quality and being the key players for us in this one.