Final 4 Meshkov through to semi-final against Vardar after a win over NEXE
25.03.2015.

•

SEHA GAZPROM LEAGUE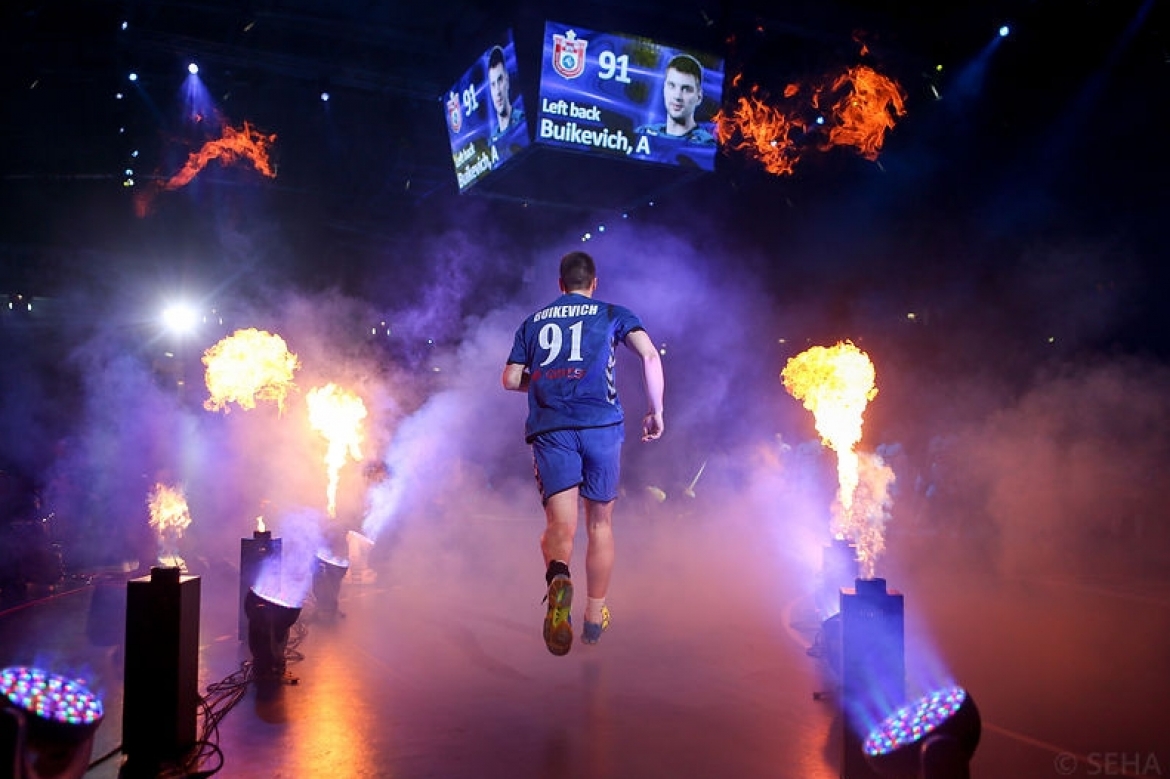 Teams placed third and sixth after the regular part of SEHA Gazprom League's fourth season - Meshkov and NEXE have with their encounter opened League's Final tournament in Veszprem. In front of a bit more than 1,500 spectators in Veszprem Arena Meshkov have managed to reach 28:24 win which puts them through to F4 semi-final where they will on Friday (17.45 CET) play Vardar.
Croatian vice-champions have opened the match better than favorized hosts soonly enlarging the goal gap to +3. NEXE's defence was working amazing in opening minutes allowing their winger Nuić to score a few easy goals. Belarus champions have however woken a bit with Karačić' entrance mainly in defence, Charapenka had a few important saves and the result of all that was a draw after first 30 minutes at 11:11.
In the second half Meshkov's experience and wider bench have become visible with Babić' players slowly enlarging the goal gap. Kamyshyk was remarkable in second half, enigma for NEXE's defence whose pace has slowed down a bit scoring 8 goals. Back line with him, Božović and Nikulenkau was key for Meshkov's victory today along with good defence. Despite od the loss it would be unfair to say that NEXE have played badly. They have done everything they could today showing that with a little more matches 'in their feet' they might become an opponent able to surprise each favorite. Potential is unquestionable.
Upper mentioned Kamyshyk was Meshkov's best scorer today 8 goals and Nuić scored 7 for the team from Našice.
To repeat, Meshkov will on Friday (17.45 CET) in SEHA Gazprom League's F4 semi-final play Vardar.
ŽELJKO BABIĆ, Meshkov's coach:
Really tough match because we've known that if we lose we're going home. It is obvious that I did not prepare my team very well which was visible in the first half but in the second we've started playing better mainly in defence providing us with the opportunity to enlarge the goal gap. NEXE have played good today, I wish them luck in domestic championship. Considering us I can promise we'll play better against Vardar.
ZDENKO KORDI, NEXE's coach:
I'd like to congratulate SEHA League on fourth successful season, best so far without doubt for me considering all aspects. We're participants from the first season and I believe as League rises its clubs are also gathering much from it. I'd also like to use this opportunity to thank Veszprem and SEHA for this tournament and wish everyone luck and of course some good handball in following days. Unfortunatelly we're going home. Our goal was to play a good game and I believe we've showed what's necessary to play good handball. However, sometimes it is not all about how you play, it also about how your opponent plays. This was a battle of tough defences and their good defence in second was key for the win. Well deserved win for Meshkov in the end.
IVAN PEŠIĆ, Meshkov's goalkeeper:
We did not play a good game, we have some players with flu and that was probably the reason. However it is sure we mustn't play like this against Vardar in two days. Against Vardar we've already played two matches, we know them, how they play but we have to play very good, I can even say above our possibilities in order to reach a victory.
TOMISLAV NUIĆ, NEXE's player:
It was a big thing for us as a team to be a part of such an event, tournament. Speaking of the match, we've showed good handball in the first half but our mistakes have allowed them to come back. Meshkov are clearly an experienced team which knows how to use each opponent's mistakes. I wish them luck in the tournament.