7m | Dominik Kuzmanovic: ''I always set the highest possible goals for myself!''
20.02.2023.

•

SEHA - Gazprom League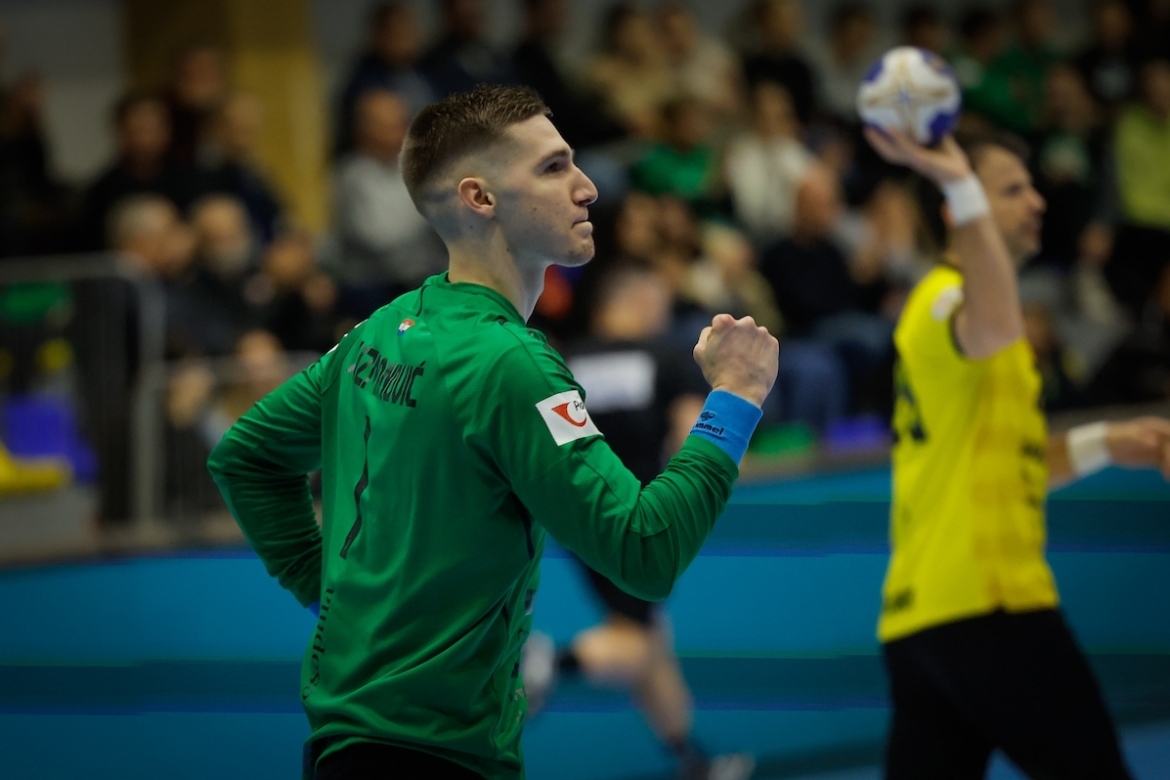 Three years ago Dominik Kuzmanovic signed a contract with Nexe joining the team back at the beginning of the 2021/2022 season, right after he graduated from high school. Due to his numerous quality outings in the Croatian championship as well as SEHA – Gazprom League and the EHF European League, it didn't take long for Dominik to become the first-choice goalkeeper for the team from Nasice. Good performances also helped him secure a spot in the Croatian national team for the 2023 WCh in Poland and Sweden.

You started with a handball at the age of five, although handball was not your initial first-choice sport.
I used to train taekwondo prior to handball. My uncle Mici has managed to win medals in both World and European Championships. That, however, lasted for only a few months. Later on, my brother Matej started with handball and I decided to follow. I trained with older boys in the beginning, in a really good generation that has managed to win the Croatian mini handball championship twice.

Dominik was born in Brckovljani, near Dugo Selo – the same as his teammate Tomislav Severec. Dorian Markusic is, on the other side, from Dugo Selo.
Severec is older than me but we've both started in Polet Stancic, under the same coach. At the age of 12, I joined Dugo Selo having my debut with the senior team only a year later.

Did you jump in between the posts at the very beginning?
No, I was actually a winger at the beginning as I was the shortest guy on the team. At one training session, we did not have a goalkeeper and that's how it all started.

Even after signing the contract with Nexe, your decision was to stay in Dugo Selo, until you graduate from high school. However, Nexe's goalkeeper Ninoslav Pavelic often visited you.
That was during the Covid-19 situation. Sports halls were closed and we were forced to train outside where we were able to do a normal training session and work on goalkeeping basics. Rain was, of course, a big issue as well as the fact I could not really afford to fall down all the time.

You are somewhat of an expert when it comes to seven meter shots. Do you feel that way? Are you doing anything special in order to prepare for that?
I don't feel that way. Sometimes I feel like I can save them all and sometimes I feel like I'm not even close. Of course, you are preparing but it's all a matter of how you feel that day. The best way to prepare and get better at saving seven meter attempts is to actually work with a great shooter and I'm doing that with Fahrudin Melic who is one of the best I've ever seen when it comes to that aspect of the game.

In only one season you've managed to secure the EHF European League Final 4 tournament in Lisbon and become a member of the Croatian national team. How are you dealing with the pressure of playing for the national team?
Well, the pressure is definitely there with everyone following our matches during the tournament. Playing for the club, you're being followed by your friends and family, club supporters, and maybe some other handball fans. Playing for Croatia you're basically being followed by all the Croatian handball fans. The pressure was definitely there. I feel like I was able to deal with it well to a certain extent although I was definitely not in my comfort zone.

You are currently in the middle of a really intense season competing in multiple competitions. What are your goals for the season?
The main goal is to go match by match. We'd like to with a trophy in Croatia, and we are also aiming for the EHF European League Final 4 tournament. We'd like to go there again. It is important to deliver good outings week in – week out in order to make it easier for ourselves going forward.

Dealing with such a schedule, how often do you get to go home? What do you and your teammates do when you don't have training or a match?
There won't be many chances to go home in these next few months. Here in Nasice, I like to watch a movie, some TV series, and play video games. My favourite is Call of Duty and I like to play it together with my teammates Tomislav Severec and Mario Tomic. Our fourth guy is Luka Rakovic – a former PPD Zagreb player.

Do you like any other sports except for handball of course?
I like the English Premier League. My favorite team is Chelsea. I don't often get to watch NBA and NFL because the games are often played late at night in our time zone. I prefer the Golden State Warriors, and I have to say I'm really happy with the Kansas City Chiefs winning the Superbowl this year.

What about handball? Are there any other teams you like apart from Nexe?
I prefer Kiel because of our national team captain Domagoj Duvnjak and Niklas Landin who is, in my opinion, the best goalkeeper in the world. I like them but I don't have a preference when it comes to where I'd like to play one day.

What are the goals you've set for yourself in handball?
The highest possible! I'd like to win a trophy with Nexe, win the Champions League, and win medals with Croatia. We'll see what the future holds.