7m | Halil Jaganjac: 'I dream of playing with Duvnjak and winning a medal with Croatia!'
18.01.2022.

•

SEHA - Gazprom League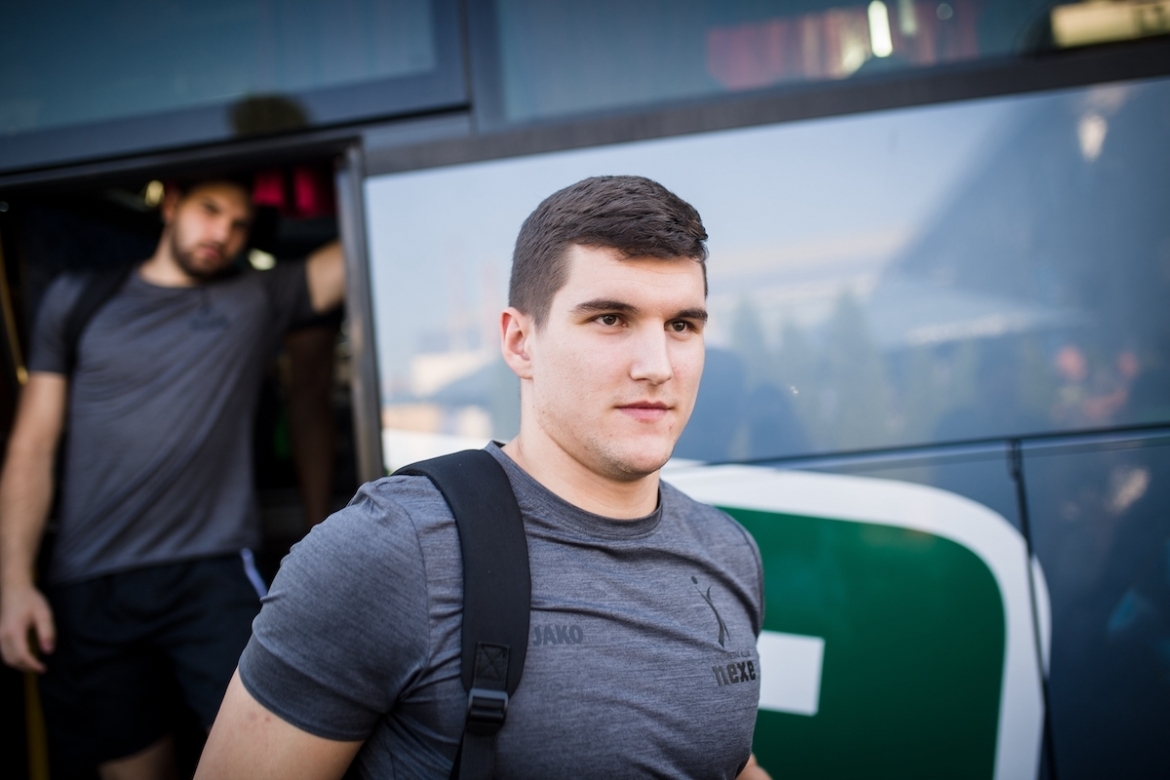 Halil Jaganjac – one of Europe's shiniest rising stars, has already proved his worth on SEHA – Gazprom League courts. He has arrived to SEHA at only 19 years of age coming to Metalurg from French PSG. In 2018 he surprisingly went to Croatian vice-champions Nexe Nasice and in the summer of 2022 he will join German Rhein Neckar Löwen.

Do you remember your first SEHA – Gazprom League match?
I sure do. It was against Vardar and their European champion squad back at the time. I remember my first goal. I feel like SEHA – Gazprom League has really helped me grow and become the player I am today, especially in these almost four years in Nexe. I feel like this League is ideal for younger players and I would always recommend it.

Last two years have been quite different than anything we've ever faced as a society. How hard has it been for athletes?
It definitely wasn't easy, but you have to find a way to not think about that since it sometimes feels like you have a heavy burden on your shoulders. That's simply something you can't do anything about – one day the entire team receives 'negative' tests and the other day you already have five cases of Covid-19 in the team. We're being tested so many times, you can only imagine how many times I've had that stick in my nose.

Can you compare working with Hrvoje Horvat and Branko Tamse?
I can say I've learned a lot from both of them. It wasn't hard for me to adapt to what we're doing in the national team because I've already had the opportunity to work with Horvat who I believe is a really good coach. He always explains every player exactly what he wants them to do. With Branko Tamse we're grown even more and I feel like we're playing really good handball with him.

Can you describe one day in Nasice?
A lot depends on whether it is a match day or not. I train a lot in order to be able to last in handball for as long as possible. That way I'm also protecting myself from injuries. On a normal day in Nasice I try to get up early, although I am not really a morning person. After breakfast we have either fitness training or strength. Once that's over I have lunch and take a shorter break from all the activities. Before the evening practice, I like to take a walk with my girlfriend. She's with me in Nasice and we like to walk at the park, near the lake or visit some interesting places in Slavonia. In the evening, after the training CWI, TV and then I go to bed.

How did you meet your girlfriend?
We went to High school together. We actually started going out in the third grade. Before that we were just friends.

From next summer you will, instead of walking through Nasice, walk near the river Rhine in Mannheim. Interestingly, you signed a contract with Kielce prior to agreeing on everything with Löwen?
It is a bit unusual to sign a four-year contract with a certain team and then go to a three-year long loan to another club. I explored all my options and concluded that Rhein Neckar Löwen is the best one for me at the moment. They will have a new coach who wants me to be one of the main players. In Kielce they are working on widening their rotation and since I want to play as much as possible, I decided to go to Löwen first. Bundesliga will be a huge challenge for me.

Are you learning German already?
I went to High school in Opatija and I had a really good language program. I took German classes back then already. Interestingly, my girlfriend actually knows the German way better than I do. While I was arranging everything with Löwen I talked to them in German. They were a bit surprised that I know how to speak German already, but I want to be even better which is why I've installed a great app on my phone which helps you learn foreign languages.

You like to take walks with your girlfriend, you are learning different languages, training a lot. Do you have any other hobbies?
I like sports in general, especially basketball and the NBA. My favorite team is Toronto Raptors. I like the fact that they are the only team in NBA from Canada. I like to watch their games or play with them on PlayStation. Sometimes I also like to go to the basketball court and shoot. Apart from that I am a big fan of Croatian sport in general and I'm doing my best to follow all of our teams all the time.

And who do you think wins Croatian football league then?
That's the most difficult question at the moment. We have four really good teams battling at the moment. Of course, since I am from Viskovo which is very close to Rijeka, I'd like to see Rijeka go all the way but we'll see.

What are the things you wanted to accomplish in handball back when you were only starting to play on a serious level?
I am happy to say I've already managed to fulfill some of my dreams. I started playing because of that amazing Croatian national team generation which featured Balic, Lackovic, Metlicic, Dzomba and many others. Ivano Balic is now one of our coaches in the national team. One of the best players of all time is throwing me handballs on a daily basis. That's simply amazing. I also dream of playing in the same team with Domagoj Duvnjak. Make a play action with him and score, win medals for Croatia.