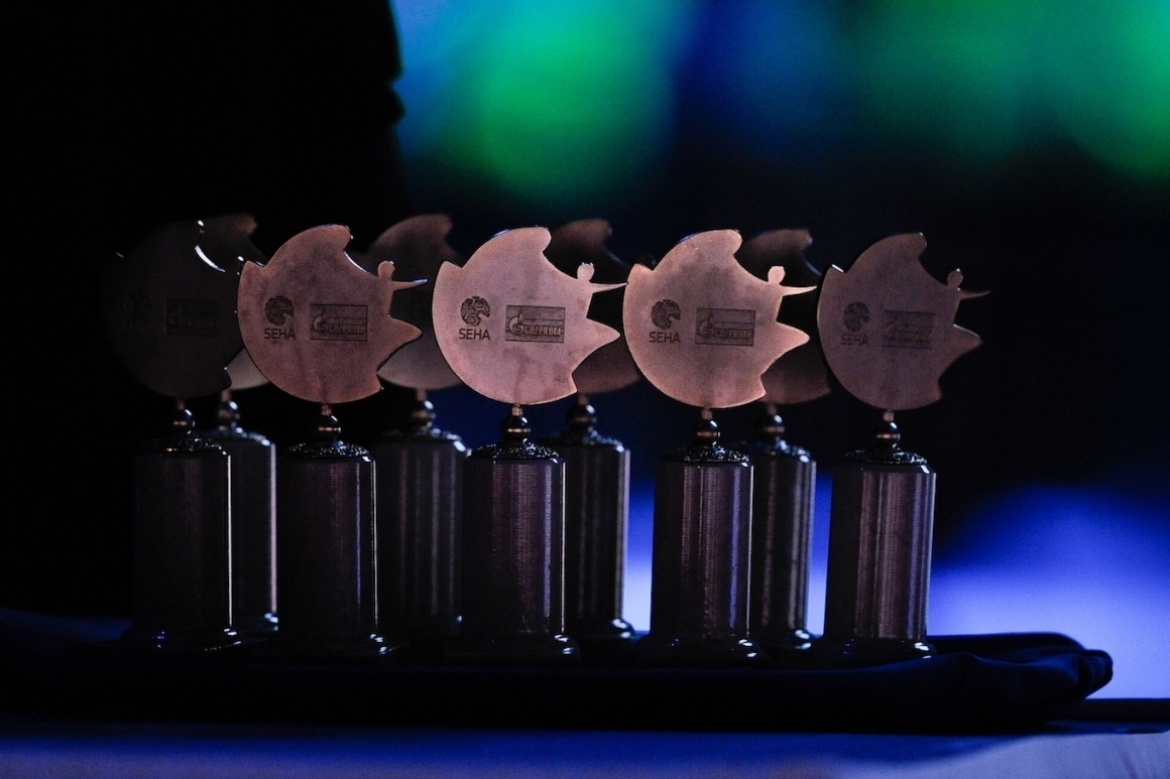 An eventful month is behind SEHA stars. Some of them showed outstanding skills on the court that made them stand out among other names. So, it's time to meet the Best 7 of October!

Goalkeeper: Nikolce Mitrevski (Eurofarm Rabotnik)
After an excellent start of the season, Nikolce Mitrevski continued his excellent form. Sensational, almost miraculous against Veszprem. He recorded 12 saves and added 14 more in tough matches against Meshkov Brest and PPD Zagreb. For the second month in a row he earned the title of the best goalkeeper.
Left winger: Manuel Strlek (Telekom Veszprem)
Unstoppable left winger Manuel Strlek is still flying on the court in both ways. He carried Veszprem to the victory against Meshkov with a 100% efficiency and 8 goals.
Left back: Borivoje Djukic (Metaloplastika)
At the position of left back, young Borivoje Djukic is unstoppable. His performance on the home court against Meshkov Brest was unbelievable. This handball wizard scored 15 goals out of 17 attempts. There is no doubt that if he continues like this, Djukic has a bright future.
Centre back: Barys Pukhouski (Motor Zaporozhye)
According to many, for surprising results of Ukrainian champions in SEHA – Gazprom League, lots of credit goes to Barys Pukhouski. This leader on the court had 7 goals in Motor's win against Nexe. His performances as a playmaker were even better, and earned him a spot in the ideal lineup of October.
Right back: Mikita Vailupau (Meshkov Brest)
Record breaking month is behind Mikita Vailupau. In total, this young Belarusian player found the net incredible 38 times in only 3 matches. With 20 goals against Metaloplastika, he set a new record in SEHA – Gazprom League, but did not stop there. He added 12 goals in Veszprem, against Hungarian champions. Dream month was finished with 6 goals against Eurofarm. He is deservedly the best right back.
Right wing: Dmitrii Kovalev (Spartak)
In the first win for Russian Spartak in SEHA – Gazprom League, Dmitrii Kovalev was especially good. He was fantastic in the battle against Metaloplastika, with 9 goals from 10 attempts. Even though he is one of the most experienced players, the burden on the back of this right winger cannot be felt.
Pivot: Zivan Pesic (Nexe)
Serbian international in Nexe's lineup takes the breath away with his play on the line in offense and defence. Despite the loss against Motor, it's impossible not to notice his 7 goals. In the match versus Vojvodina, Zivan Pesic netted 5 more times and made a big contribution to the home win of his team.
Coach: Hrvoje Horvat (Nexe)
After a difficult start to the season for the Croatian vice champions, coach Hrvoje Horvat linked the pieces of his team. In October, Nexe recorded a big win against Vojvodina, and a narrow loss versus Motor. Considering the absence of some key players, it is clear that Hrvoje Horvat does an excellent job.