7m - Halil Jaganjac: "I enjoy Nasice more than Paris!"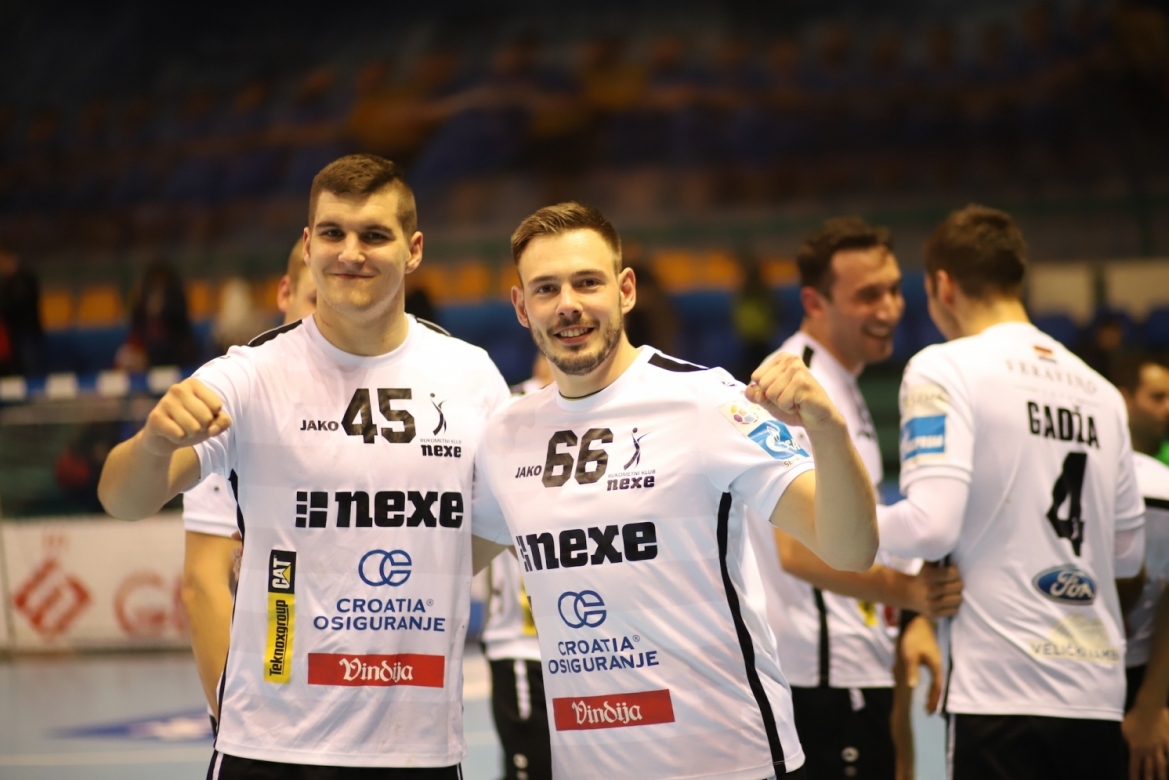 Halil Jaganjac shook SEHA world about two months ago when he decided to leave Skopje and Metalurg signing with Croatian vice-champions NEXE Nasice. 20-year old left back already proved he'll be a big reinforcement for the team from Nasice on their march towards final tournament appearance.
How and when did you get into handball?
It was right before the 2009 WCh Croatia hosted. Everyone was talking about handball, new sports halls were built and so on. I lived in Viskovo back then and people from handball club Matulji near Rijeka came to my school once day and I decided to try it. First it was mini-handball and soon I was all about handball.
Did someone in your family play handball as well?
Not really but we are a sports family so I guess I have those sports genes. My father was a shot put athlete and one of my uncles used to play football in French second division. Both of my older brothers used to play football as well and my oldest brother, who is probably most responsible for the fact that I like sports that much also used to train boxing and was a member of a bobsled team.
After Matulji you joined Kozala.
Yes I did, mainly because one of my first coaches Alen Tomas also joined Kozala at that time. We've had a very talented generation and we even won Croatian youth championship defeating Zagreb in the final.
And then, at only 18 year of age, you received a call from famous PSG.
It was a once-in-a-lifetime opportunity. It wasn't easy for me to leave home and start living in such a big city. I quickly learned what professionalism means really. However, it was a great experience to learn and train in such a good system French teams have. Younger players work on their defense a lot and then there are a lot of individual training sessions after which they create a team.
After a year in Paris you received a call from Lino Cervar who was also in charge of Metalurg at the moment.
It all started with a control training for the national team in which Lino Cervar wanted to test some of the players who weren't on the national team roster at the moment. I did really good at those trials and as a result coach Cervar proposed for me to come with him to Skopje and join Metalurg.
Playing for Metalurg you got to experience SEHA - Gazprom League for the first time.
SEHA League is excellent for younger players, especially when you mix it with Champions League. It is a really perfect opportunity for development. I was also honored to work with coach Cervar because he and his players back in 2009 inspired me to start with handball at first place.
About two months ago you shook everyone, including yourself, when you signed with NEXE.
Well it definitely was a surprise but a lot of circumstances led me towards than decision. First of all – Metalurg are dealing with some problems. By that, as I said, I left home at a very young age so I saw this as an opportunity to get closer to my family. After I spoke with NEXE's president Josip Ergovic I had no doubts anymore really. I believe NEXE are writing a good sports story and I like it when clubs which as not as powerful and don't have huge budgets defeat favored, stronger clubs. That's why I believe this was a great opportunity for me.
Two months later, do you still feel like your decision to join NEXE was a good one?
I enjoy Nasice more than Paris honestly! I believe that answers your question. I come from a smaller place which is why I like living in Nasice. I believe living in smaller towns has a lot of advantages because every time you feel like going out for a walk or for some coffee etc. there is always at least two or three teammates you can go out with and I really believe that's good for team chemistry.
What are your main goals in NEXE?
This season we really have a chance to rewrite NEXE's history books. After the first part of the season we're sitting at the top of the table and our goal is to book a final tournament place. We also have ambitions in EHF Cup where we'll play in a group with German Hannover, Hungarian Tatabanya and Macedonian Rabotnik. We're doing really good so far so a lot of people expect us to go through and we expect that from ourselves as well but it won't be easy.
Before preparations for WCh in Germany and Denmark you have a tough SEHA December ahead with four matches in only 15 days and first you're travelling to Varazdin to play Zagreb and your former coach from Metalurg Lino Cervar.
I'm sure that will be a real derby. NEXE have managed to defeat Zagreb in a season opener in Nasice which is why I believe Zagreb will look to get revenge. Prior to WCh preparations we'll also face-off against Metalurg in what will be a really emotional match for me as well.
What interests Halil Jaganjac apart from handball?
Well I have to say I think about handball 24 hours a day often delaying some side plans in favor of handball. For example, one day I'd like to go to the University but that's not possible at the moment. I use my free-time to relax after training sessions and trips. I also enjoy watching handball and football matches with my teammates, I have a girlfriend and she's studying economy in Rijeka so yeah, I have a life outside of handball but handball is what I'm really focused on at the moment.