NEXE eager to prolong their best SEHA season start so far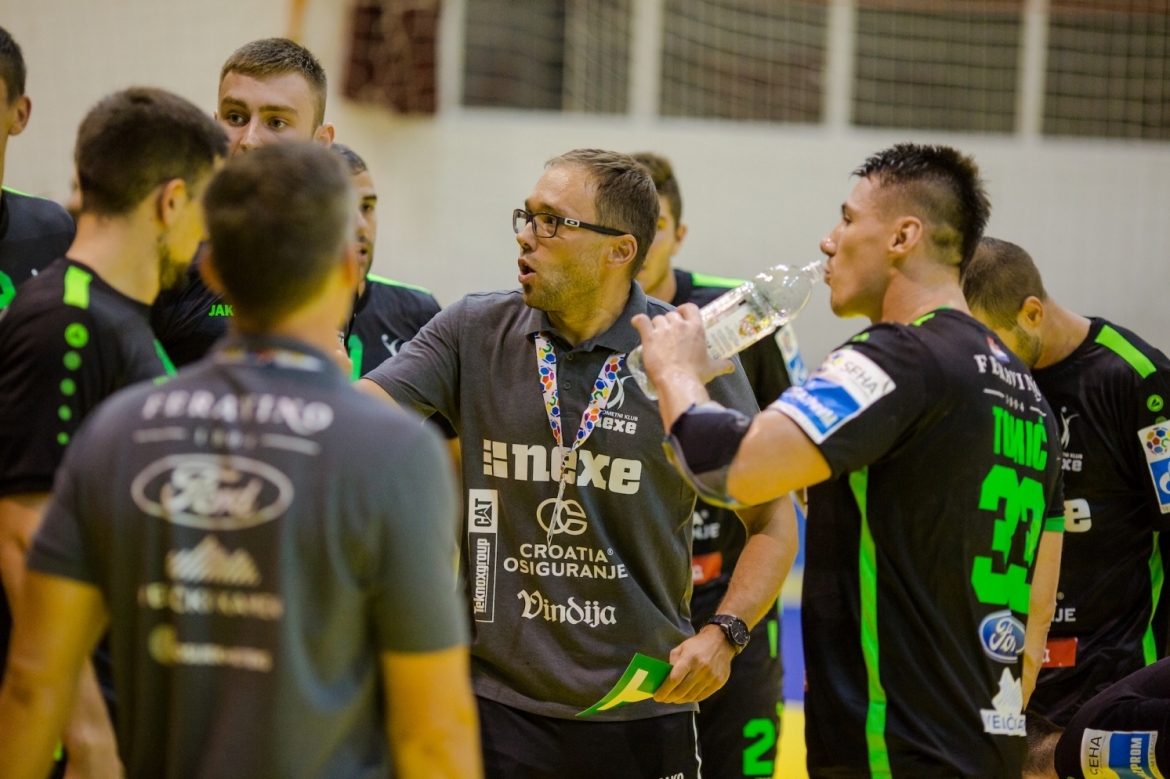 In the fourth round of SEHA - Gazprom League's eighth season NEXE will on Wednesday (19.00 CET) in Nasice welcome Zeleznicar Nis in a duel between teams which have had quite different starts of the season. Croatian vice-champions so far have three victories – at home against PPD Zagreb and on road versus both Metalurg and Izvidjac. Zeleznicar on the other hand didn't manage to catch a single SEHA point so far which is why NEXE's coach Hrvoje Horvat and his players believe they have a good shot at prolonging their hot streak at the beginning of the season. And while Zeleznicar haven't played the team from Nasice yet, we can't really say the same thing about their coach Veselin Vujovic too because he surely knows what NEXE are capable of having played them a lot throughout the last few years coaching PPD Zagreb as well as Slovenian side Koper who have also played Slavonian 'Thunder' last season as a part of EHF Cup.
Hrvoje Horvat, NEXE coach:
We currently have a good position on League's table and on Wednesday we'll play for three new points. We know it won't be easy with the team from Nis starting a whole new handball story this season so we'll have to prepare thoroughly for their aggressive style and high tempo. They also have coach Vujovic on their bench who is always a crowd magnet which is just an additional reason why I expect a lot of fans to come and support us on Wednesday evening. All our players are ready to play except for Jelinic who is still recovering from an injury.
Patrik Leban, NEXE player:
We've started the season off in a great way, have really good atmosphere in the team and I hope we'll get the job done on Wednesday as well. Zeleznicar are a good team and we'll have to play our best in order to keep all three points in Nasice.
Veselin Vujovic, Zeleznicar 1949 coach:
The atmosphere in the sport is created by results. Currently, we don't have good results, so the atmosphere is not at the top level. But, we are working very hard, the guys are disciplined and we will try to play better. Nexe have a great team, they started perfectly, they have the same number of wins as Vardar and Meshkov Brest after three rounds. I know them very well, this will be my fourth visit to Nasice with different teams. I was there as coach of Vardar, Zagreb, Koper, and now with Zeleznicar which is very interesting. They have a great team, a good, young coach Horvat, who created the European style of handball. Players I know well from the Slovenian national team are Barisic Jaman and Leban. They have, I think, the best pair of line players in this part of Europe, Tomic and Sipic, so they are certainly favorites in this match.
Predrag Vejin, Zeleznicar 1949 player:
We need to reduce the number of technical errors and we can generally play much better. On Wednesday, we are facing a great challenge in Nasice. We train well, we are on the right way. We are correcting the mistakes, getting better every day and I think we have our chance there. I know Nexe have always had a great team and currently, they have great players. They will, for sure, aim to win after a great start of the season, but in matches like these, we have to prove that we are a proper team.