7m - Horvat: "Every match is a chance to learn something"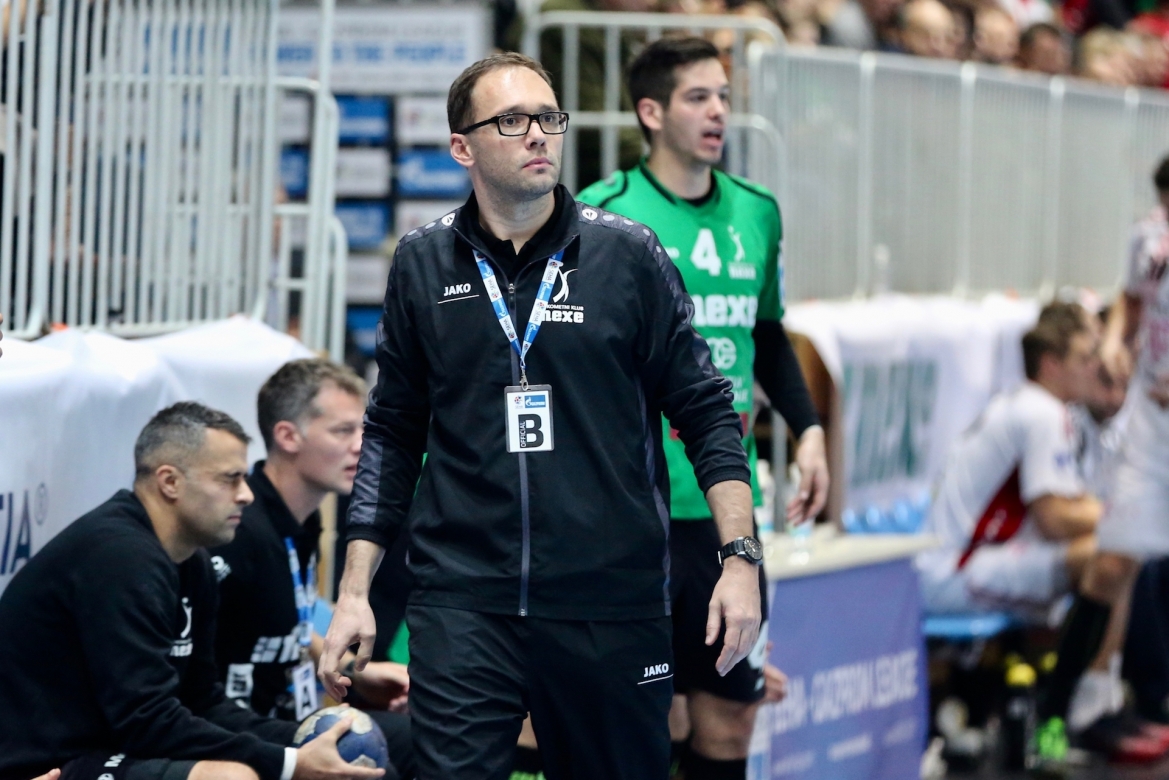 Coach of Croatian vice-champions NEXE Nasice, Hrvoje Horvat is SEHA - Gazprom League's youngest coach this season. During his playing career he played for Bjelovar, Zagreb, Medvescak, Kronau (Germany), Stansu (Switzerland) and Dubrava where he later started his coaching career. He arrived to Nasice prior to this season after gathering some additional experience coaching Croatian youth national teams. During EURO 2018 he even assisted Croatian head-coach Lino Cervar.
You were born in Bjelovar back in 1977. Your father, Hrvoje Horvat, is a handball legend and an Olympic champion. Was handball an easy decision for you?I remember all my friends played handball back when I was a kid. Some of them tried it only for a month or so and others ended up turning it into a career. Of course I can say I have handball and sports in general in my genes. My younger sister also played handball before deciding to go to a university and my older sister was into swimming. She married another handball legend Iztok Puc who tragically passed away back in 2011.
You also found yourself at a turning point in one moment when you had to decide whether you'll go to a university on proceed with your handball career. It's interesting you graduated from Faculty of Kinesiology. NEXE is known as an 'Academy Club' with lots of players who are currently playing here and former ones also graduating from college.After I finished high school my parents told me I can continue with my handball career but under one condition and that it is to go to college as well and be a decent student. It was not easy to do both things in the same time but life is rarely easy. I see that as a reason why I maybe didn't have a better playing career but despite of it I believe all handball players must think about education. Diploma surely grants you something and I believe investing in knowledge and education can only turn out to be a good move.
Before coming to Nasice, the biggest problem for you was separation yourself from your family. You have a wife and two children - 7-year old daughter and 3-year old son.Of course I talked to my wife before coming to Nasice. However, people around me here in NEXE, our president, board members and assistants all have understanding for me so I use every chance I have to spend time with my family. I spend a lot of time in my car because of that but as I said earlier - things don't come easy in life.
Dou you even have any time for yourself here in Nasice? Do you have a hobby?My family is on top of my priorities by far. I like spending time here in Nasice. Slavonia is really beautiful and my wife and children like to come and visit me here. I have a few hobbies but I get to enjoy them mostly during the summer as I like fishing and diving. However, during the course of last few summers I was occupied with Croatian youth national teams and their competitions so I didn't really have much time for my hobbies.
If you were an English Premier League coach you would surely have a nickname 'The Cool One' because you are very calm and focused on the bench during the game.That's natural for me. People often tell me I have a personality like my father. I don't like all that jumping and yelling on the bench during the match. I believe you've got to prepare for what's waiting for you prior to the match and then you can make the right decisions only if you're calm and focused.
As a young coach do you have anyone you look up to?Well in my opinion in order to be the best coach you've got to be a good thief. You've got to steal the best from every coach and add something yours to that mix. I like how some coaches prepare their defensive schemes, transition, zone attacking but I believe the best idea is to mix those things up a bit as I said. Person I look up to in life, not only in handball, is my father. I talk to him a lot and he often advices me. Speaking of my coaching career, Lino Cervar helped me a lot and I had a great opportunity to learn a lot being his assistant on EURO 2018.
You must have the highest ambitions in NEXE as well as in your coaching career in general. What keeps you going?NEXE is a club with high ambitions. We have a lot of young players we're not able to keep here in Nasice throughout the full course of their careers. That's why my ambition is to help them become better so that they can one day say they learned something from me. I think SEHA Gazprom League is very good for NEXE, it's some kind of a show-window for all of our players and it's an excellent competition for the whole city and our fans. I also have the highest possible ambitions myself of course. I work on my skills a lot, invest in myself, try to use every opportunity to learn something new. Every match, every training session is an opportunity to learn something. Carpe diem. Seize the day. If you live by these rules you realize things don't come easy but everything is possible.