Final 4 MKB MVM Veszprem third SEHA Gazprom League's champion, MVP Chema
29.03.2015.

•

SEHA GAZPROM LEAGUE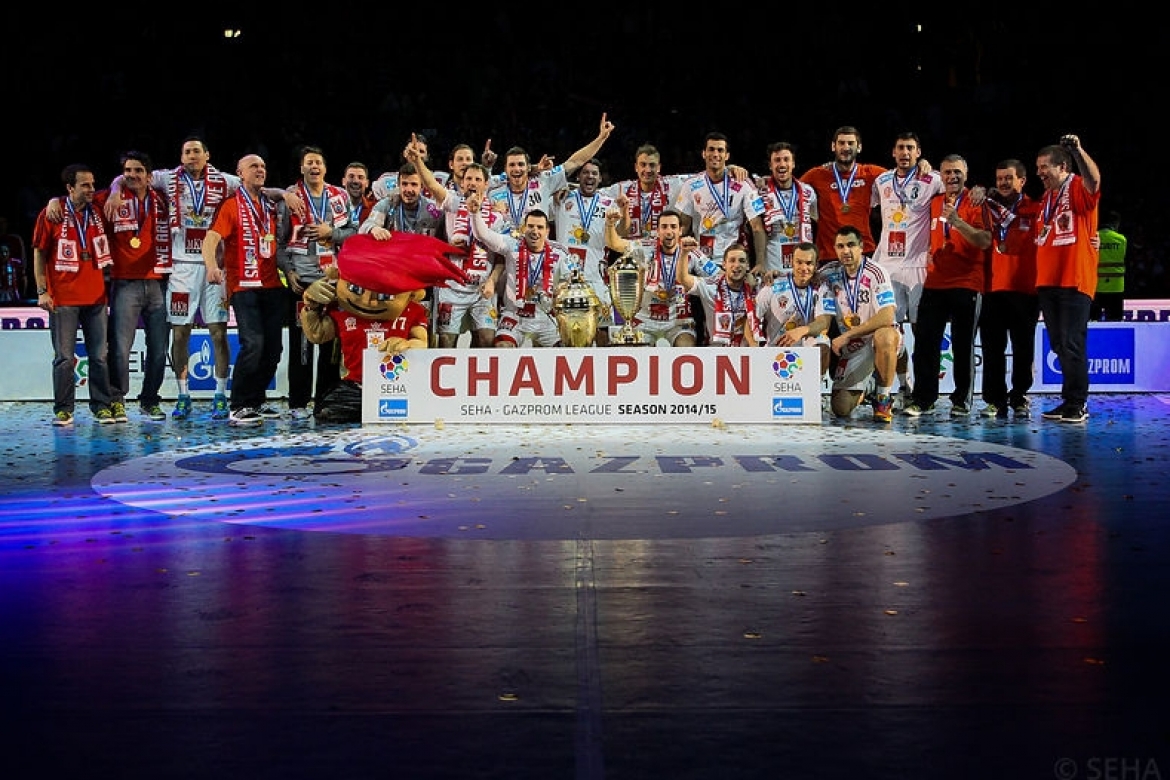 In SEHA Gazprom League's most important match of the season, Final Four final MKB MVM Veszprem have in fully crowded Veszprem Arena hosted Belarus champions Meshkov. In an amazingly loud atmosphere Meshkov were not able to become the first team which would this season beat Veszprem at their handball temple with Hungarians becoming third team to take SEHA Gazprom League's trophy in its fourth season. Final result was 32:21. Just to repeat, Veszprem have come to League's Final Four after dominating regular part of the season with 17 wins from 18 matches proving here in Hungary that they are currently best team in SEHA Gazprom League.
Hosts have opened the match better, furiously enlarging the goal gap to +3 in less than 10 minutes. However, it was not expected for match to be decided so early, especially considering Meshkov's current form and they were able to reduce the difference in the second part of first 30 minutes. In the end Veszprem have, unfortunatelly for Meshkov's fans, 'taken off' mostly due to their wingers Ugalde and Marguč who have in the first half only combined for remarkable 11 goals, more than whole Meshkov's roster! After the half-time whistle result was 14:9, big +5. It is also important to mention big goalkeeping battle in the first half with Pešić making 9 saves and his colleague from the other side Roland Mikler only 1 less!
In the second half spectators could see Hungarian rhapsody - Veszprem were playing amazing, tough in defence, remarkably fast in transition with loads of easy goals again for Marguč, Ugalde and Ruesga. Difference was slowly rising, until big +12 and in the end 32:21 (+11). Mikler was outstanding between bars with 13 saves, Marguč and Ugalde have in the end combined for 17 goals (Marguč 9, Ugalde 8). Speaking of Meshkov, Stojković was unstoppable with 8 goals, Nikulenkau added 5, Pešić was good with 12 saves.
After the match and winners ceremony opening made by all female group 'The Frajle' from Novi Sad, Serbia SEHA Gazprom League's PRESS team has announced Final tournament/F4' 'Best 7' and MVP. So here are the best:
Goalkeeper: Roland Mikler (MKB MVM Veszprem)
Left winger: Radoslav Antl (Tatran Prešov)
Right winger: Gašper Marguč (MKB MVM Veszprem)
Line player: Rastko Stojković (Meshkov Brest)
Left back: Sandro Obranović (PPD Zagreb)
Middle back: Dzmitry Nikulenkau (Meshkov Brest)
Right back: Laszlo Nagy (MKB MVM Veszprem)
Final tournament/Final Four MVP: Chema Rodriguez (MKB MVM Veszprem)
CARLOS ORTEGA, MKB MVM Veszprem's coach:
Meshkov have had a good season, I'd like to congratulate them on that. Our goalkeeper was great today, it is much easier to play when you have someone like that between bars. They've surprised me a bit in the beginning with 5-1 defence but luckily we've managed to adapt soonly and take victory today. We have only one day to celebrate with tough schedule ahead of us but od course we're happy with this win and SEHA trophy.
ŽELJKO BABIĆ, Meshkov's coach:
Meshkov have played a serious match, good game for about 20 minutes and after that we simply were not able to keep up with Veszprem's tempo. It is clear that in order to play such a quality team like Veszprem you have to have really strong, wide bench. I'd like to congratulate Veszprem, whole team and coach and I hope we'll watch them on CL's Final Four in Cologne.
MATE LEKAI, MKB MVM Veszprem's player:
I'd firstly like to congratulate Meshkov on a good game. It was obvious they've got tired later into the match and were not able to keep up with our tempo. We've achieved one of our goals, some are still ahead of us and our main goal of course is to finish each competition we're competing in with the final victory.
IVAN KARAČIĆ, Meshkov's player:
I'd like to congratulate Veszprem first of all. We did our best to perform at the highest level. Unfortunatelly we're having to many problems with injured players and it was today visible, we were not able to keep up with their tempo especially in the second half. Considering Veszprem, I hope to see them in Cologne on CL's F4.