Video from Doha - Andreas Nilsson, MKB MVM Veszprem – Sweden
Author: SEHA GAZPROM LEAGUE, Published: 27.01.2015.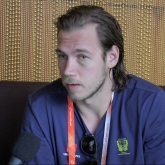 Andreas Nilsson is the only Swedish player in SEHA GSS League, playing in Hungarian MKB MVM Veszprem. He is playing great in regional League and now he is doing exactly the same in Swedish NT jersey. These are his thoughts of Doha as well as from his first SEHA season. It is important to say that Nilsson has silver medal from Olympic Games in London and European champion title back from the days when he was playing for German HSV.