Video from Qatar - Karačić – Horvat (Vardar – PPD Zagreb)
Author: SEHA GAZPROM LEAGUE, Published: 27.01.2015.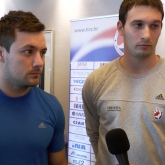 Two important Croatian players in Qatar are Vardar's Igor Karačić and Zagreb's Zlatko Horvat. WCh here in Doha is Igor's first WCh while Zlatko already has 5 medals from all competitions in Croatian national team jersey - three bronze medals (from WCh, EC and OG) as well as two silvers (from WCh and EC). In this interview you can here them talking about Croatian national team plans in Doha, SEHA GSS League''s strenght and complete WCh' organization.
Qatar 2015 - Interview with Z.Horvat, PPD Zagreb & I. Karacic, Vardar