Video from Doha, Ivica Obrvan, Chambery – Macedonia
Author: SEHA GAZPROM LEAGUE, Published: 26.01.2015.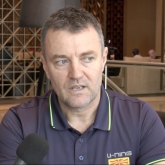 Our guests for today are Macedonian national team coach Ivica Obrvan. Obrvan is former Croatian NT player, Zagreb's player and successful coach, winner of EHF's Cup with Metković currently working in French Chambery. He talk about experiences in world's strongest Leagues comparating them with SEHA GSS and comment on what SEHA means for its participants.