Video from Qatar - David Špiler, Meshkov – Slovenia
Author: SEHA GAZPROM LEAGUE, Published: 24.01.2015.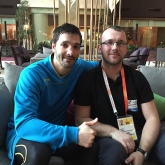 Belarus champion Meshkov has 11 players on this WCh. One of them is, this season outstanding middle back - David Špiler. His Slovenia has in Spain two years ago played in semi-finals but has in the end come up short in a medal race finishing fourth. Are they able to play an even better tournament and reach their biggest success so far here in Doha? Find out from our talk with David!