Video from Qatar - Brothers Igor & Ivan Karačić
Author: SEHA GAZPROM LEAGUE, Published: 22.01.2015.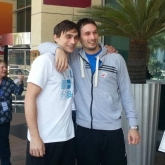 Ivan Karačić is Bosnian national team player playing his first WCh. He is coming from great SEHA GSS League's team - Belarus Meshkov from Brest. You will also have a chance to listen to what they both think about the whole project of regional SEHA GSS League as well as about Bosnian team's goals here in Doha and in the future.
Igor Karačić, Croatian players in Qatar from Vardar This is Igor's first WCh. In this interview you can hear him talking about Croatian national team plans in Doha, SEHA GSS League''s strength and complete WCh' organization.
Qatar 2015 Interview with Ivan & Igor Karacic