Video from Qatar - Dibirov and Gorbok, Russia – Vardar
Author: SEHA GAZPROM LEAGUE, Published: 21.01.2015.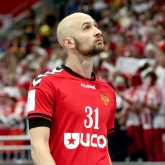 Four Vardar's players are playing on WCh in Qatar in Russian national team jersey. We have had an opportunity to speak in Doha with Russian left side duo - Sergei Gorbok and Timur Dibirov.
Dibirov was SEHA GSS League's MVP for the last season and Gorbok was one of Vardar's biggest reinforcements joining Macedonian side from German RN Löwen. Interesting is that Gorbok was born in Belarus so we can say that both of his 'national teams' are playing here. Listen to what they have to say about Russian ambitions on this WCh, their 10 year long 'medal absence' (their last national team medal is all the way from 2005) and complete atmoshpere here in Doha.