Video from Qatar - Janko Božović, Meshkov – Austria
Author: SEHA GAZPROM LEAGUE, Published: 20.01.2015.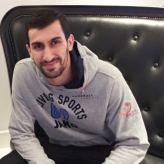 Janko Božović is an amazingly important player for Austria here in Qatar. Their national team is constantly rising, slowly reaching upper top of European handball and younger generation led by amazing back Božović is a proof they might make it soon. What Hypo's big star Stanka Božović' son has to say about Austria, Doha and WCh atmoshere find out following the link below.