Video from Qatar - Borut Maček, Iranian national team coach
Author: SEHA GAZPROM LEAGUE, Published: 19.01.2015.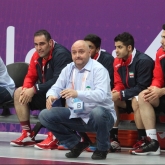 Nothing but the best is exactly what Iranian national team coach, Slovenian Borut Maček, thinks of SEHA GSS League. This is Iran's first WCh and his experience of working there might help them prove they know how to play good handball. Before Iran he was working as a coach in Qatar and Bahrein winning Asian Cup medals with them.

Link for video: Interview with Borut Maček - Iran Coach, Qatar 2015