PPD Zagreb with a clear win against Vojvodina
24.09.2014.

•

SEHA GAZPROM LEAGUE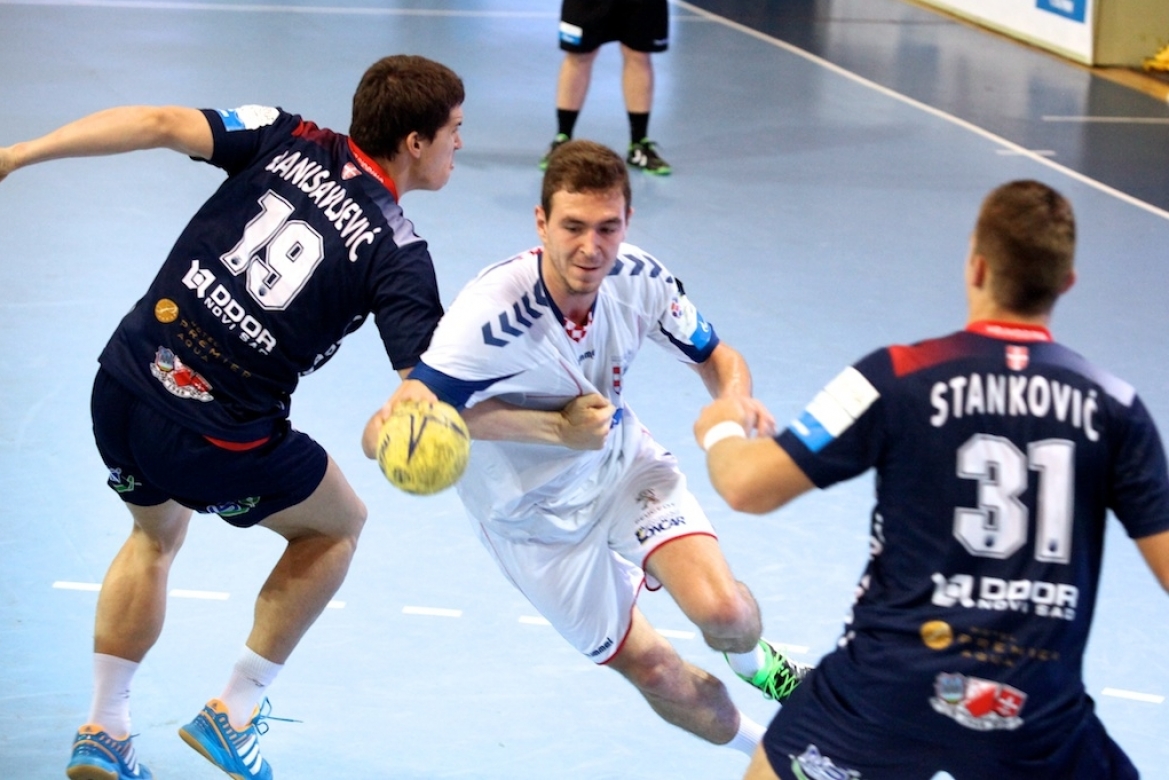 PPD Zagreb has, as a part of SEHA GSS League's fourth round hosted Serbian champions Vojvodina from Novi Sad. In front of more than 700 spectators Zagreb was better with 29:24 (13:10).
Home team has opened the match in a better way than guests. Their defense, whether it was 6-0 or 5-1 was functioning good, especially in the first 20 minutes giving Vojvodina opportunity to score only 6 goals. Zagreb was until 25th minute slowly enlarging the goal gap and then it seemed like they have stopped allowing Vojvodina to come back with 0:3 series. Zagreb's buzzer beater 'specialist' Domagoj Pavlović has with his second goal in the last second of the first half set half-time result, 13:10.
In the second half story was pretty much the same. Zagreb was in the beginning better, faster in transition with today outstanding Ivić behind them and Vojvodina did not have solution for their 5-1 defense. Stepančić was unstoppable and it has brought them the lead they have managed to save until the end. As the match was getting closer to an end, Vojvodina started playing better but it was not enough to catch PPD Zagreb today.
Luka Stepančić and Zlatko Horvat were in the end Zagreb's best scorers with 6 goals each. Filip Ivić was great with 15 saves (two from 7-meter line). Datukashvili, Jovanović and Orbović have scored 4 each for Vojvodina. Bojan Perović added 12 saves.
Đorđe Ćirković, Vojvodina's coach:
- I'd like to congratulate Zagreb. They were today better than us and they've deserved to win. I am also satisfied with many things my players have today showed, although we were playing without many important players. Young players have also showed they can play well against such a strong team and that's what makes me happy. I'm sure that if we continue to work like this, points will come.
Veselin Vujović, PPD Zagreb's coach:
- It was today obvious that Vojvodina was plaing without some of their most important players but they have in my opinion showed potential to play good handball. We were looking to rotate much today because of hard matches ahead of us. It was important not to lose much strenght and we've managed to do it. Now we're turning towards CL's challenges and a match against THW Kiel on Sunday.
Bojan Perović, Vojvodina's goalkeeper:
- Zagreb has today deserved to win the match, they've used each mistake we've made, especially missing clear shots. I can't say much more, congratulations to Zagreb once again, I wish them luck in upcoming matches.
Filip Ivić, PPD Zagreb's goalkeeper:
- We were really good today, especially in defense in the first 20 minutes allowing Vojvodina to score only 6 goals. We are training really good with our new coach and it is important to get better and better every day. I believe we're ready for all these hard matches ahead of us.