PPD Zagreb's first win in Brest
20.09.2014.

•

SEHA GAZPROM LEAGUE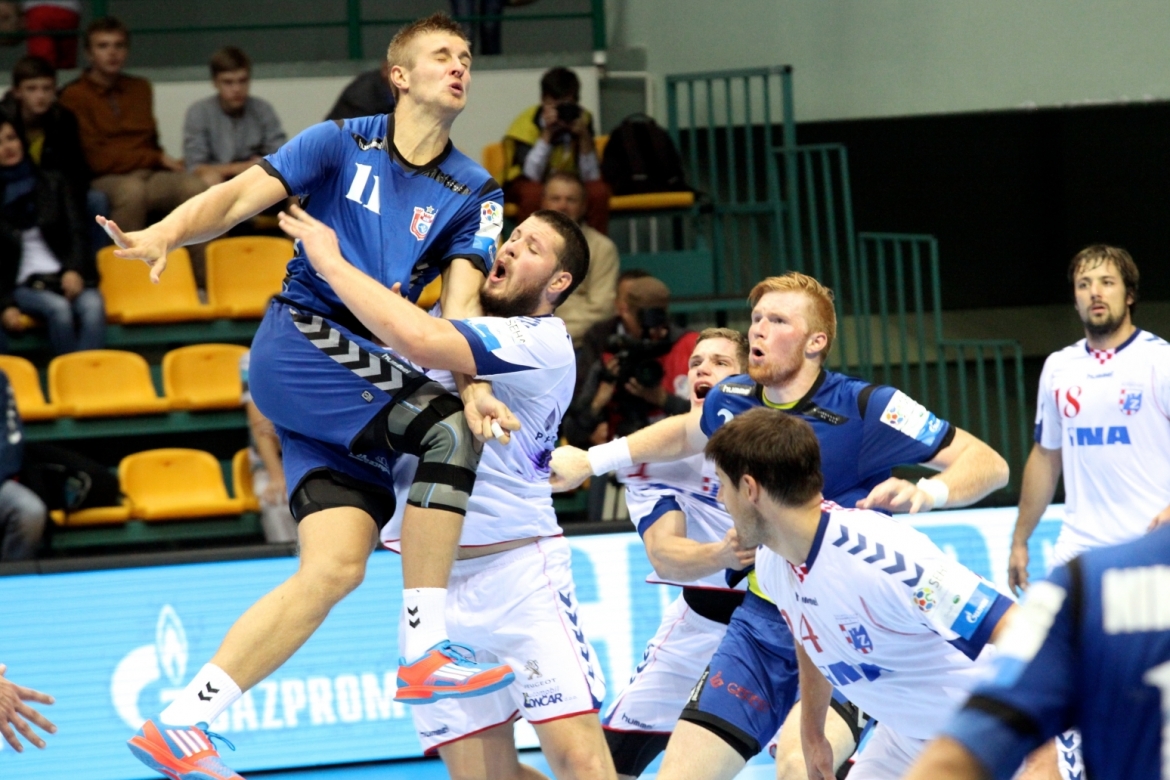 Meshkov has in Brest as a part of SEHA GSS league's third round hosted Croatian champions PPD Zagreb. Guests have for the first time ever, in a thriller match finish, managed to beat Meshkov and they are bringing important three points back to Zagreb, especially after last round's loss at home against Tatran. Final result was 28:29.
Home team has opened the match in a better way, mainly in attack scoring some great goals from back positions. Guests from Zagreb were not able to find solutions to stop Meshkov's offensive teamwork. Situtation was not so good for Meshkov in defense where Zagreb's captain Zlatko Horvat was unstoppable, especially in counter attacks. In the end of the first half result was 14:13 with Zagreb missing two 7 meter shots. Right wingers were in the end of the first half both team's best scorers. Rutenka scored 4 for hosts, Horvat 5 for guests.
Second half was a true thriller. Zagreb has in 37th minute managed to catch hosts at 17:17 after counter attack provided by Horvat and Josip Valčić, and even reach the first lead at 21:22 nine minutes after that. But Meshkov has then proved to be a too good team to give up before the final whistle. After Zagreb's first lead they have managed to make quick 3:0 series and get back on +2. It seemed like they will manage to keep that advantage until the end but Zagreb has then found a bit more strenght, pushed forward and equalized once again with Josip Valčić' goal. In a thriller ending of the match, this year's reinforcement Domagoj Pavlović has scored buzzer beater goal for 28:29 and brought Zagreb first victory in Brest.
Rutenka, Shylovich and Božović have scored 4 each for Meshkov and on the other side captain Horvat scored 8. Stevanović was also an important part of PPD Zagreb's victory with 7 saves in the second half just like Ivić who had 5 in the first.
Željko Babić, Meshkov's coach:
- We were not concentrated enough in the final 5 minutes for the third time in a row after matches against Tatran and NEXE and that was in my opinion key today. We do not manage to come back from attack fast enough and our opponents score easy goals. Congratulations to Zagreb, they were really good today.
Zlatko Saračević, PPD Zagreb's coach:
- A really hard game for us. It is honest from me to say that we could've lost this match too but we've believed in ourselves until the end and in the and we've for the first time managed to take three points here in Brest. I hope Vuglač, who was forced to get out in the second half, did not get seriously injured.
Vitaly Charapenka, Meshkov's goalkeeper:
- We simply did not play well. Our defense is not functioning well and we have to change it, we have to play like we did in preparations. This is also not a way to play in the CL but I hope we'll then show better performance.
Lovro Šprem, PPD Zagreb's player:
- It was a really tough match I have to say and a hard opponent to beat. It is really not easy to run your opponent through all 60 minutes but it probably makes this win even 'sweeter'. This match has showed that if you play well you have right to believe you can win against anyone. Great match!