Meshkov harder than expected against Borac
31.08.2014.

•

SEHA GAZPROM LEAGUE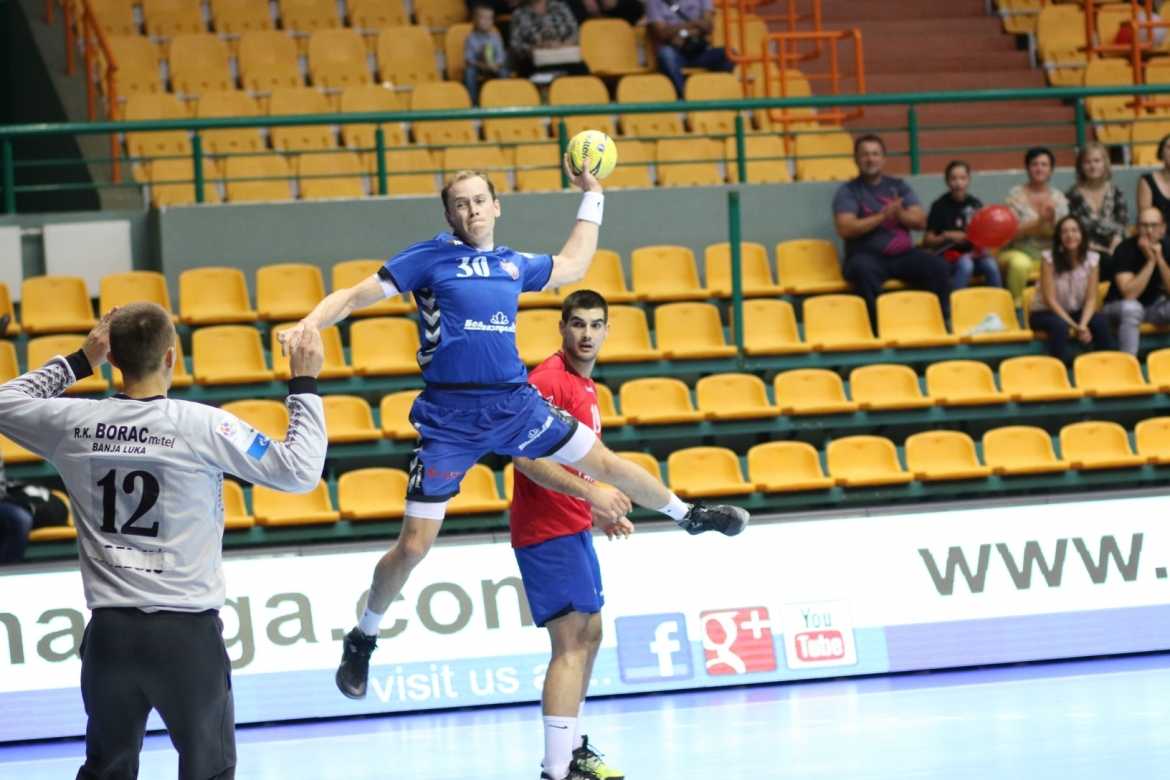 Meshkov Brest and Borac Banja Luka have played their first this season's SEHA GSS matches. Belarus team has managed to get first three points but it was much harder than anyone could expect. In the end it was 31:27 (16:14).
Borac has opened the match in a great way, leading 4:9 on wings of Srđan Trivundža's 4 goals in a row and Đukić' fast counter-attacks. But home team has in the second part of the first half shown why they were marked as favorites in this match. Two minutes before the end they have managed to catch an equaliser with Vukić' goal and even take lead at the end of the first half.
Borac was dangerous in the second half too, leading again in 43rd minute with 21:22. Belarus team was once again forced to raise the tempo, Charapenka had a few brilliant saves and they have soon after it managed to catch a confident 29:24 lead which they have kept until the end.
Charapenka had 12 saves in the end, Vukić scored 7, Shylovich 4, Babichev 3. Speaking of Borac, Trivundža scored 7, Obradović and Bezbradica 6 each.
Meshkov will in the next round host NEXE and Borac will play MKB MVM Veszprem in Banja Luka.
Igor Rađenović, Borac' coach:
- We have played a good game, even catching equaliser and lead in 45th minute but it was not enough for us to make step forward and maybe take home some points from Brest. In the end a well deserved win for Meshkov.
Mirko Mikić, Borac' player:
- It has become a rule for us to play a good in Brest. Home-team have shown that they have 'longer bench', have a better financial situation which is well visible on their roster and it has, in my opinion, decided the match. I wish them well in EHF CL's qualifications.
Siarhei Shylovich, Meshkov's player:
- We've had much problems today and Borac was a good opponent. We are thinking already of CL, our minds are on that qualification tournament and Borac have used it well. But in the end, victory is a victory.
Željko Babić, Meshkov's coach:
- Borac have played a good match, they were a tough opponent to beat today. We were on 50 percent of what we can, Borac on 100 in my opinion. They were running the court well and if you don't keep the rhytm you might even lose the match. We've managed to take first three points of the season mostly due to some great saves our goalkeeper Charapenka had in the second half. I promise we will not play like this in CL. We'll play as a team, not as individuals.