MKB-MVM Veszprem with +13 in their SEHA GSSL debut in Novi Sad
27.08.2014.

•

SEHA GAZPROM LEAGUE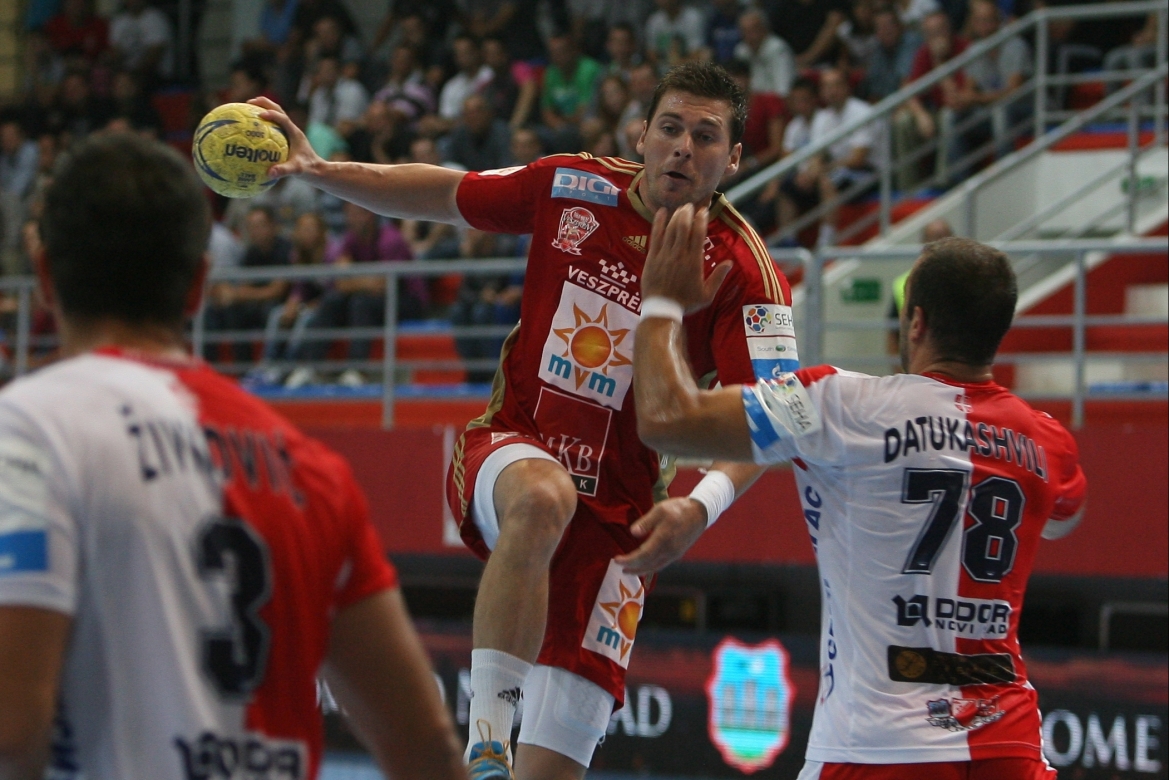 Best Hungarian team MKB-MVM Veszprem has proved that they were favorites in their debut in SEHA GSS League. EHF Champions League's fourth team last season was simply too good for Serbian champions with big +13 in the end. The result was 32:19 (13:9). Match against Vojvodina was only a warm up for them ahead of their Hungarian Super Cup clash against PICK Szeged.
Serbian champions have opened the game well with 4:4 in 10th minute of the match. Despite of that Đorđe Ćirković was very soon forced to call a time-out, after Veszprem express 3:0 series. That, however, was not so helpful due to fantastic defense Veszprem was playing along with outstanding Mikler between the posts. It was 10:5 in 21st minute. Vojvodina has right before the end of the first half managed to catch guests with a good series by Orbović and Nikolić which has brought them to half-time result 13:9.
Beginning of the second half was key for Veszprem's win in northern Serbia. Laszlo Nagy scored a few goals in a row, Momir Ilić was precise from the 7-meter line and Veszprem was cruising towards their first victory. Vojvodina fought until the end with a 3:0 series in the middle of the second half but they have in the end collapsed giving Hungarians a chance to finish the match with 4:0 series.
Best scorer of the match was Serbian NT player Momir Ilić with 11 goals (9 from 7-meter line).
Statements after the match:
Momir Ilić, Veszprem's left back:
- We took the role of the favorite on this match and played the best we could in this moment. Vojvodina have quality squad and they need time to catch the form. I am sure that we will see better performances from this team in the future.
Veszprem's coach Antonio Carlos Ortega:
- This was a tough game but we were lucky to get all the information about Serbian squad on time and prepare well. We had a lot of problems with defense in the first half, but we have managed to solve it in the second…
Vuk Lazović, Vojvodina's line player:
- Veszprem were favorites before the game and they have proved why. I am glad that we've played on this level against such a team at the beginning of the season. We have to work now and I'm sure we'll get better.
Đorđe Ćirković, Vojvodina's coach:
- We have 10 new players and this was a new experience for us. Veszprem is one of the best European teams. It need time to make all these new players play as a team. My boys were fighting great from the beginning, I can's say anything bad about their performance.