Tatran Presov - new leader!
12.03.2014.

•

SEHA GAZPROM LEAGUE.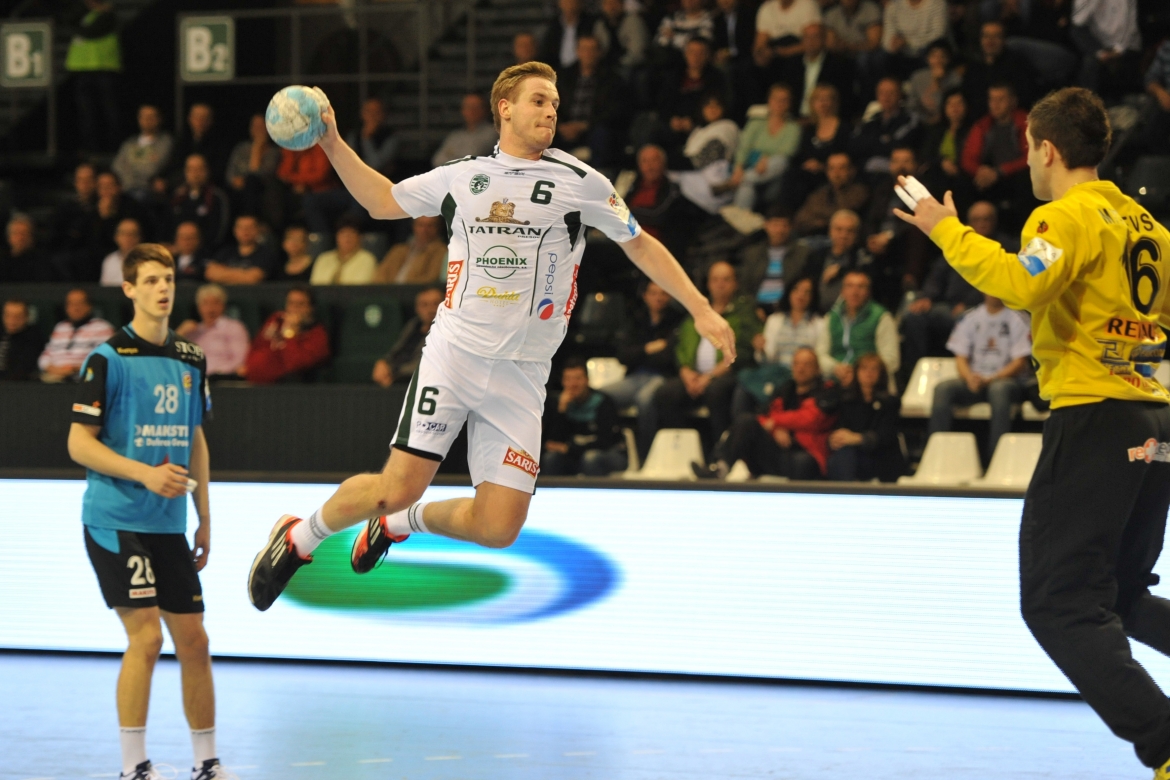 Slovak champion Tatran Presov has overtaken the first place in SEHA GAZPROM South Stream League with victory over HC Metalurg Skopje 27:20 (12:11). Macedonian vice-champions, who lost all the chances to qualify for the SEHA F4 which will be held in Novi Sad (April 11- 13), showed the quality resistance only in the first 30 minutes. Metalurg's coach Lino Cervar decided to rest some important players and that made a clear advantage between two teams.
The main role in the Slovakian defense had Serbian goalkeeper Svetislav Verkic, who saved 16 balls and was almost on 50%. At the beginning of the second half, Dejan Manaskov scored for 13:13, but that was the start of total domination of home team. Peter Hatalchik's team made series 9:2, after all the question got the answers (22:15, 46.).
The highest advantage was +9 - 26:17, when recovered Slovakian NT line-player Andrej Petro scored the second goal.
Cip and Hrstka were the leading scorers in the winning team with 5 goals, while Manaskov and Pecakovski scored one less for Metalurg.
Aleksandar Petrovski, Metalurg's coach:
- Congratulations to Tatran for a win. We came here without our first coach and nine players. We gave oppotunity to our young players that are in our wider roster. We also came with our young team to get some skills to grow up and to see what we are really able to play with them. We wish Tatran all the best on Final Four Tournament.
Nikola Mitrevski, Metalurg's goalkeeper:
- We were able to keep up with Tatran during the first half. We just could not keep up with Tatran's tempo in the second half and that is why Tatran has deserved to win this match.
Peter Hatalcik, Tatran's coach:
- I don't like these kind of matches when oponent comes with young players. Metalurg left home key players and head coach and I believe that subconscious worked well at the beginning of this match and our players started slowly and Metalurg by their tempo of the game would not let us go in our regular playing style. In the first half we wanted to be winning by several goals and that was counter productive. In second half we started to score more goals and that is why we deserved to win at the end. It was a good quality match.
Andrej Petro, Tatran's player:
- I am glad we have managed to win this match. The name Metalurg sounds really respectful even though they weer here with more less their second team. We realized we need to work hard in our defense. Finally in the second half we caught our regular tempo and that was the key to our success.