SEHA GSS league's Final Four tournament to be held in Novi Sad
27.02.2014.

•

SEHA GAZPROM LEAGUE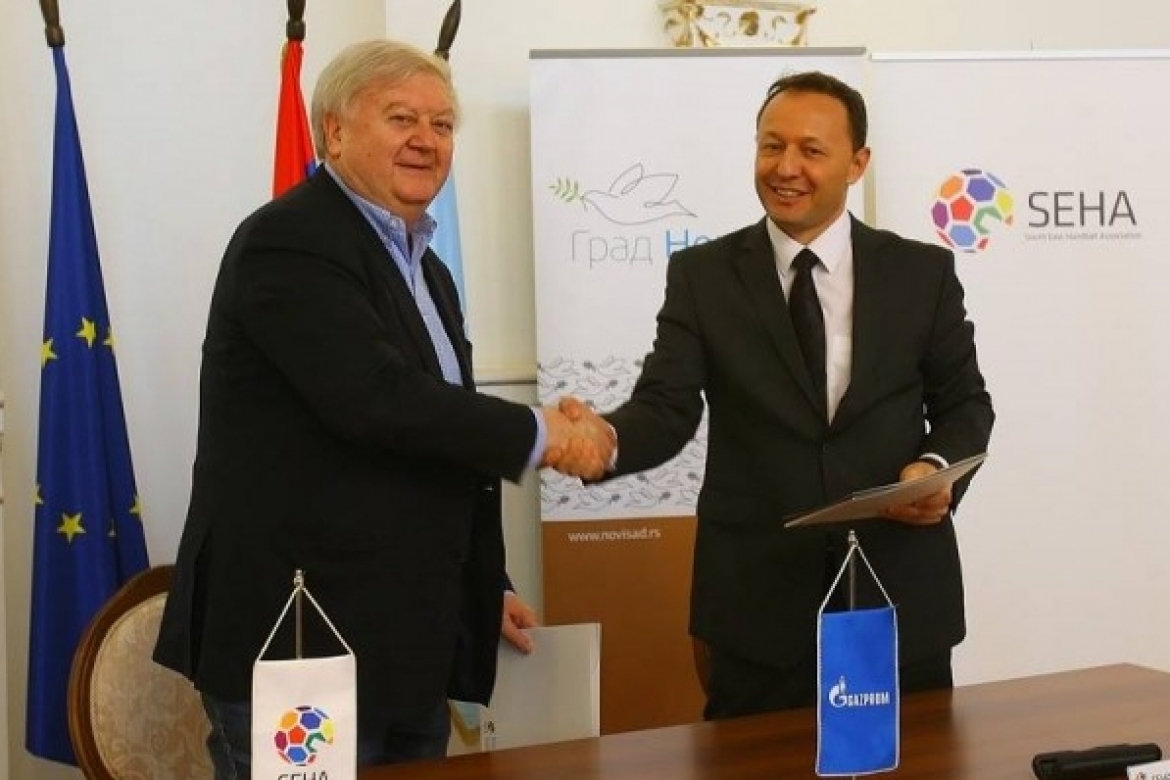 SEHA GSS league's president Mihajlo Mihajlovski and president of handball club Vojvodina Milan Djukic have today signed contract which brings SEHA GSS league's Final Four to Novi Sad. By them, there were also, member of sports and youth council Predrag Svilar, customs director Milos Tomic, SEHA GSS league's director Sinisa Ostojic, president of Serbian handball federation Velimir Marjanovic, Serbian handball federation secretary-general Bozidar Djurkovic, president of handball federation Novi Sad Vitomir Vuckovic and director of handball club Vojvodina Darko Jevtic.
- After EC and WC Novi Sad will host another great handball event. If we look on things our clubs have managed to do in the last few years with Vojvodina as a national champion, youth categories of Jugovic with some great acquirements and our women handball club reaching Serbian Super liga we can confidently say that handball is becoming sport number 1 in our town, concluded Predrag Svilar.
Handball club Vojvodina's big friend Milos Tomic also said that he is glad HC Vojvodina and the city of Novi Sad have been given a chance to host SEHA GSS league's final tournament.
SEHA GSS league's director Mihajlo Mihajlovski added that he is satisfied with the progress league is showing from year to year.
- If we manage to achieve our goals and get some more teams to join the league we'll make it one of the strongest in Europe, after Bundeliga. We've decided to accept Gazprom's idea to bring Final Four tournament to Serbia and I'm sure organization will here be on a very good level. Final Four tournament will be held from 11th to 13th of April in Spens hall.
President of handball club Vojvodina Milan Djukic said that the city of Novi Sad has helped them host this big event and that Novi Sad and HC Vojvodina have, after winning the title, hosted clubs from 14 countries which proves that handball is coming back to life in Novi Sad.