7m | Uros Kojadinovic: ''I am glad that I can play against the best clubs in the region''
10.03.2023.

•

SEHA - Gazprom League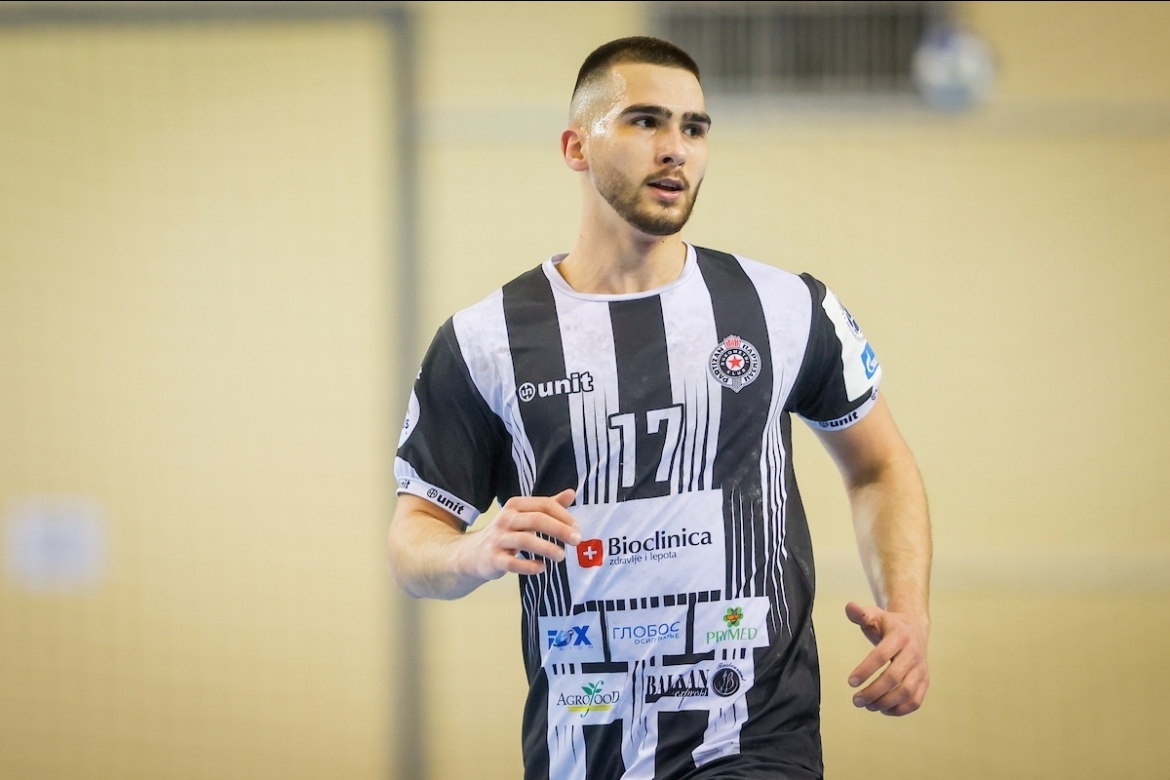 From a young age, Uros Kojadinovic simply saw himself in the sports world playing football, tennis and handball. Born and raised in Serbian town Subotica, he started his handball journey in Saranovic's handball school and now with only 22 years is a crucial part of young's Partizan team. In an interesting talk, Uros talked about his handball journey, playing style, summer of 2022 when he won bronze medal with the Serbian national team and much more. Get to know Uros Kojadinovic in the new edition of the 7 meters interviews.
You started playing handball when you were 13 years old, but handball was not your first choice.
I started playing handball by accident. My cousin was watching handball and he invited me to watch a couple of matches with him. We decided to go to the first practice, and we really liked it. However, we also trained tennis, and I even played football for some time. So, we had to decide. Handball looked more dynamic and interesting to us, so we both decided to start playing handball.
Can you describe your handball journey from Saranovic's handball school to Partizan?
Since I am from Subotica, I first went to Saranovic's handball school. I trained handball there until I was 16 when I moved to Spartak Vojput. That very season when I moved to Spartak Vojput, it is interesting that the club participated in the SEHA League, unfortunately, I didn't have a chance to play a single match. After that, I came to Partizan. This is my second season here and I really enjoy it. The atmosphere in the club is great. We entered a series of good results in the domestic championship, SEHA - Gazprom League and, of course, the domestic cup. We are on the right track, and we have the highest possible goals and ambitions this season to attack both the cup and the domestic championship.
At the beginning of your career, you played on the right back position but right now you can play right back and right wing position.
I am essentially a right winger who can cover the right back position. I prefer the position of right back, and at the same time, it is more interesting. I think that way I participate more in the game in terms of the organization of the attack. I started playing handball as a right back, later I was transferred to the right wing. So let the first love remain the right back position.
Can you describe your playing style? Do you prefer playing the attack or the defence?
I'm not overly tall so I rely more on breakthroughs, feints, and assists. In my opinion, I play modern handball that is not left to some shots outside of nine meters, but everything comes down to movement, counting and throwing into space. I prefer to play defence because I believe that championships are won with good defence. In an attack, one or two individuals can always score a goal, while in defence, the whole team must be compact and breathe as one.
In the SEHA - Gazprom League, you defeated the five-time champion Vardar, what can we expect from the young Partizan team this season?
Our goal at the beginning of the season was to try to attract as many people as possible to Banjica and to leave as good an impression as possible. Also, we wanted to play two great matches at home in the group stage. In general, we are a young team, we lost in Skopje, but we managed to win in Belgrade with a bigger goal difference. After that, our ambitions grew. Now we even have a chance to maybe be the first in the group. For me, playing in the SEHA - Gazprom League is a prestige. I think that this is one of the best leagues in Europe and the world. Especially regarding the affirmation of young players. I am glad that I can play against the best clubs in the region, and at the same time in Europe.
During the summer of 2022, you were a part of the Serbian national team and you won the bronze medal at the Mediterranean Games in Oran. What was it like to wear a Serbian jersey and win a medal?
This was my first encounter with coach Toni Gerona. We went to Oran with a young team. At the tournament, there were plenty of good teams such as Tunisia, Algeria, Spain, North Macedonia, and Egypt. We did good preparations and went to the tournament where we played great and won the bronze medal. That period over the summer helped me a lot because we worked on some details.
Do you have role models?
I had it when I was younger. Those were players like Luc Abalo, Kim Anderson, Ivano Balic and Nikola Karabatic. I don't have any at the moment. Right now I have handball players whose playing style I really like. But I look at it more from a professional and constructive point of view than from a fan. Those players are Dika Mem and Mathias Gidsel. When it comes to right wingers I would like to single out Blaz Janc and Bogdan Radivojevic.
When you are not in the playing hall, what are you doing in your free time?
Before I came to Belgrade, I was playing tennis in my free time, but I have now neglected tennis because I have no one to play with. Once I asked my teammate Stefan Petric to play with me, but it was an easy 6:0 win so I have given up. Basically, in Belgrade, you have a lot of options. I like to walk with my friends and go out for a drink. When the weather is nice, I often go to the river Sava or the Danube. I like to go with my teammates to the gaming room and play games. Also, when we have a busy schedule, I try to relax with a movie or series at home.
Besides tennis and of course handball, do you watch any other sports?
In addition to handball, I watch English Premier League. My favourite club is Fulham because Aleksandar Mitrovic plays there. Of course, I watch basketball, especially Partizan. I'm trying to go to as many EuroLeague matches as possible when they play at home. It is actually my main hobby. I don't really watch the NBA because of the time zone, but I always follow the statistics of Nikola Jokic, Luka Doncic and our players from this region.
What do you think, where will Uros Kojadinovic be in five years?
In five years, I would like to be a part of the Serbian national team. Playing for the national team, apart from being a matter of prestige, I think that it is the most beautiful thing that every athlete can experience. My greatest ambition is to win a medal with the national team and I hope I will make it. When it comes to the club level, I would like to continue my career in the German or French league.