7m | Zoran Ilic: ''It was always my dream to play for Veszprem!''
03.03.2023.

•

SEHA - Gazprom League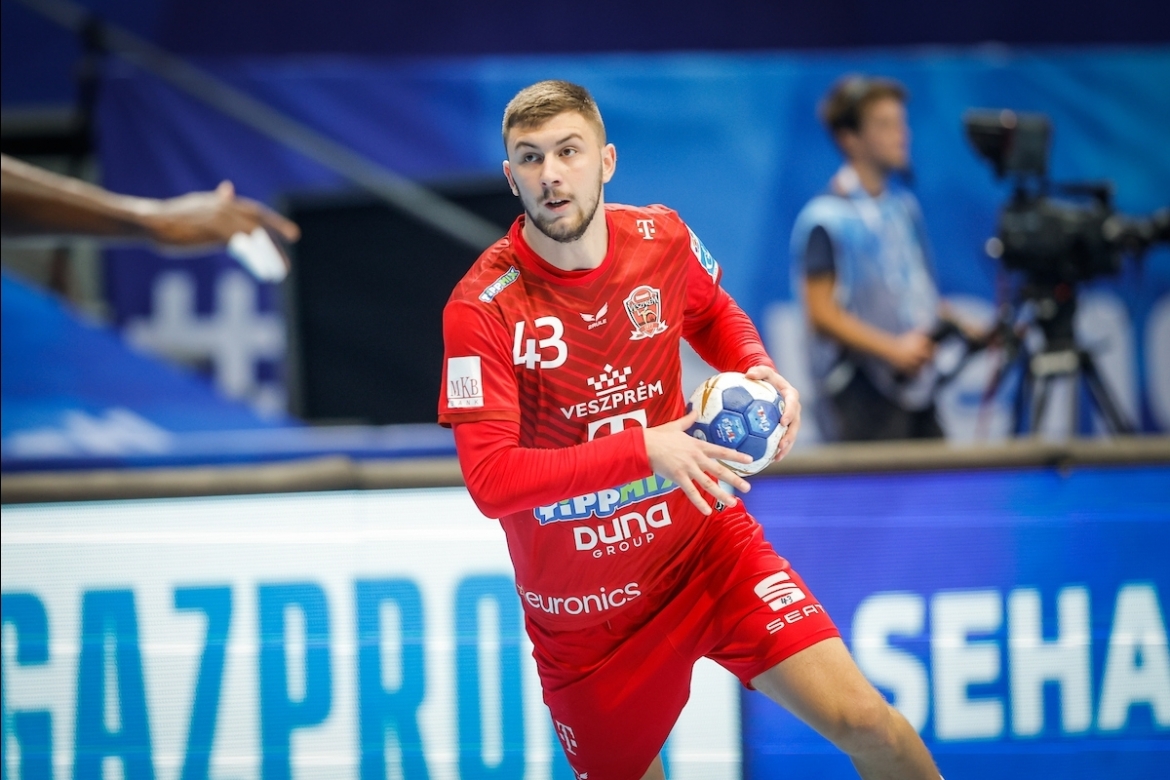 The name Ilic is a famous one in the history of Telekom Veszprem: Momir Ilic was a player for many years and took over the team as the coach in 2021. But there is another Ilic - young Zoran Ilic. The 21 years old back court shooter is no relative of Momir. Born in Serbia, he moved to Hungary very early and became one of the youngest players in the first team. In this interview, left hander Zoran Ilic talks about his talent, Veszprem's chances in all competitions, playing for Hungary and his upcoming transfer to Germany.

How often had you been asked, if you are Momir's son? - and what is your reaction and answer?
When I moved to play in Veszprem, the fans and the media asked me a lot what it's like to play when your dad is on the bench, I always smiled and answered that our families are not related!

You left your home country Serbia at the age of 14 to go to Hungary - was it hard to leave your family already at this age?
Yes, I was 14 years old, when I moved to play in the Hungarian Academy NEKA. I played in Ada before. It's hard to move to another country far from your family at the age of 14, but my goal was definitely development and I had to take this step to improve my skills. I have a sister and two older brothers, they also played handball, so we talked a lot about it at home. At that time my parents moved to Austria.

You started your career in the famous NEKA academy - was this your kick to become a professional player?
The Hungarian Academy NEKA system is very good for young players. We got a lot of support in everything to become better and better. For me, it was a little bit difficult in that sense because I was alone there. A lot of professional coaches work at the Academy from whom I learned a lot. My first coach was Zsolt Kopornyik. In my first year at the academy, I became a member of the Hungarian national team. In the second year, I moved to an older group where Laszlo Sotonyi was the coach and where I improved a lot. I couldn't refuse the invitation, so after three years at the Academy, I transferred to Veszprem!

How was it for you as a young player to be part of this ensemble of stars? How is the process in Veszprem from being a talent to become a regular player in the first team?
When I moved to Veszprem, I played for the second team, where Momir Ilic started his coaching career. I remember that I played for the first team at the age of 17 in a SEHA League match against Moscow and I was chosen as the MVP of the match. Then at the age of 18, I scored my first goal in the Champions League against Motor Zaporozhye, that was the moment when my professional career started to grow up. When I got a contract from Veszprem and played for the first team in the first year, we immediately won the SEHA – Gazprom League and reached the EHF Champions League FINAL4 where I played against Kiel. It was a special moment for me. The second year in Veszprem made a big and fast difference to me. My biggest dream was always to play in Veszprem. Everything happened very fast, I was the second right back next to Omar Yahia and played against very strong teams in Europe. We always shared minutes with Yahia but in December he got injured and I was left alone in that position during that period. I didn't believe that within a year you could go from the third right back to the first. It means a lot to me that Momir gave me minutes in the Champions League where I can improve!

How do you describe your style of playing?
My playing style is a difficult question, I learnt a lot from Yahia and especially now from Nedim Remili, he always corrects me in training if I do something wrong. I try to take some style from every player, but I also have my own playing style.

Which coach had imprinted you the most by now?
The coach who showed me the way to the professional path is Laszlo Sotonyi, but I have to thank Momir Ilic a lot because he taught me a lot.

Talking about competitions - you have the experience of playing Hungarian league, EHF Champions League and SEHA - Gazprom League. What makes each of those competitions special?
In the Hungarian League, there aren't so many difficult matches, thus we can train for the Champions League in those games. The Champions League is always special. You are playing against the best teams in Europe and for a young player it can bring a lot of experience as well and as the fans in Veszprem Arena who are the best in Europe. The SEHA – Gazprom League will always be special to me because, at the age of 17, I already played and felt what it's like to play at that level of handball. And because I won two SEHA titles.

In the SEHA - Gazprom League, Veszprem are the defending champions. Is it hard to motivate when you have the trophy so often?
The SEHA Final 4 is always played at the beginning of the season, so it's good for us to have one test before the Champions League. It turns out which level are we and if we made mistakes, we can correct them. It's not difficult to find motivation for every Final 4, the goal is always to reach first place.

Is Veszprem the big favourite again this year?
We can say that it is because we are playing a very good season this year.

In the EHF Champions League, Veszprem has made it to the FINAL4 Cologne quite often in the last years - how do you see the chance of going all the way again this season?
We have the same goal in every year, to reach the FINAL4 and win it. Every match is important, and we must go step by step. It will be difficult, but we will succeed, and I believe that I will be able to be part of that team that will succeed this year!

In Hungary, it is always the big duel with Pick Szeged every season - will you manage to leave them behind this year? Would this be a perfect farewell trophy for you?
It's always a big day in Hungary when we play against Pick Szeged. Now it's hard to talk about what happened last year, but we always have the same goal, to become the champion of Hungary every year. This year we want to bring back the trophy where it belongs!

You were born in Serbia, but changed to Hungarian citizenship - is it a special feeling to play for the Hungarian national team or is it normal for you?
Yes, I was born in Serbia, but I have the right to dual citizenship. The only option that I had if I want to play for the Hungarian national team if I come to the Hungarian Academy. So, I got an invitation at the age of 15 and I made a decision to play for Hungary and since then I played in every generation. In January I played at the World Championship! I played many times against Serbia, and it is a very special feeling.

Next season, you will move to Germany, joining Hamburg Handball. What is the reason for this transfer?
I wanted to play in the Bundesliga, and I got an offer from Hamburg, that's why I decided to leave Veszprem. I wouldn't have as much playing time next year, but I want to play. I had to take this step if I want to improve! Now I have started to learn German so I could speak at least a little bit by the summer.

Your girlfriend Julia is a professional handball player too, playing for Gyor - is handball also the main topic, when you talk to her or do you have different hobbies, far away from your sport?
Julia is a very smart girl, she has her own plans and goals at the age of 18. She is in the first team of Gyor and we help each other a lot in difficult moments, for example when someone needs to make a decision. We don't have much time to be together because of the trainings or matches. Of course, rest is important, but we have a dog, so we always go for a walk with him in the forest. We really like to go to restaurants when we have time or go to the cinema to watch a movie. Since it turned out that I'm leaving Hungary we want to be together as much as possible!