7M | Ante Kuduz: 'Everything I went through helped me become the player I am today'
20.10.2021.

•

SEHA - Gazprom League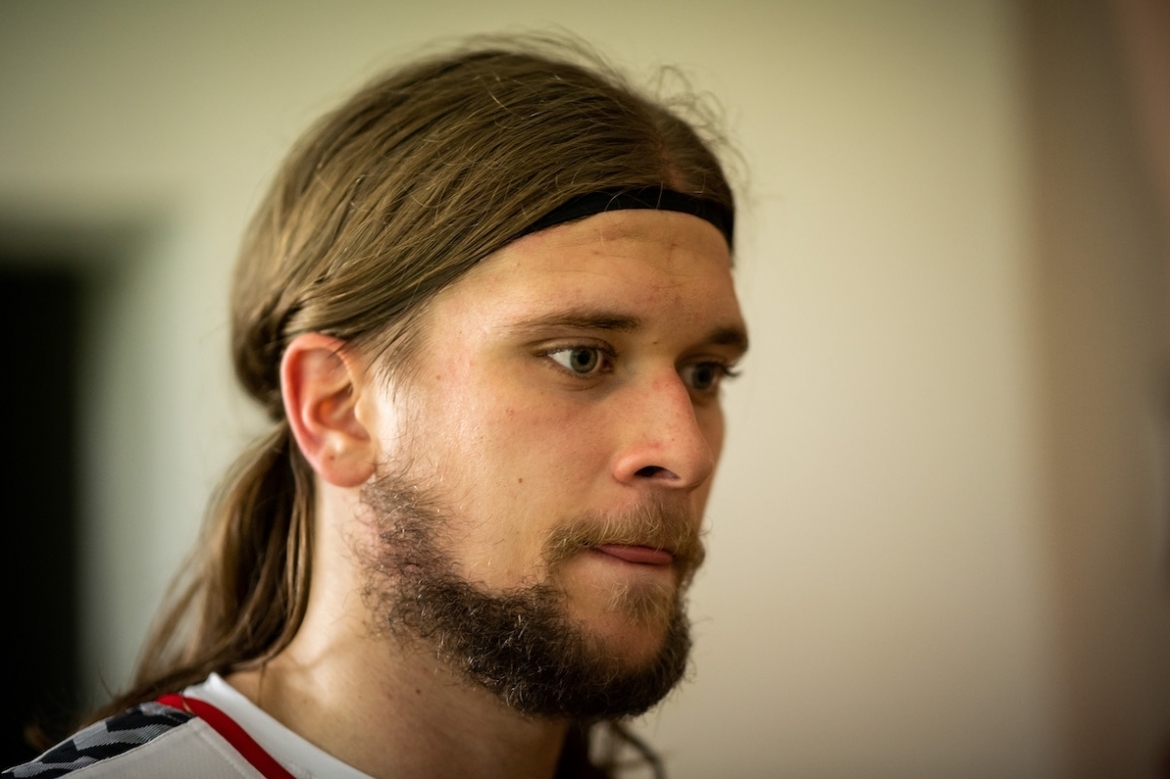 Vardar 1961 has, despite all the departures and roster changes during the summer, managed to open the new season in a great way. Newly-arrived players have proved to be not only role players but key figures of this whole new 'Red&Black' team. One of them is occasional Croatian national team player, 26-year-old Ante Kuduz.

Not many players of his age can say they have as much experience as Ante does. Ups and downs have certainly shaped both his career and himself to become the person he is today. Because of that, we've decided to talk to him about his handball beginnings, things he experienced as well as about his new role in Veselin Vujovic's Vardar team.

The story starts in his hometown Osijek and gains momentum in 2013 after he won the silver medal as part of the junior Croatian national team on WCh in Hungary.

I was only 18 when I decided to leave Osijek in search of new challenges. Looking back, I can say it was maybe a bit too early but I was happy in Varazdin. I was progressing as a player and, at a certain point, felt that the time has come for a new step.

The new step was also known as French Dijon. That chapter of his career however didn't last that long as he decided to join Swiss Pfadi Winterthur shortly after. Here is what Croatian Mikkel Hansen, as some like to call him because of his playing style and the obvious physical resemblance, has to say about that period of his career.

Even now I'm not sure if France was a good decision or not. What I can say is I've definitely learned a lot from that. Switzerland was basically the same and no matter how hard it was to make that move at the moment I can say it was a step forward in my career and my development as a handball player.

Who were your idols, players you were or even still are looking up to maybe even trying to copy some parts of their game?

Ever since I started playing handball, I loved watching Iker Romero. Genius with the ball, absolutely deadly whether he tries to assist or score himself. The only thing is – he wasn't playing defense and I guess that is something I added to the whole story.

The next stop was Romanian Dinamo Bucuresti where Ante finally started proving to everyone how good he actually is.

Bucharest felt right. We were playing well and after a six-year-long period of stagnation, I finally felt like I was on the right path. Unfortunately, after a certain period of time, things got a bit rough which is why I decided to make a move and join Vardar 1961. I have to say I'm happy and proud I left Romania with a national title.

For two years in a row Ante Kuduz was, without doubt, Dinamo's best player and one of the main reasons for their good results in European competitions. There simply wasn't a chance for such performances to go unnoticed and multiple SEHA – Gazprom League champs as well as two-time EHF CL champions Vardar decided to make a move for him.

I am really happy in Skopje. It didn't take long for me to start feeling at home. People here are simply so warm and helping that it is really hard not to feel at home. The team is quite new and we're still taking the time to get to know each other, find the right rhythm. In my opinion, we have a great roster with Toto, back-court bombers brothers Nyokas, experienced Dibirov, Stoilov and Ristovski, Diallo and Morales as well as young Tomovski, Taleski, Georgievski, Gadza and me. Great group of players overall which can only grow as a team as the time goes by.

How do you like SEHA – Gazprom League?

I haven't really played a lot of matches yet but I've heard a lot about it. The fact that it celebrated its tenth anniversary says a lot. The league has definitely helped develop some great players who are now running the show in some of the strongest European teams and it sure feels good to be a part of it now.

And what is it like to work with coach Veselin Vujovic?

He is, without doubt, the best coach I've ever worked with. He has a specific approach, he's very passionate about the game and so am I which is probably one of the main reasons why we started off so well. He likes fighters and I believe I am the one. He does everything with an intention of helping the team get better on a daily basis. When I arrived in Skopje he told me: 'You are our only real back-court shooter and I want you to prove it every time you're out there. Your job is for opponents' nets to burn!'. We're doing great together so far and I believe it will remain that way.

Where will Ante Kuduz be in five years?

It's really hard to say. The best idea would be for us to talk about that in five years. Everything I went through helped me become the player I am today. It wasn't easy to prove to everyone what I'm capable of, that's usually the most difficult part of any player's career. I did it though and now it is time to keep on proving my worth every time I'm out there and see where that eventually brings me. What matters to me the most at the moment is that I'm enjoying playing the game of handball and delivering strong outings on both sides of the court. I feel like signing for Vardar was a great decision.