Brief overview of 10th SEHA - Gazprom League season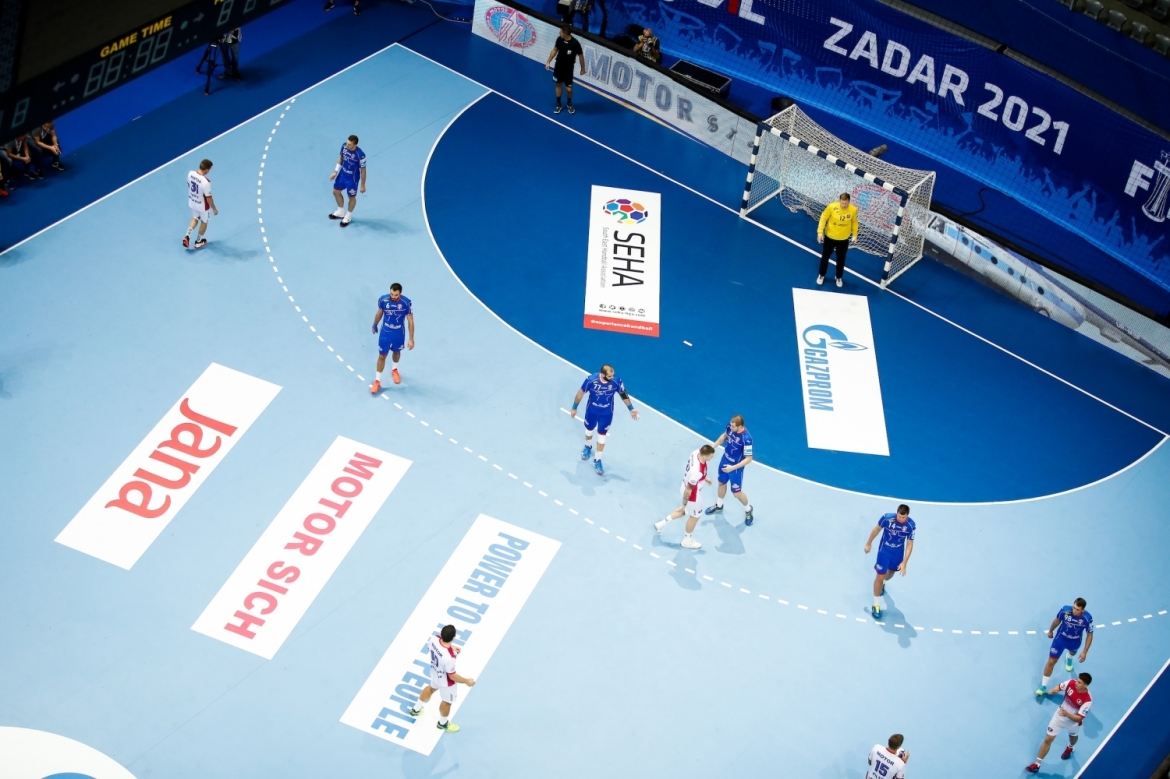 SEHA – Gazprom League tenth season threw-off on 17th December 2020, which was a bit later than usually. Also, two teams from Season 2019/2020 said goodbye for now – Beijing Sports University and Spartak Moscow. Therefore, this interesting jubilee season of SEHA League started with ten teams: Eurofarm Pelister, Meshkov Brest, Metaloplastika, Motor Zaporozhye, Nexe, PPD Zagreb, Tatran Presov, Telekom Veszprem, Vardar 1961 and Vojvodina. But, only eight of them participated in Group Phase, while Telekom Veszprem and Meshkov Brest entered only after the Eighth-Final matches and had to face their opponents in two-legged Quarter-Final clashes.
Two groups with four squads each were the core of Season 2020/2021 playing system. PPD Zagreb, Tatran Presov, Metaloplastika and Eurofarm Pelister played their first phase in Group A, with Zagreb being the best team after three rounds (three wins). Underdogs from Bitola trailed by only one win, but showed great focus and team chemistry at all times under Zeljko Babic. Tatran didn't open the competition very well, but woke up after three consecutive losses and handed Eurofarm Pelister a loss on the wings of Oliver Rabek (second scorer of the season) and Pedro Pacheco. Unfortunately for the League, epidemiological situation in some countries wasn't acceptable, which caused PPD Zagreb to draw their last two matches by decision. But, that didn't affect their position on the table and they finished above teams from Bitola and Presov. Metaloplastika, in the mean time, didn't manage to win a single match in the Group Phase, which immediately sent them to the Eight-Final derby versus third-placed squad of Group B.
Group B was consisted of Motor Zaporozhye, Nexe, Vardar 1961 and Vojvodina. Vardar were obvious favourites to take the top spot in this group, but things aren't always what they seem. Every team in this pot battled from the very beginning and they weren't ready to give an inch, because all the other teams would take a mile. In the end, Ukrainians from Zaporozhye finished atop, with Nexe squad being the runner-up. Vardar and Vojvodina were, therefore, the third and fourth participant of first knockout round.
Group Phase MVP, Josip Peric, was extraordinary throughout the entire season. He scored 36 goals in 5 matches, while assisting his teammates on 19 goals. Furthermore, one of his matches deserves a special honorable mention, because it is the best stat line in league history. Peric single-handedly carried Eurofarm Pelister in a match against Tatran (10 goals and 9 assists), but couldn't get the win. Nevertheless, his match will remain in the record books for a long time.
Eight-Final round included Tatran Presov and Metaloplastika of Group A as well as Vardar 1961 and Vojvodina from Group B. Slovak champions and five-time SEHA – Gazprom League champions were prepared for the struggle and displayed that in their respective matchups. Tatran solved their problem in the first leg, beating Vojvodina by a 12-goal difference and then losing by only 5 goals in the second leg. Vardar couldn't allow themselves this type of relaxation, so that's why Metaloplastika suffered two painful losses (31:39 at home and 26:23 away) and said goodbye to the competition.
Quarter-Final matches were played during a ten-day span. Telekom Veszprem defeated Nexe 65:58 on aggregate thanks to Gasper Marguc, who scored 15 goals in two fixtures. Meshkov Brest delivered a similar display to the Hungarian one, defeating Eurofarm Pelister 27:31 on the road and 35:31 in Brest. Mikita Vailupov once again showcased his skill of scoring from the corner and ended the Quarter-Final with 17 goals. Motor Zaporozhye had some help from the schedule makers, because the squad from Presov looked exhausted in their second match (played 24 hours after the first one) and lost by a combined fifteen-goal difference. Last matchup was the 'SEHA Classic' – Vardar 1961 versus PPD Zagreb. Skopje-based crew won their home match by five, while the 'Lions' managed to win only by four in Zagreb. But, because there was a breach of epidemiological protocol, PPD Zagreb entered as the last Final 4 participant.
And then, there were only four teams in the aftermath of the Quarter-Final: Meshkov Brest, Motor Zaporozhye, PPD Zagreb and Telekom Veszprem. They all went to Zadar and given us an unforgetable Final 4 experience.
PPD Zagreb won a penalty shootout thriller against Meshkov after fourteen 7 meter shots (37:38). Telekom Veszprem cruised to the Final, demonstrating their force versus Motor (36:29). Placement match took place just before the grand final. It went Motor's way (20:31), because Belarus team fell apart after the first 30 minutes and scored only nine goals in the second half. SEHA – Gazprom League Final 4 came to an end after another penalty shootout. But, Veszprem was the better team this time (31:29), which resulted in their fourth SEHA trophy in five SEHA seasons.
Petar Nenadic was the Most Valuable Player of the final tournament, scoring 15 goals and handing out 13 assists. But most importantly, he took the responsibility of shooting the last penalty for Veszprem and scored it in fine fashion, which concluded the first decade of SEHA – Gazprom League.