Slavic and Cupic steer Zagreb to the final
03.09.2021.

•

SEHA - Gazprom League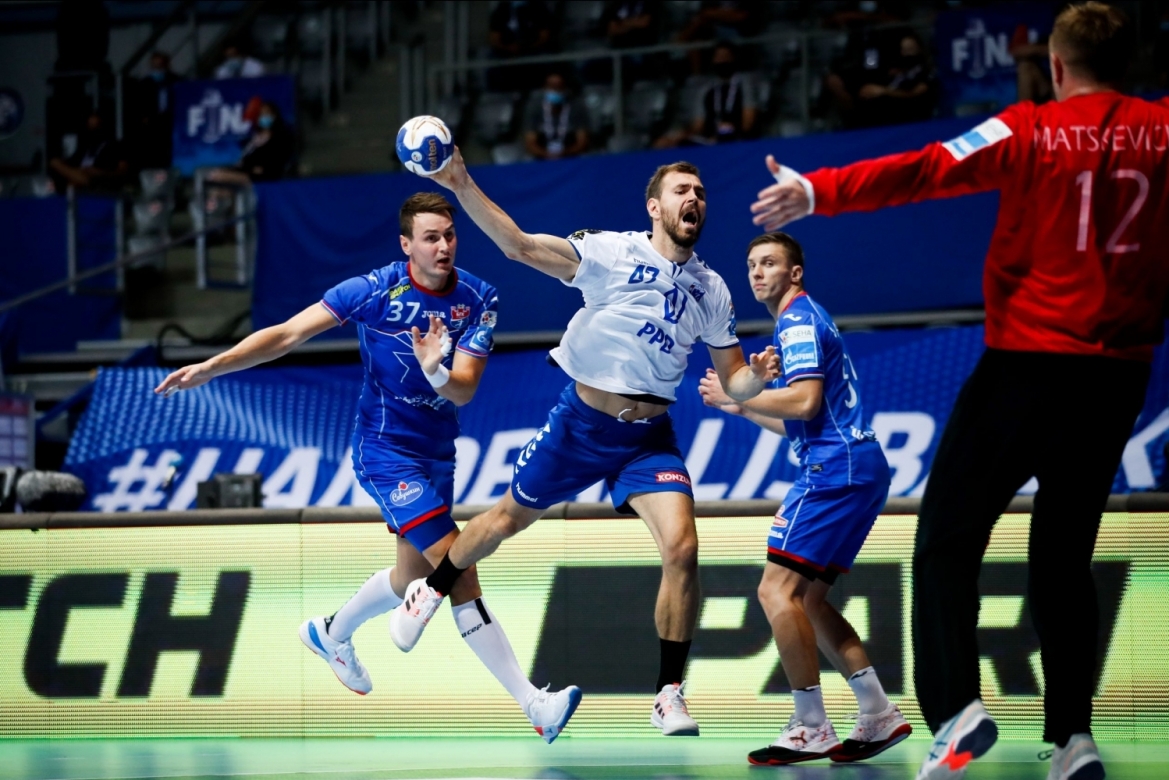 For the fourth time after 2013, 2018 and 2019, PPD Zagreb have made it to the final of the SEHA - Gazprom League – this time after a real thriller. After losing the 2020 Semi-Final against Vardar 1961 in penalty shootout, this year, Zagreb secured the win against Meshkov Brest. After 14 penalties, Ivan Cupic scored the final goal for the 38:37. At the end of the first 60 minutes the result was a 32:32 draw, after Dmitrii Santalov had scored the equalizer with the final buzzer.
Jaka Malus later-on failed with Meshkov's last penalty against PPD goalkeeper Dino Slavic.
Best scorers in a real thriller were Mikita Vailupau with nine strikes for Meshkov and Cupic with ten goals for Zagreb. Youngster Filip Vistorop was another PPD's hero by eight goals in the regular time. Zagreb's opponent in the final will be decided in the second semi between Telekom Veszprem and Motor Zaporozhye.
Semi-Final 1:
Meshkov Brest vs PPD Zagreb 38:37 (32:32 16:15) after penalty shoot-out
While Meshkov had to replace their injured Croatian goalkeeper Ivan Pesic, Zagreb's left back Matej Hrstic is also ruled out for the SEHA Final 4 by an injury. Vailupau had already imprinted the first minutes, scoring three of Meshkov's first four goals. When goalkeeper Ivan Matskevich and then Jaka Malus extended Meshkov's advance to 10:8, PPD coach Ivica Orbvan took his first time-out after only 17 minutes. His player understood his words, backed by some extraordinary saves of goalkeeper Filip Ivic, who had returned to Zagreb after five years abroad, the Croatian record champions were on eye level again.
Meshkov showed a strong defence, but Zagreb had stronger back court players in this period and took the lead at 12:11 in a match, which was constantly on the edge and in which Meshkov took a close 16:15 to the dressing rooms.
Zagreb re-started stronger, mainly thanks to young Filip Vistorop and pulled ahead to 19:17, forcing new Meshkov coach Daniel Gordo to use his next time-out after only six minutes and 1:4 run of his side.
The Semi-Final still was a like roller-coaster-ride, the lead was changing constantly until minute 43. Then PPD took the upper hand, scored four easy-going counter-attack goals and took their first four-goal at 26:22 after a 5:0 series within only four minutes. Still, Vistorop fired from all cylinders, and new arrival Ivan Cupic was cold as ice from the penalty line – netting six from six until minute 52.
Meshkov tried everything, backed by the goals of Czech new arrival Stanislav Kasparek and finally managed to reduce to 31:31 thanks to Vailupau's double strike with his goals six and seven. PPD coach Ivica Obrvan need to use his last time-out 50 seconds before the end.
Then Sandro Obradovic had his great show: with five seconds to play, he seemed to have scored the winning strike with a hammer shot from ten metres. But after a timeout, Dmitrii Santalov made the impossible possible, scoring with the final buzzer for 32:32 to secure the penalty shoot-out for Meshkov.
While Edin Klis was the only PPD player who failed, Stas Skube and Jaka Malus missed their penalties for Mehskov.