Nexe looking for a revenge against Vardar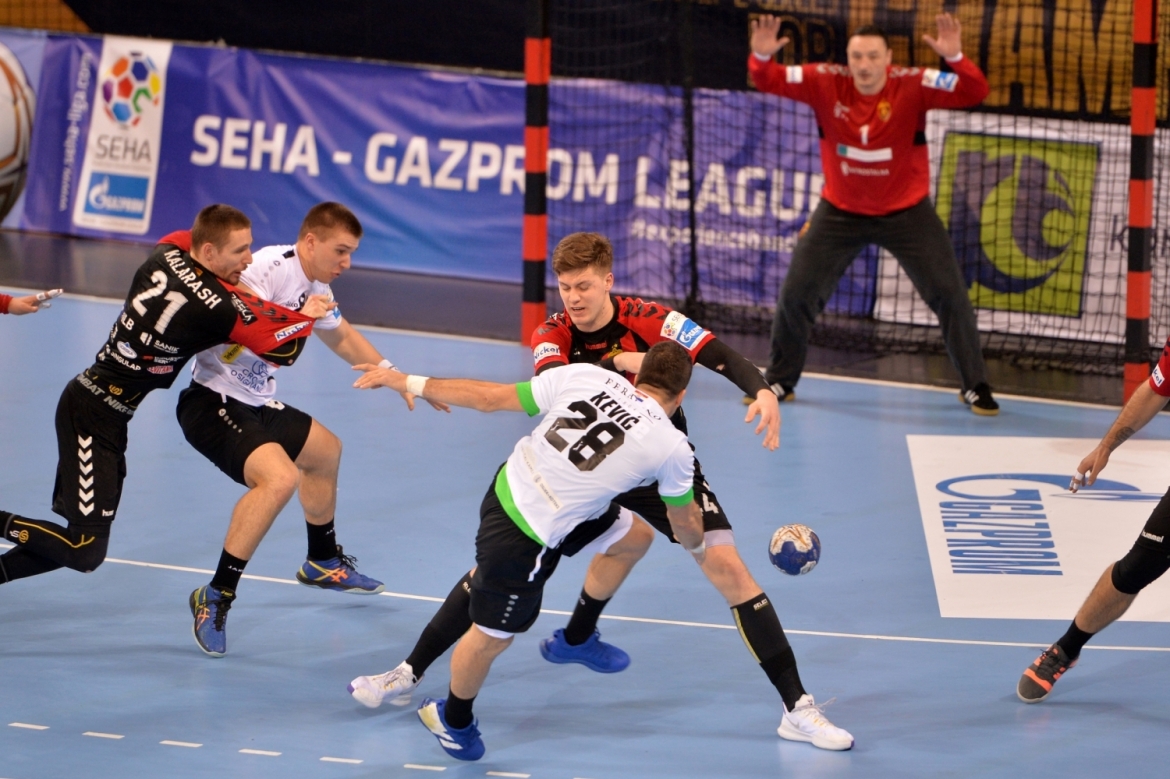 National team week is behind us which, of course, means SEHA - Gazprom League is back! In the first match of this three-game week ahead of us Vardar 1961 will (17.00 CET) meet Nexe in Nasice on Wednesday. In an encounter between two teams that have been a part of the league from its very beginnings Croatian vice-champions will be looking to get revenge for a narrow loss they suffered month and a half ago in Skopje with the 'Red&Black' snatching a 27:26 win.
However, considering the fact Motor have already opened the gap in Group B with three wins from just as much appearances coach Alushovski and his guys will surely look to grab three new points which would help them stay in race for the first position. Match will be broadcasted live on Arena Sport channels and MRT (Macedonia), so make sure not to miss it!
Branko Tamse, Nexe coach:
Goal is to achieve the best possible result against Vardar with maximum commitment and serious approach. We know Vardar have an experienced roster full of quality players but those first games after the national team weeks are always specific. Halil Jaganjac and Aleksandar Bakic will both be available for this one in which a lot will depend on our performance and approach in my opinion.
Aleksandar Bakic, Nexe player:
First of all I have to say I've completely recovered from this minor leg injury I suffered in the match against Montpellier and I'm really ready to go. Tomorrow we're playing Vardar – a great team full of high-quality players. They are playing on this high level for a few years now and I believe they have a lot of experience. Despite of everything we're playing at home and our goal will be to win. In our last two matches against them they've managed to defeat us by one goal and I really hope we won't allow them to make it three in a row.
Stevce Alushovski, Vardar coach:
Moment in which we'll play this one is far from ideal. We've had only seven players and two goalkeepers on disposal during the national team week and it will be hard to prepare for this one, especially with Stoilov, Walczak, Dimitrioski and Jotic still recovering from some injuries. Our roster against Nexe will definitely be reduced. I can say we've analyzed Nexe under new coach and their style hasn't really changed much – the only thing that is different is their transition and the fact they are no longer playing 7 versus 6 as much. We know what's waiting for us and we're ready. Goal is to take three points back to Skopje with us.
Goce Georgievski, Vardar player:
We'll play an opponent we know quite well on Wednesday. Schedule is buys obviously and we haven't had much time to analyze everything and prepare for this one. We've however analyzed our match against them from about a month and a half ago. This one will be far from easy but we'll do our best to win it and finish the regular part of the season in the best possible position. Nexe have a new coach and they did change a thing or two but that is still basically the same team.