2021 WCh Egypt - Day 2: Vailupau explodes for 10, Mahe scores 9 against Norway
Belarus grab a point versus Russia, Macedonia with eight SEHA players in roster falls short against Sweden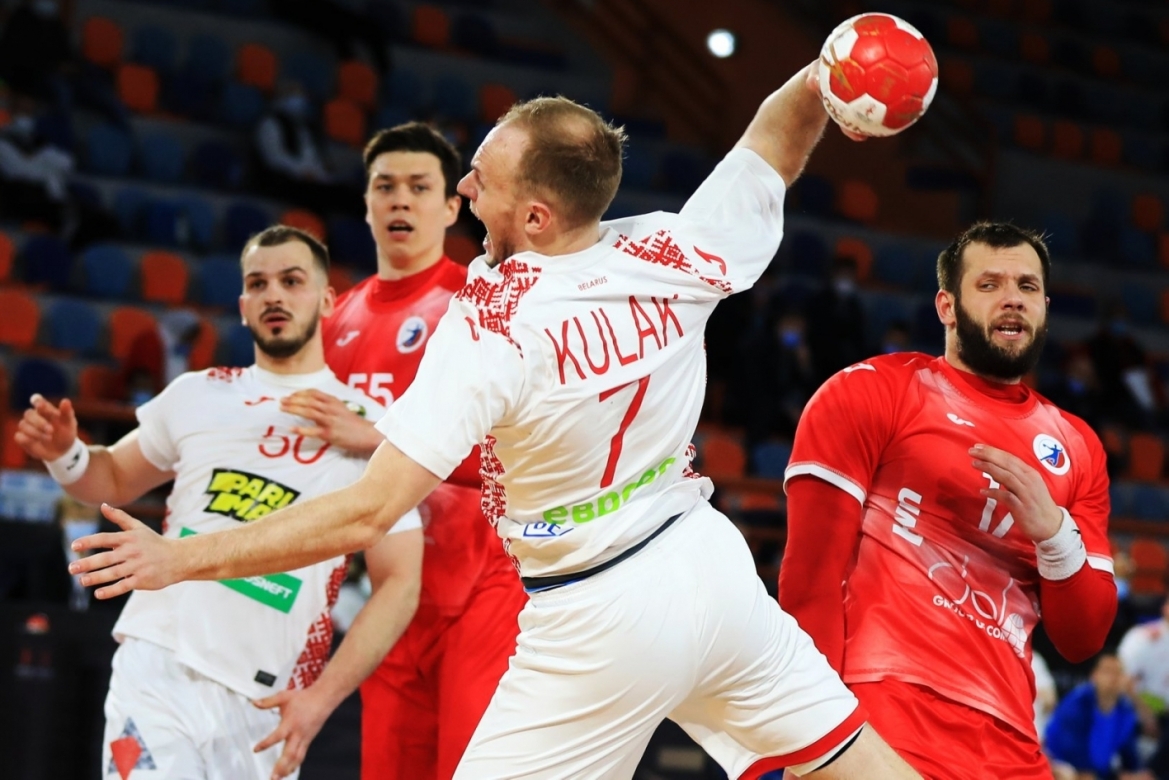 Photocredit: Egypt 2021 Men's Handball World Championship FB
All seven matches of day two are now behind us and we've seen a lot – from narrow matches decided in final moments all the way to dominant victories. Some of our SEHA stars have also stated right away with their performances that they mean business in Egypt proving to be key players for their respective national teams. Let's get started with our daily recap.
In group E Switzerland, which same as Macedonia received a late call for the tournament replacing United States, delivered a solid performance grabbing an opening 25:28 win against Austria. One of the most prolific offensive players in the world Andy Schmid led them with seven goals in this one. Second match of the day in the same group brought us a clash between two teams that are most definitely among favorites to go all the way – Norway and France. In the end 24:28 win for France led by Telekom Veszprem' Kentin Mahe who exploded for remarkable nine goals. We must also highlight French goalkeeper Wesley Pardin and his amazing 18 saves which definitely played a huge role in deciding winner in this one as well. Veszprem's Kent Robin Tonnesen scored one goal for Norway.
In group F Algeria defeated Morocco with 24:23while Portugal managed to come on top against Iceland (25:23) once again proving to have a strong, quality, young roster. Miguel Martins led them in this one with six goals.
First match of the opening round in group G was played yesterday with Egypt coming out on top against Chile and in the second match we've seen our SEHA national team Macedonia fall short against Scandinavian stronghold Sweden (31:20). Eight SEHA players in Macedonian roster combined for nine goals in this one but that was unfortunately for them and their fans not enough for a win against Sweden which was this time offensively led by winger Hampus Wanne who finished the match with 11 goals. In the next round Macedonians will in two days face off against hosts Egypt.
Second SEHA national team we've seen out there today was Belarus. Belarusians delivered a splendid performance, led by the deadliest SEHA scorer Mikita Vailupau who finished the match with 10 goals, but that wasn't enough for them to secure both points against Russia. We've seen six SEHA players on the court in this one - five playing for Belarus from which we have to highlight Motor's goalkeeper Maroz and his nine saves, and one for Russia as Telekom Veszprem's Daniil Shishkarev netted four goals helping his team grab a point in this one. In two days Belarus will face off against South Korea. Second match of the day in group H was the one which will definitely find its place in the history books as Slovenia managed to score 51 crowning an exceptional offensive display against South Korea (51:29). Blaz Blagotinsek netted three while Stas Skube added one. We'll also highlight Slovenian right wingers Blaz Janc and Dragan Gajic, our former SEHA stars, who combined for sensational 19 goals in this one.
More matches are coming our way tomorrow already as we'll see round one matches in groups A, B, C and D. Two clashes we're especially excited for are Hungary against Cape Verde and Croatia versus Japan with two of our SEHA national teams making their premier appearances in Egypt.
Croatia will in Alexandria (18.00 CET) play Japan looking to deliver a strong outing and open the competition the right way. Later on Hungary will in Giza (20.30 CET) meet Cape Verde in what will be the first ever handball WCh appearance for this African country. Apart from these two matches plenty more SEHA – Gazprom League players will get out there tomorrow as well so make sure to stay tuned!
SCORES & GOALS
DAY 2 (14.1.)
Group E
Austria – Switzerland 25:28
Norway – France 24:28 (Tonnesen 1/Mahe 9)
Group F
Algeria – Morocco 24:23
Portugal – Iceland 25:23
Group G
Sweden – MACEDONIA 31:20 (Stoilov 2, Kosteski 2)
Group H
BELARUS – Russia 32:32 (Vailupau 10, Maroz 9 saves/Shishkarev 4)
Slovenia – South Korea 51:29 (Blagotinšek 3, Skube 1)
TOMORROW IN EGYPT
DAY 3 (15.1)
Group A
Germany – Uruguay (18.00 CET)
Hungary – Cape Verde (20.30 CET)
Group B
Spain – Brazil (18.00 CET)
Tunisia – Poland (20.30 CET)
Group C
Qatar – Angola (15.30 CET)
CROATIA – Japan (18.00 CET)
Group D
Argentina – DR Congo (18.00 CET)
Denmark – Bahrain (20.30 CET)