EHF CL Round 1 Recap: Meshkov victorious in SEHA derby, Veszprem celebrate in Nantes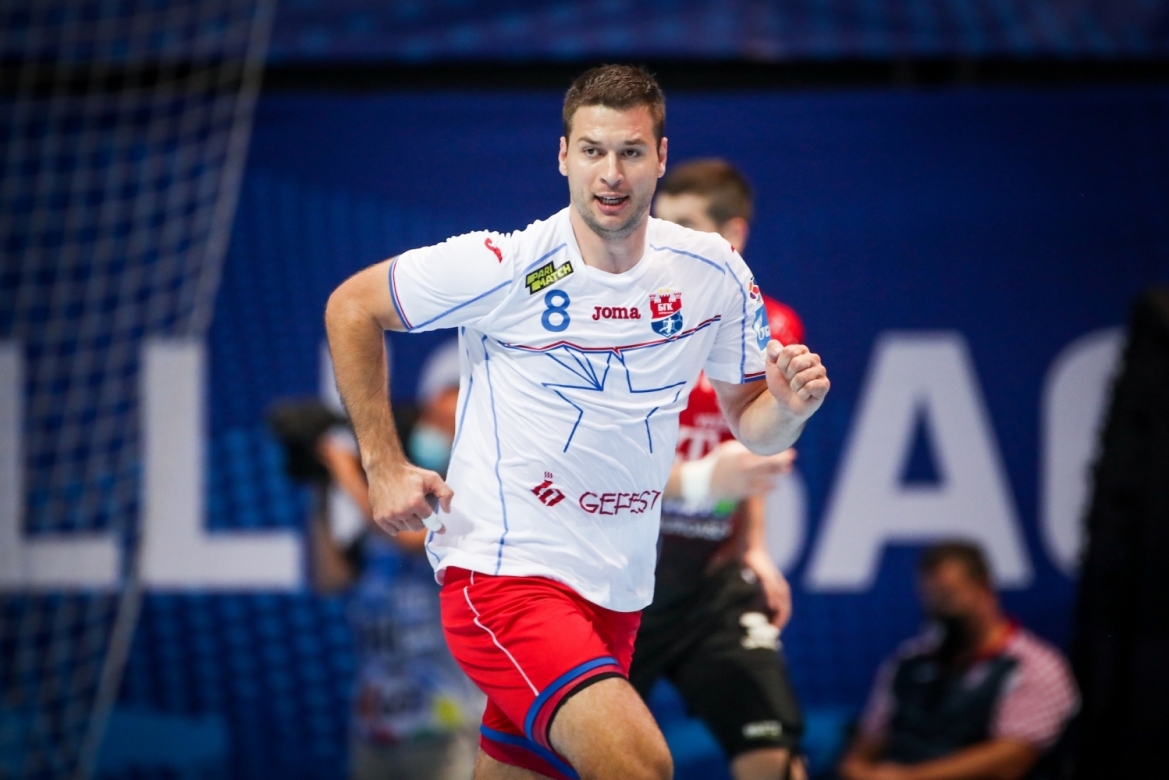 First round of EHF Champions League group phase is now behind us with two SEHA teams managing to reach victories in what was quite a challenging round for some of them. Let's get a closer look at all of our SEHA members and their appearances in the first round of Europe's most elite handball competition.
Group A
Meshkov Brest – Vardar 1961 24:22 (12:10)
Belarusians have managed to start EHF Champions League campaign with an important home win against their big rivals and reigning European champions Vardar 1961. In what was an incredibly tough and close match Marko Panic and Mikita Vailupau were once again, just like in Zadar, leading their team offensively scoring half of their team's goals (six each). Vardar's back shooters Marko Vujin (6) and Christian Dissinger (4) were on the other hand leading 'Red&Black' but it simply wasn't enough for them to stun highly-motivated hosts on Wednesday evening in Brest. In the next round Macedonians will look for first points at home against Elverum and Meshkov will travel to Portugal to meet Porto.
Group B
Nantes – Telekom Veszprem 24:28 (10:11)
David Davis and his guys were looking really good in Zadar almost two weeks ago and they proved they are still in a pretty good form grabbing a four-goal away win against one of the best French teams Nantes. Andreas Nilsson and Dejan Manaskov led Veszprem offensively with five each while Rodrigo Corrales kept on putting MVP numbers grabbing 17 saves. In the next round Telekom Veszprem will, in a SEHA derby of the Champions League, welcome PPD Zagreb.
Group B
PPD Zagreb – Kiel 21:31 (6:14)
PPD Zagreb failed to stun one of the most dominant teams in Europe at the moment THW Kiel, in the end losing by a ten-goal margin. Germans simply proved to be a much better team out there led by one of Europe's deadliest scorers and best players overall Sander Sagosen who finished the match with seven goals. Filip Vistorop on the other side netted six for hosts while Milos Bozovic added four. After the match coach Vori said they'll have to work on minimizing mistakes and catching a better rhythm overall which is something they'll definitely need in the next round in Hungary against Telekom Veszprem.
Motor Zaporozhye – Barça 25:30 (11:13)
Despite of the fact they were welcoming a highly-favored opponent in the opening round, Ukrainians managed to deliver a solid outing against one of European strongholds Barça losing by only five goals. Their goalkeeper Ivan Maroz and his 16 saves definitely played a big role for his team in this one as well as the fact Aidenas Malasinskas scored seven. Spanish winger Aleix Gomez Abello however on the other side finished the match with ten goals. In the next round Motor will look to capitalize on the current form trying to win premier Champions League points of the season in Denmark against Aalborg.