Their only way was up: How Veszprem made it onto the podium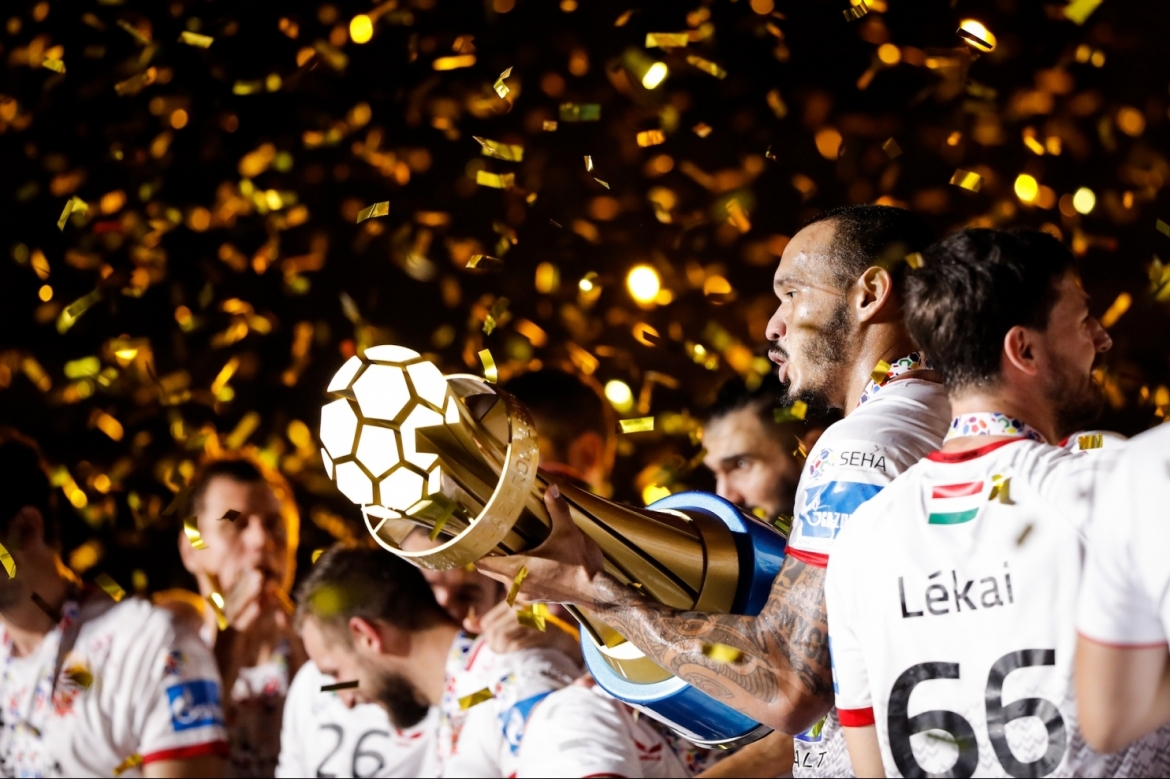 What an incredible comeback, what an impressive season: In April 2019, during the Final 4 tournament of the SEHA - Gazprom at Brest, Belarus, Telekom Veszprem announced to re-join the competition they had been part of in the 2014/15, 2015/16 and 2016/17 seasons. All fans were eager to see, whether the Hungarian record champions could play the same role as they did in their first stint when they became winners in 2015 and 2016 and were finalists in 2017.
The side of head coach David Davis proved their class of its own and their outstanding level almost from the first match of the regular season until the moment, they received the trophy on Sunday night on the winners' podium of the Final 4 in Zadar, Croatia.
Right at the start of the regular round, Telekom Veszprem sent a clear sign to their main opponents, beating the later-on Final 4 participants Meshkov Brest (away) and PPD Zagreb (at home), followed by another away victory at Spartak Moscow.
Only twice, Veszprem left the courts empty-handed, both times more or less unexpected, as they lost the away matches at Eurofarm Pelister in Bitola and at Metaloplastika Sabac. But from the 14 December 2019 on, there was only one way for David Davis and his team: up! On the home ground, they did not give a single point from their hands in the whole season, finally topping Group B with 24 of 30 possible points ahead of Zagreb (21).
Due to this result, Veszprem skipped the playoffs, won the first leg of the quarter-final easily 31:26 at Vojvodina in March. The second leg end of August had to be canceled by the Serbians.
At the Final 4 at Zadar, Veszprem only had one weak part on their journey to the trophy - the first half of the semi-final against Meshkov Brest. But when they had re-started their engines, they first beat the Belorusian side 28:24 and then were even more dominant in the final against the dethroned champions Vardar (35:27).
The key to success was the defense, the wide bench - and at Zadar the performance of their newly arrived goalkeeper Rodrigo Corrales, who was awarded MVP of the tournament. "Veszprem were a fully deserved winner of this trophy," even Vardar coach Stevche Alushovski praised the new champions.
In between the SEHA - Gazprom season, Veszprem managed to finish the group phase of the EHF Champions League second-ranked below THW Kiel and therefore will have another attempt at Cologne to win this only trophy, the club is still missing, on 28/29 December at Cologne.
Parallel they will re-start in the EHF Champions League season 2020/21 and of course in the tenth season of the SEHA - Gazprom League, now as the hunted, not the hunters.