7m - Lovro Jotic: "It feels like home in Eurofarm"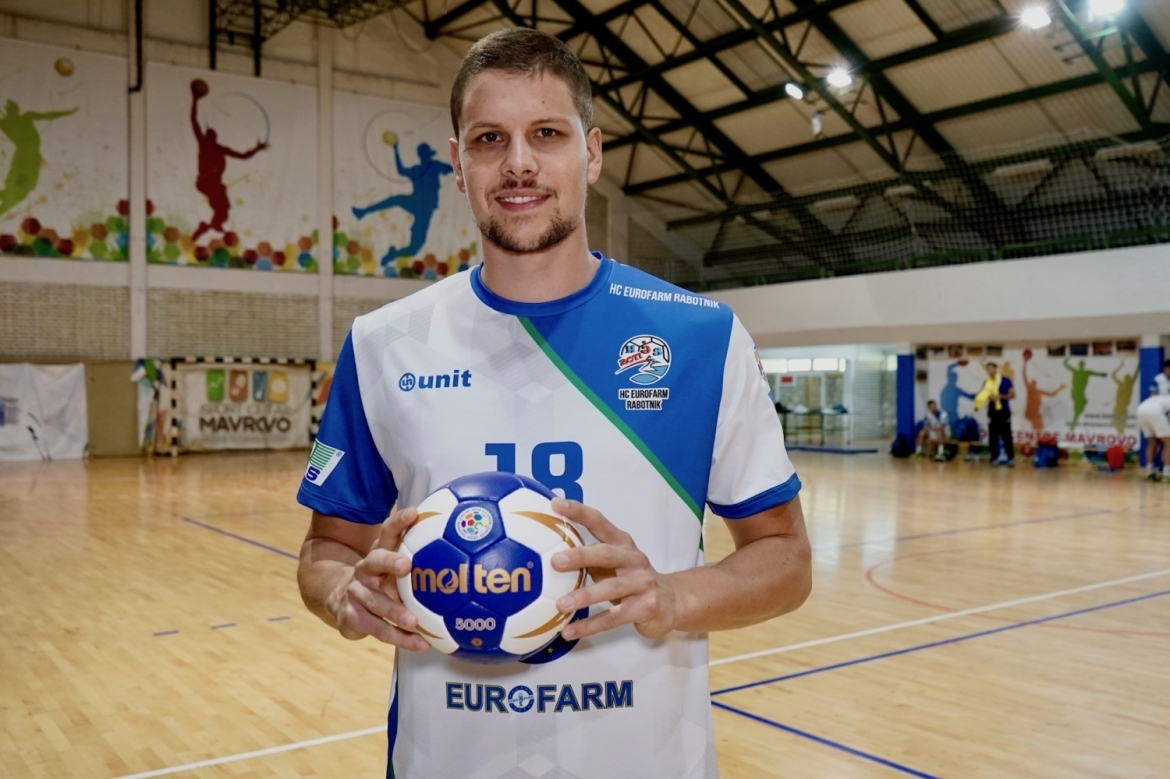 Incredible fighter on the court and even more amazing off the court. All that and much more is young Eurofarm Rabotnik's star, Lovro Jotic. This twenty-four years old centre back joined the squad from Bitola this season and already showed his talent on the court. With such big ambitions and amazing results he already achieved in his career, there is no doubt a bright future is in front of this youngster from Croatia.
Eurofarm Rabotnik have two SEHA victories at the start of the season. Are you satisfied with such results?
I think that we can be satisfied with the start of this season in the SEHA – Gazprom League. So far, we have two victories behind us. I think that everyone expected us to win these matches. We played really good and we showed strength on the court. Veszprem are the favourites in this match, they are a big team. I think this match will be great oportunity for us to see where we stand compared to the other excellent teams.
What is your team's goal for this season?
The primary goal of my team is to finish the group phase in the best way possible and to go through to the next phase of the competition. Of course, we want to go all the way to the end. If we manage to reach the next stage, we will see from there how will it go. It all depends on our opponents in the upcoming stages. But, we are always aiming for the victory so we will try to stay in this competition as long as we can.
In the next round you will meet with Telekom Veszprem. How do you see that mach and what are your expectations?
Because we have such a tight schedule, we will only have one practice before the match against Telekom Veszprem. We will give our maximum in that match and we will try to surprise them. We won't just go there and let them win without any resistance from our side. But, Veszprem are the favourites in this match. They are incredible team who already won the SEHA – Gazprom League twice. I thinkt that the match will be really good and from what I heard, the Boro Curlevski hall will be full of fans. It will be a big day for Bitola because a small town will host such a big team like Veszprem.
You spent the majority of your playing career in PPD Zagreb. How much is this season different for you?
There is not a big difference between Eurofarm Rabotnik and PPD Zagreb. Except, when I played for PPD Zagreb, I was at home. It is all sport after all, and for me it is most important to play handball and to show that I can do a lot and that I have big desire on the court.
How and why did you decide to join Eurofarm Rabotnik?
Because I wanted to play more and show my skills, I came here. In the last season in PPD Zagreb, I couldn't really do that so I was not satisfied with my status in the team. For now, I am really happy here, everything is great.
What are the main advantages of Eurofarm Rabotnik compared to other clubs in this League?
I would point out our defense. It is really tough, especially when we play on the home court because our fans' support. They give us additional motive to be better and stronger. So, our incredible fans, our defense, fast transition and smart attack are Eurofarm Rabotnik's biggest advantages.
Has it been a long period of adjustment to the new surrounding and a new team?
The process of adjustment has actually been really easy. There are a lot of players in this team that originate from the countries around here, so it was really easy. From the very beginning, the players have been really kind to me and accepted me. It feels like home here.
Right after the match against Telekom Veszprem, you will meet with PPD Zagreb. How do you feel about playing against your former teammates? Will that be an advantage or disadvantage on the court?
We will have such a tough guest appearance against PPD Zagreb. I would even say that they will be the favourites because they will play on the home court. I think that their new coach Veselin Vujovicwill bring some new things into their play. Even though they didn't start the season in the best way possible, they are always good when they play at home. It won't be no problem for me to play against my former teammates because this is handball and now I'm a part of Eurofarm Rabotnik's squad. I want to win this match with my new team.
How and when did your handball journey start?
It all started in my neighbourhood, Dugave. I started to play handball with professor Kavan.He collected players from different schools to play at the Maksimir Princclub. I started my handball career there and then I went to PPD Zagreb. I played in different selections there as well as in the Croatian national team. After one season in PPD Zagreb, I went to Danish Aalborg Handbold for a season. I would like to go back there one day because it was such an amazing experience.
When it comes to handball, where do you see yourself in the future?
I see my future in Eurofarm, until the end of my contract or longer if we prolong my contract. Later in my career, I see myself in some big club as I have big goals. I believe in myself and think that I can achieve that. I also see myself in the Croatian national team. It has always been my huge wish to play for my country. There is a lot of hard work in front of me if I want to make that possible in the future.