Szlezak: The development of the SEHA – Gazprom League is good for European handball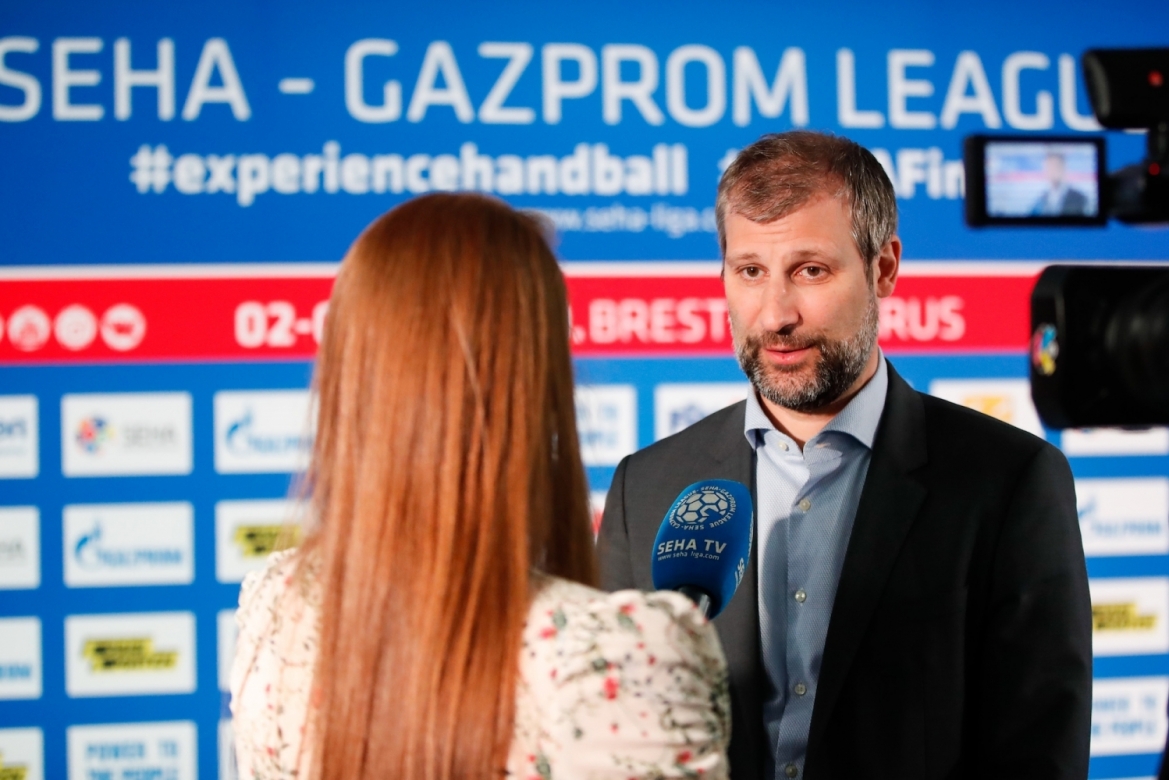 For the third time after in Skopje in 2018, David Szlezak visited the Final 4 of the SEHA – Gazprom League, now at Brest. The Managing Director of the EHF Marketing GmbH, who had been Austrian national team and Bundesliga player before he started his business career, praises the development and organisation of the competition.
What is your impression of the 2018/19 season of the SEHA – Gazprom League?
It was a very well-balanced season, with many of the top teams playing on an equal level. Though the usual suspects had finally been on top of the ranking after the regular season such as Vardar, Zagreb and Brest, it was an exciting season. For example, Zagreb showed a clear sign of life, a strong upswing, which we also recognized in the Champions League. You definitely have to count with PPD in future. Besides, many experts did not have high hopes for Vardar, but they have proved that they function as a team, as a true unit. Brest have developed in the right direction in the previous years, but you have to give this team even more time to develop even more. Nexe count on young and highly talented players, who play a highly attractive handball. All four of them have deserved to be part of the final tournament.
In terms of organisation, how do you rate the SEHA – Gazprom League and the Final 4?
We have a constant and intense exchange on all fields. So I can say, that the development of the SEHA – Gazprom League is good for European handball. The league, the clubs and also those national federations involved do a professional job. From a long-term perspective this professionalisation is highly important for the whole handball and its image in Europe.
Right at Brest, the Executive Committee of the SEHA – Gazprom League has announced a new playing system, quite similar to Champions League. Your opinion on this change?
Of course, the SEHA calendar needs to fit in the EHF and the IHF calendar. I am sure that this change of the playing system will help to reduce the load on the top teams and the top players and will help to improve the competition's level. We always have to have in mind that handball is only a little part of this whole media world. If we want to survive on this highly competitive sports rights and sports media market, we have to be different to others, we have to show a high level in all departments, including the performances on court. But the SEHA - Gazprom League is on a good way, The Executive Committee will have had good reasons to change the playing system.
Many top matches of the SEHA – Gazprom League, including all games of the Final 4 in Brest, are broadcasted by your OTT platform ehfTV.com. Is it a prove that EHF recognizes SEHA – Gazprom League as a strong and interesting competition?
If we can increase the reach and the interest of any handball competition by our platform it is a win for the sport of handball. We offer this platform to different leagues, and of course the SEHA – Gazprom League is part of it.

Photo credit: Kolektiff Images