7m – Igor Karacic: "I wouldn't mind finishing my playing career here in Vardar"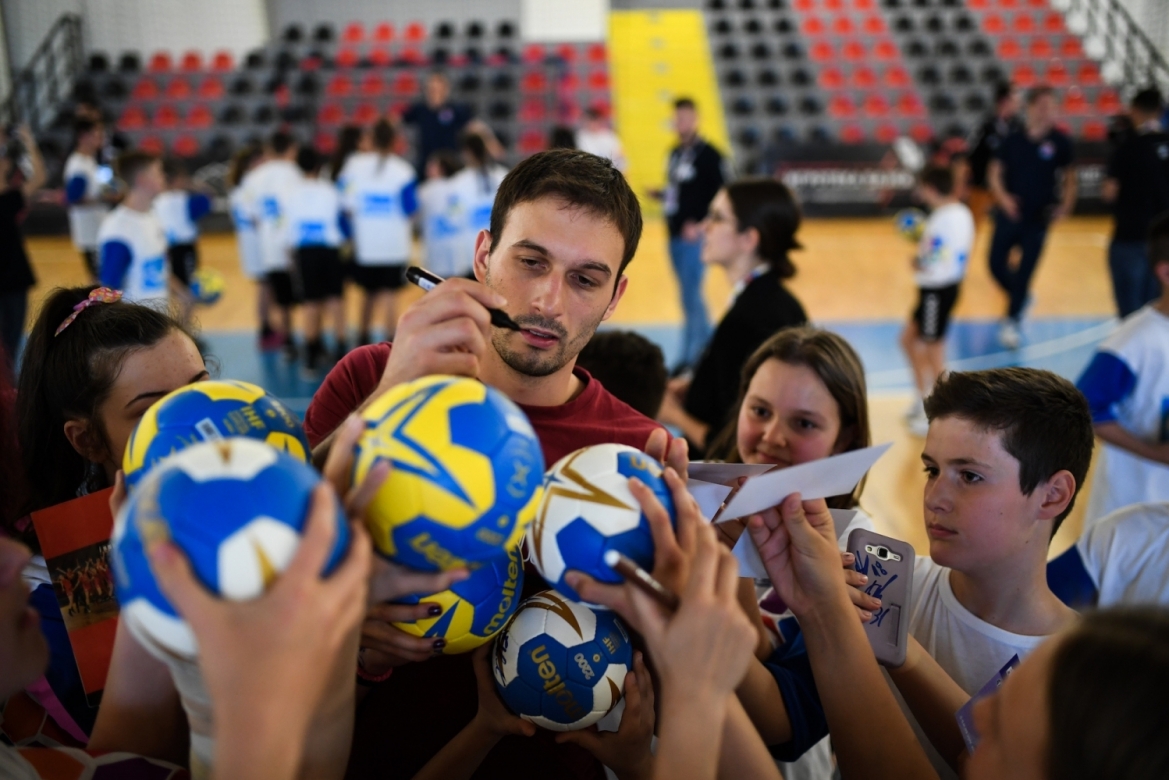 Igor Karacic is one of the last players in Vardar who witnessed the pre-Samsonenko era, rise of the rivalry between two handball giants Vardar and Metalurg as well as the golden era of 'Red&Black' as a result of which they managed to climb all the way to the European throne. Seven years in Skopje were enough for Igor to become a fan favorite and a living legend of the club.
And while Macedonian champions are having yet another amazing season, Croatian national team player is once again surely one of the most important pieces of their roster which was more than enough reason for us to sit with him prior to Round 16 derby in which his Vardar will welcome Meshkov Brest.
Everything is going according to plan so far this season for Vardar as you've already managed to book a place for yourselves on SEHA final tournament as well as in the Last 16 phase of the EHF Champions League.
It is but the goals haven't been fulfilled yet. Plan is to finish the regular part of SEHA - Gazprom League season on top of the standings as well as to reach Cologne. We once again have a quality roster of players who are eager to achieve highest possible goals. We want to win another SEHA title and go to Cologne for the third time in a row but we're going step by step. Situation is not ideal at the moment because we have a lot of injured players but be sure we'll do everything in our power to achieve our goals.
And what will, in your opinion, be the key on your way to reaching all the goals you've set for youselves?
Everything will depend on if the players will be ready to deliver their maximum in March and April. After the WCh it is never easy to get back into the right shape since there are simply too many games. However, we always say the main goal is to be fully prepared for what's waiting for us in March and April and our trainer Daniel Jurisic does an excellent job in that aspect helping us 'recharge' and be fully focused when it matters the most.
Did you, back in the beginning of the season, believe Vardar will at the end of February/beginning of March be where it is now in both SEHA and Champions League?
In the beginning of the season some of my teammates didn't believe we'll be as good as it turned out we are since we experienced a lot of roster changes during the summer. However, I always believed in this team and I even predicted some things correctly like the fact we might be able to defeat both Veszprem and Montpellier away from home. I believed we will finish the CL group stage on the second position but didn't predict we'll lose points to Veszprem at home. I believe we must all be satisfied with where we are at the moment. Three of our players had to undergo surgeries and many others were dealing with some minor ones we don't always bring out but just deal with them. What matters the most however is that this team always manages to come together when it's the hardest and deliver.
It seems like every time people stop believing in you, you start playing even better.
We've been displaying this for five years now. Our players are mentally strong and full of fighting spirit. Not every team has that. There are teams which are functioning great when there is no or little pressure but we deliver our best when it matters the most. There is no 'I' here in Vardar, just 'we'.
It's still not decided who you are going to face in SEHA Final 4 semis. Do you have anyone you'd maybe like to go against?
All teams are great. Nexe have an excellent roster with coach Horvat leading them well. They have great potential. PPD Zagreb are a top-tier team and they are showing it in the Champions League. I feel like they are losing some matches due to immaturity and lack of experience. And by that, we still have to see which team will be the fourth to secure its place – Tatran or Meshkov. However, we're entering this tournament with a goal of going all the way. We know what it takes to make it to the top and it doesn't really matter who will be our rivals because we want to lift that trophy once again.
You have been a part of Vardar for the longest time from the current roster. What made you decide to remain a part of the team for such a long time?
When I arrived here Vardar was not a world-known team but it was a club with a rich history and tradition. Coach Veselin Vujovic was the reason I decided to come. At the time I was dealing with a severe shoulder injury and despite of other offers, and I had one from Metalurg as well, I decided to join Vardar. Vujovic told me he was ready to wait for me because he knew exactly why he needs me here. After that, when Sergey Samsonenko came, there was really no reason for me to leave.
So at the same time you had offers from both Vardar and Metalurg?
Lino Cervar was looking for me, he wanted me to come but at the moment there were too many Macedonians on my position in Metalurg and by that I needed some time to fully recover. I knew that if I go to Metalurg I won't play as much and won't be able to improve which is why I decided to come and join Vardar and, as you can tell, I didn't make a mistake.
How do you feel in Macedonia after so many years?
Honestly, I feel at home and I've already adopted some things like eating a salad prior to the main dish and I often use Macedonian words when in Croatia. I don't think it is a strange thing to adapt to the local culture after spending as much years away from home.
You have worked with several coaches here in Vardar – from Veselin Vujovic, Zoran Kastratovic, Raul Gonzales and now Roberto Parrondo. What is it you'd take from each one of them in order to make the ultimate coach?
From Vujovic it would definitely be motivation and fighting spirit. From Kastratovic probably the personal connection he develops with every player on the roster. From coach Raul his deep and thorough analysis and from Parrondo his calmness as well as thoughtfulness and analysis. Spanish coaches are all quite similar.
Fans are eager to know whether Igor Karacic will wear the red and black jersey next season as well?
I can't answer that yet. Vardar has a special place in my heart, I mean this is my home and I wouldn't mind staying here for a lifetime. However, I can't answer your question just yet.