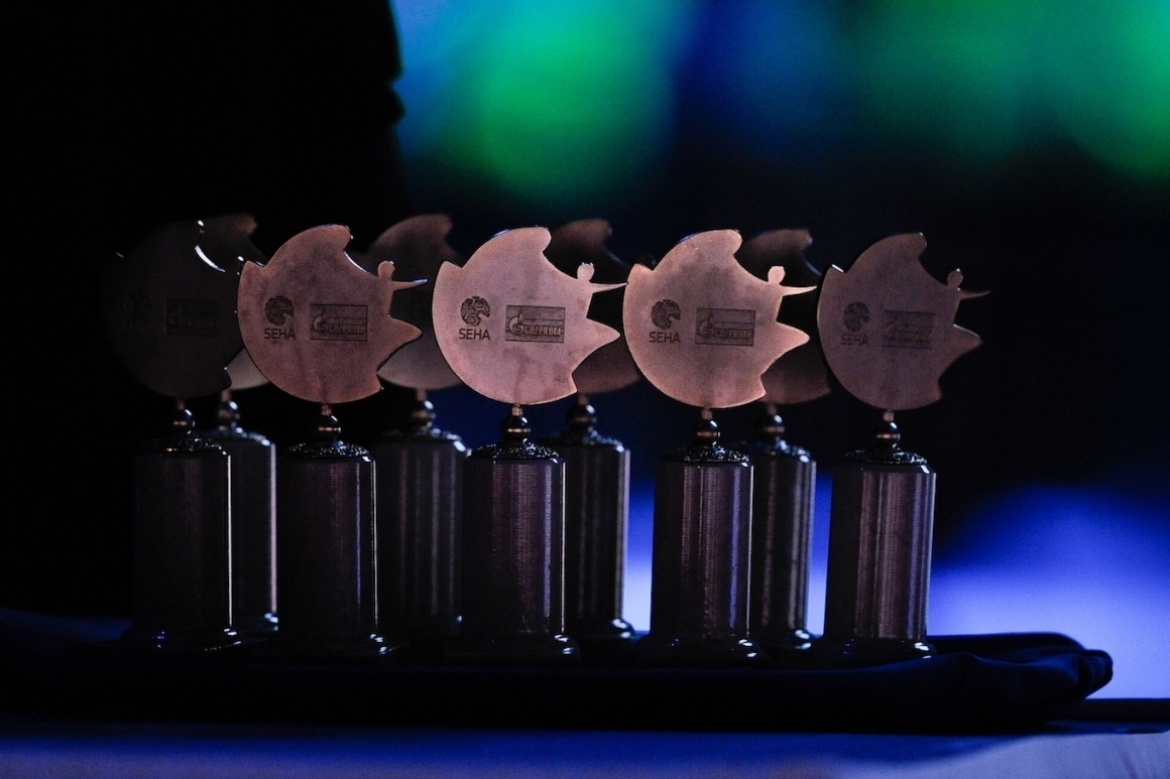 After the World Championship in Germany and Denmark, club handball returned, and so did SEHA – Gazprom League. Clubs used the January period for some roster changes, but also for preparations for the second part of the season. As usual, we singled out the best players after the winter break. So, check out which seven men shined the most in February!
Goalkeeper: Josip Kvesic (Izvidjac)
Izvidjac reached their first win of the season, in the match against Zeleznicar. The first name of the encounter was the unbelievable Josip Kvesic, who picked up 20 saves, including three 7m shots. Kvesic shifted gears in 2019, with a couple of excellent matches. Izvidjac had two more encounters in February, but even though they recorded two more losses, Kvesic added 13 more saves and confirmed his very good form in the second part of the season.
Left wing: Gabriel Florea (Steaua Bucuresti)
One of the most experienced players of Romanian vice-champions start very well in the half-season. Despite Steaua's two losses, Florea was more than solid. Four goals versus Meshkov in Brest, three in a win in Ljubuski against Izvidjac and then seven in a tough loss to Metalurg. This season, Florea is the top scorer of his team, with 49 goals scored!

Left back: Petar Djordjic (Meshkov Brest)
Petar Djordjic picked up where he left off in December. Serbian player is one of the most reliable solutions from the back line for Meshkov Brest. He confirmed that in two big wins by his club this month. Djordjic had four goals and two assists versus Steaua and five goals and three assists against Vojvodina. With over five goals per match this season, Djordjic has the best goals average in Belarusian champions' lineup!
Centre back: Luka Mrakovcic (PPD Zagreb)
PPD Zagreb had two appearances in Skopje in February. After a big win against Metalurg, 36:24, they were close to new three points against Vardar. In the match against Macedonian vice-champions, Mrakovcic was one of the best individuals with five goals in as many attempts. Against Vardar, despite the loss, Mrakovcic was very good as a playmaker, and was on the scoresheet three times. From 21 goals this season, Mrakovcic scored 8 in 2019!
Right back: Predrag Vejin (Zeleznicar 1949)
Predrag Vejin has been playing excellent the entire season. He is Zeleznicar's top scorer, and finds himself in top five scorers of the League. So far in the half-season he displayed himself in terrific form, not just as a scorer, but as a playmaker. He was the best in a narrow loss in Presov, with seven goals and three assists, and he was also great in an important win by his team against Metalurg, with six goals and three assists. All of that brought him a selection for the best right back in February, despite really strong competition.

Right wing: Maxim Baranau (Meshkov Brest)
Right wing player of Meshkov Brest is one of the most efficient players in the entire League. Baranau is currently with Djukic the best scorer of the Belarusian team, with 44 goals with 81% realization. In February, he was very good in both matches, four goals against Steaua and three versus Vojvodina. 30-year old is one the players who Cadenas can always rely on, whether it's from the wing, counter-attack or 7m line.

Pivot: Mario Tomic (Nexe)
Mario Tomic started the year of 2019 brilliantly. First, with four goals he took part in a big win in Bucharest against Steaua. Then, he was the best player in Nexe's key win over Tatran from Presov, when he scored seven goals. It needs to be added how the Nasice club conceded only 41 goals in those two matches, and Tomic is a key part of their defence. Excellent start of the second part of the season behind him!

Coach: Manolo Cadenas (Meshkov Brest)
There wasn't much doubt behind the choice for coach of the month. Cadenas and Meshkov Brest recorded two really commanding wins. First, they beat Steaua 35:21, and next was Vojvodina with 35:19. Cadenas finally has most player at his disposal, and in that edition Meshkov Brest are an extremely dangerous team. This season, they defeated their opponents with double-digit difference 6 times, and they look to continue their current six-match winning streak.