7m - Predrag Vejin: "SEHA is definitely a big and valuable experience for us all"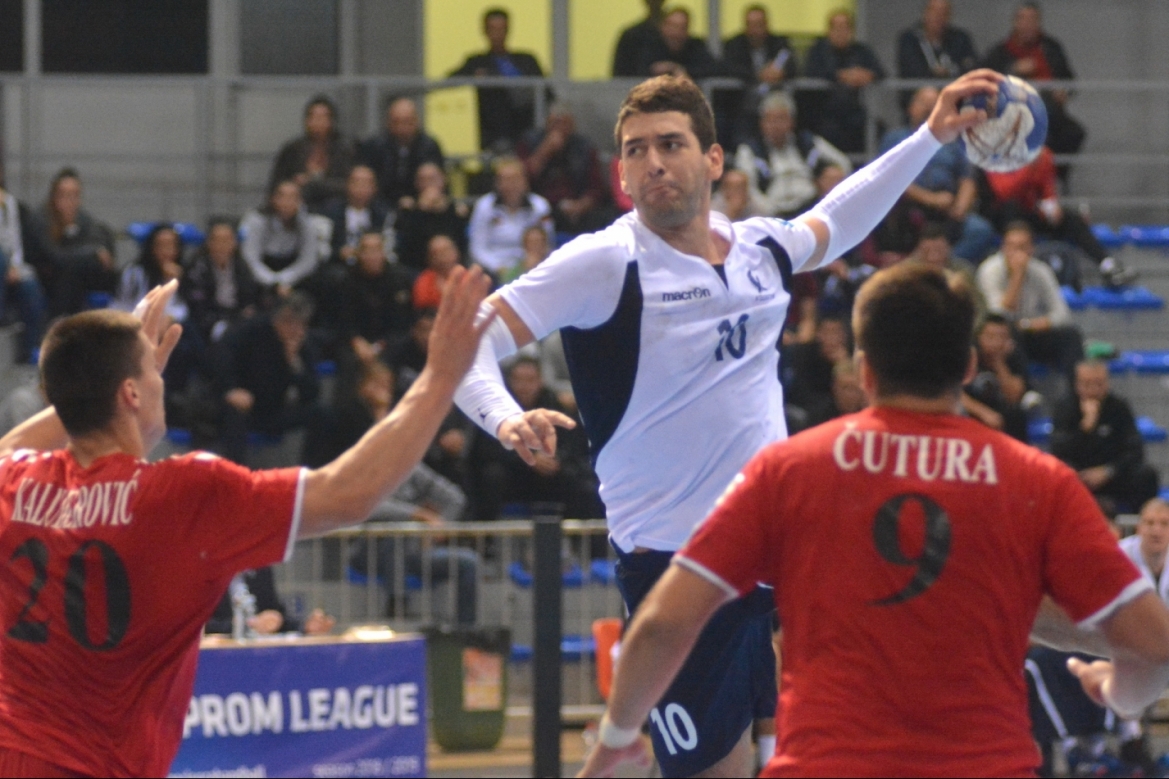 Predrag Vejin is most likely the player with the most international experience in Zeleznicar 1949 team. He decided to come back home after a five-year-long international journey which took him to Spain (Ademar Leon), France (Dunkerque), UAE (Al Jazira) and Macedonia (Metalurg) – all before joining the ambitious project from the Serbian South. 26-year-old back shared with us his opinion on the competition, his team and much more.
What's the current situation in Nis like and what are the plans for the future?
We are slowly finishing the roster puzzle for the next season. We've already made a lot of changes from the first part of the season but I believe we're on the right way to finding the right balance and proper form prior to national battles. SEHA is definitely a big and valuable experience for us all and I feel like we proved what we're made of when it mattered the most growing up both as a team and individuals. We have a really hard-working group around here and I believe in this team.
What were your personal expectations of SEHA League since it played a significant role in your decision to come to Nis?
Apart from the fact I wanted to work with coach Vujovic, I wanted to play SEHA - Gazprom League. Honestly, we didn't really know what to expect as rookies. We hoped for more points but we're aware of the fact we're in a process of rebuilding. What matters the most is I feel like we've all given our best. Our biggest moments were away win against Metalurg and home triumph versus Steaua. We've also delivered a solid outing in Presov despite of the fact we ended up losing that one. In Ljubuski we weren't far from points but Izvidjac proved everyone they have a quality team and our mistakes boosted them in that match. However, three more matches are still ahead of us until the end of the regular part of the season and we are going to win them all – against Metalurg and Zagreb at home as well as versus Steaua in Bucharest. In case our new players Kocic and Babic join us in time I honestly believe everything is possible.
Who do you see as favorites to win SEHA - Gazprom League?
Vardar are main favorites in my opinion. It was an interesting season overall and F4 race is still under way. Macedonians are definitely main candidates to go all the way but we'll have to see will they manage to balance both Champions League and Final4. If Meshkov manage to qualify they will also be eager to win it for the first time. Team you must not forget about when talking about trophies is Nexe as well because they are playing the most beautiful handball in the league. It's really a very good competition in general.
What are your personal plans for the future?
It is always a 'million dollar' question. I have high goals and I am fully focused on handball. I'm dedicated to working hard and I feel like there is still much room for improvement. My decision was to leave Leon and I didn't regret it. Only goal is to stay fit and healthy and I feel like future will be bright for me.
Where did you spend some of the most beautiful moments of your career?
No doubt it was in Ademar Leon, but in the first two years. Spanish mentality is not very different from our own and players really enjoy time they spend in Spain. If financial situation was any better all over Spanish ASOBAL league a lot of players would look forward to spending the rest of their careers there.
You were close to making the final cut for Serbian 2019 WCh roster but ended up short in the end. How do you feel about that?
I really worked hard to deserve my place on the team. I didn't in the end and of course it was a tough period for me but despite of everything I always am and always will support the national team with all my heart.
Main goal in Nis is to secure your first ever national league trophy.
We have the highest possible ambitions. Matches against Metaloplastika, Dinamo and Vojvodina will most definitely be interesting. Coach Vujovic already said Vojvodina have a bit of an advantage, that they are slight favorites but I believe in my team and quality I know we possess.