7 METERS – Uros Elezovic (Vojvodina)
22.10.2013.

•

SEHA GAZPROM LEAGUE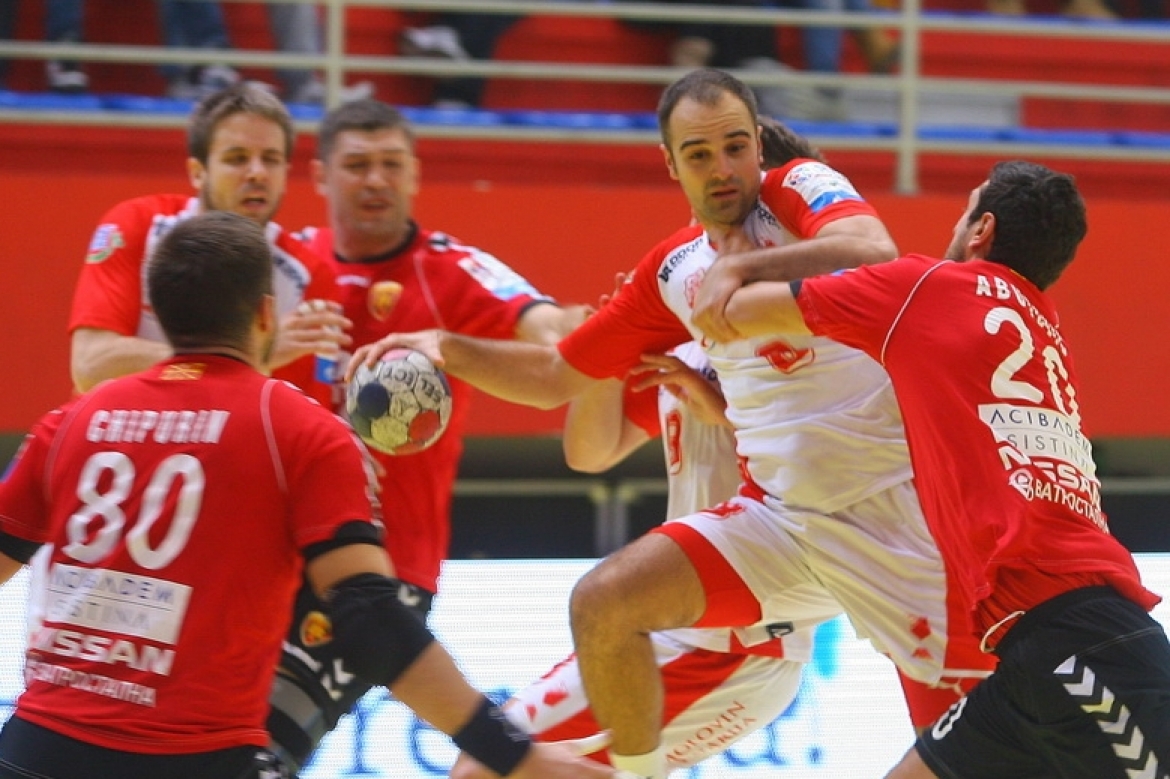 The TOP scorer of Serbian champions RK Vojvodina, Uroš Elezović (31) is also the name with the highest proffesional reputation in the squad coached by legendary Momir Rnić. Experienced left back is born in Vrbas, where he began proffesional handball career which led him to Slovenia (RK Trimo Trebnje and Cimos Koper), France (Paris) and Switzerland (Kadetten Schaffhausen). He also played for RK Partizan, the biggest domestic rival of his current club from Novi Sad, in which Elezovic came last season and was the key person for the fantastic success - second championship title in Serbia.
1M Do you satisfied with the start of the season at SEHA GSS?
- We couldn't be dissatisfied with all we have done in the first six matches. Three victories and the same number of defeats isn't bad. We played really bad only match against Meshkov Brest. If we could make some surprise, that was a chance, but that match came at the end of very tough period with a lot of matches.
2M It seems that you have better roster than last season?
We have a lot of new players in the squad - 8, but just a few of them with some international experience. This team need time and I think that we will be much better in the future - next season will our work give results.
3M After six matches you can better express your quality and based on that -ambitions.
- It's not realistic to be among the first five teams. Five teams are better if you see rosters, but also budgets. Our reality is to fight for the sixth place with Nexe. We are on the same level.
4M You are the top scorer in Vojvodina and the person with a lot of impact on team's offensive performance. Are you satisfied with your form?
- I am, but I don't look only on my individual statistics. I don't think about goals, my task is to help the other team-mates. Collective is on the first place. I don't run for the goals. I am very happy when some of the younger players had a good match.
5M Who is the first favorite to win the SEHA GSS 2013/2014?
- It's a hard question. Tatran Presov showed the most until know, but I was negatively surprised with their last performance in Zagreb. I think that Macedonian teams have the best rosters. Now, they are focused on the EHF Champions League, but in the second part of the season they will also concentrate on SEHA 100%. When that time comes, Vardar and Metalurg will be the favorites to win the SEHA GSS.
6M Vojvodina and you, personally, playing the first season in regional competition. Can you compare with the last season in Serbian Super Liga?
- Of course, there are a lot of differences. Everything is much more serious than before. SEHA is really strong competition for which you have to prepare with on the maximum. With all the respect, it's much different if you play against Crvenka or Vardar next weekend. Strong rivals force you to prepare much better and to be focused 100%.
7M You don't have a lot of fans on your matches despite your progress and two domestic trophies in the lsat few months...
- I wish that could change, bur sincerely, I am not optimistic. That is a problem of mentality. Even we have success, people don't have that habit to come and watch matches in "Slana Bara". I can see from the court that our fans are coming from other cities, handball lovers from Vrbas, Crvenka, Backa Palanka, etc. About 200 at all. We will give our best to play better and win in order to attract more fans, but it will be extremely difficult to challenge them.