Top moments of 2018 in SEHA – Gazprom League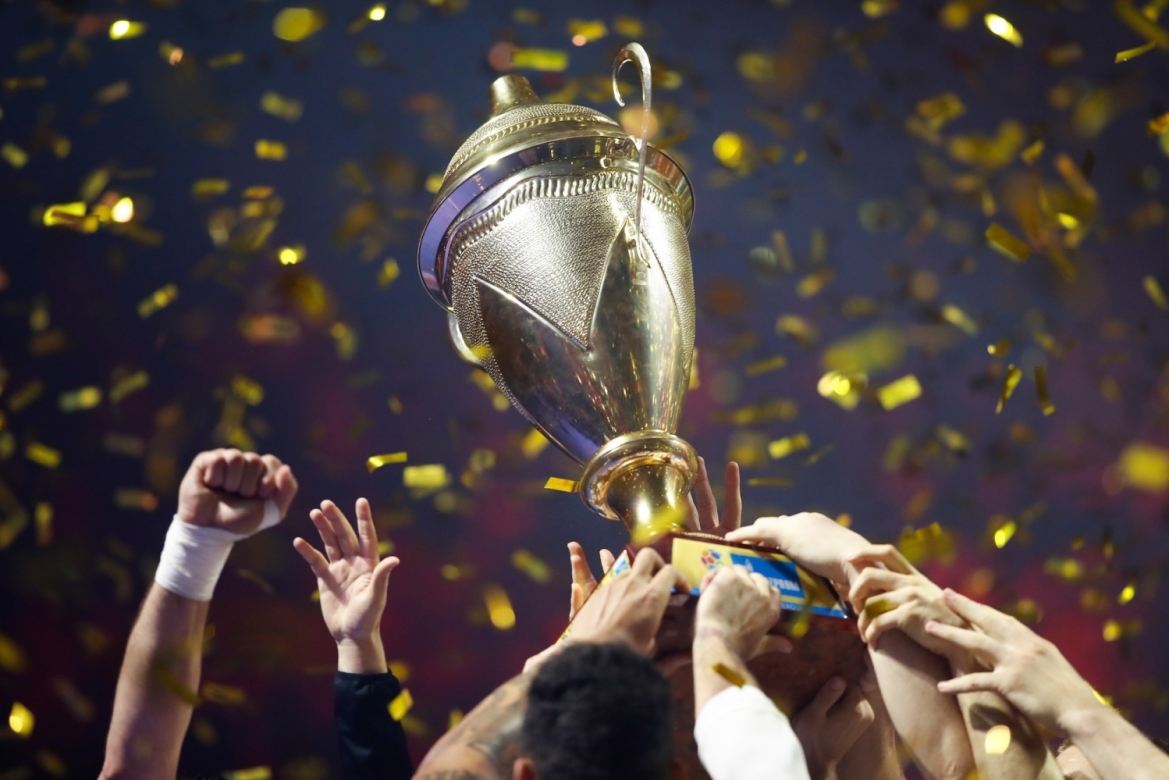 Last 2018 was another incredible year for handball. There were some amazing moments in both club and international level. SEHA – Gazprom League also made some brilliant strides in its development and we are happy to share eight things we will remember from this unbelievable year. Let's start the countdown!
1. Final 4 Skopje
A spectacular event was the main event of the amazing 2017/18 season. It was SEHA – Gazprom League's 7thseason, marked by Vardar's 4th title. However, the Final 4 will be remembered by Celje PL's debut appearance and their first medal, as they finished third in Skopje, as they beat Meshkov Brest. Vardar defeated PPD Zagreb in spectacular atmosphere in SC Jane Sandanski. The whole tournament was brilliant, with lots of fun and engaging moments with the players, but also charity action, Handball Discussion and many more things happening. We will remember this tournament for a very long time!
2. Halil Jaganjac's Top scorer award
In 2018 we witnessed an unbelievable year for Halil Jaganjac. The young Croatian became the youngest ever top scorer of the SEHA – Gazprom League with 100 goals scored in 2017/18. He was presented with an award during Final 4 in Skopje in a very memorable moment. Jaganjac continued his good form after in 2018/19 season too, starting with Metalurg and then continuing in Nexe.
3. Mijajlo Marsenic and Daniil Shishkarev dancing with Tanec ensemble
One of the funniest moments of 2018 came during the Final 4 in Skopje, when we had Tanec showing Vardar's players a part of their folklore dance. It was a lot of fun with Mijajlo Marsenic and Daniil Shishkarev who also enjoyed their time with Tanec. Tanec later performed before the matches, while Marsenic and Shishkarev went on to win the title with Vardar.
4. Arrival of Steaua Bucuresti
SEHA – Gazprom League community got even bigger this year. Once again, national borders were extended and we welcomed CSA Steaua Bucuresti, Romanian vice-champions to the League. So far, the Romanian club recorded 5 wins in the competition, and have played very well overall. Some of their players like, Vujic, Vegar, Grbovic and Kedzo have had some experience in SEHA League before, which surely helps.
5. Stefan Vujic's goal vs PPD Zagreb
The best goal of the year surely belongs to Stefan Vujic. We had some incredible goals, but Vujic's behind the back zeppelin shot definitely got the honor of being number one. Vujic scored on a pass from Javier Humet to score the goal that was talked about for a very long time on social media.
6. Nexe's win against PPD Zagreb (23:22)
The 2018/19 season started with one incredible result. Of course, that is Nexe's first ever win against PPD Zagreb in SEHA – Gazprom League. That was the start of a fantastic run, and their best ever SEHA season, so far. In that match, Mihailo Radovanovic had a phenomenal debut with 8 saves, Tomi Vozab scored 8 goals and Marin Sipic had 6. A memorable result!
7. SEHA Mobile App and new website
SEHA – Gazprom League's growth was also visible in digital area. First, we presented a new website, with a fresh, modern design, offering more capabilities and better user experience. Second, in October we introduced a SEHA Mobile App, that enabled users to get all the information about their favourite teams even easier. Overall, we are very pleased to have introduced these novelties in 2018, and hope to make them even better in 2019!
8. Be8player Best Handball Fan contest
We finished 2018 with another fantastic fan contest, in cooperation with our partners hummel. Participants answered 8 questions via SEHA App in first round, shared some handball pictures in second round, and we got the winner in the final round. Katarina Jordanovska won a trip to the SEHA – Gazprom League Final 4, signed jersey from her favourite club and a complete equipment pack from hummel. Amazing!
Overall, it was a fantastic year, full of great moments. It definitely wasn't easy to pick just eight of them, but here they are!