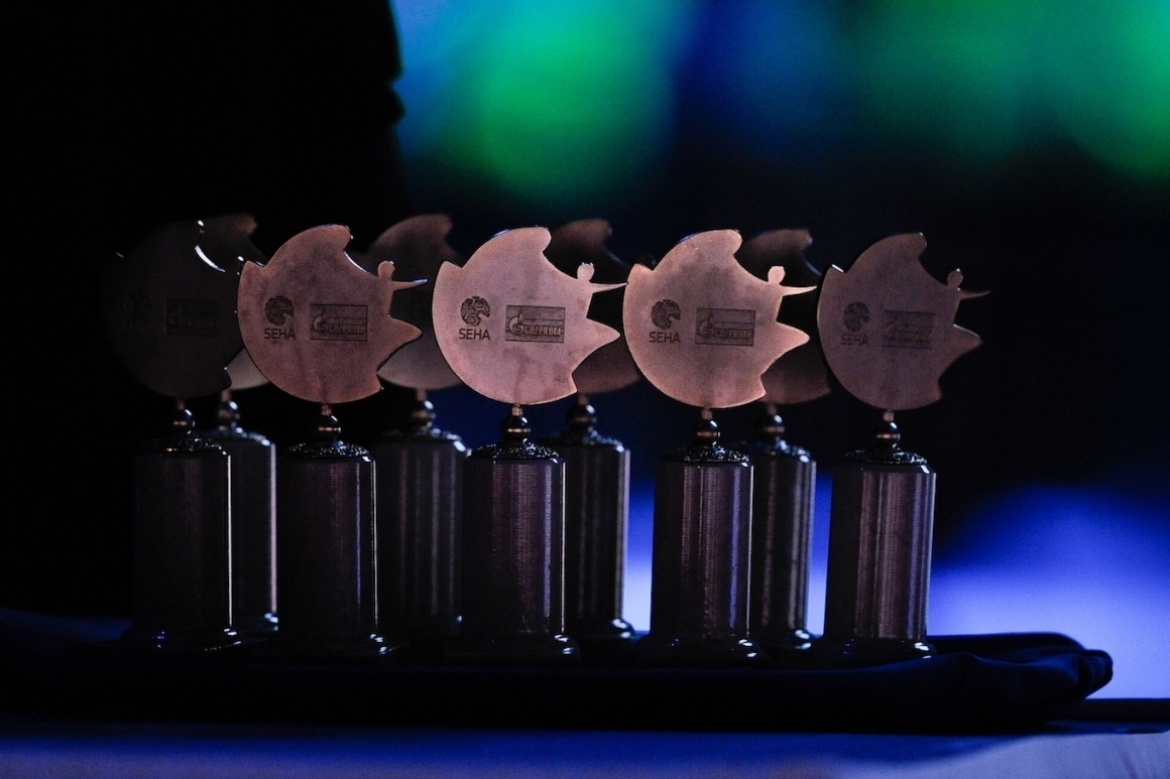 After a very intense month, with 20 matches in 20 days, it is time to announce the team of December, alongside one coach. It wasn't an easy choice, as always. But, there were some players and some teams that simply put in some amazing performances in the last few weeks. Let's start!
Goalkeeper: Igor Chupryna (Tatran Presov)
Tatran's goalkeeper started the month with an amazing performance. He had 19 saves in a win versus Steaua and conceded only 18 goals. Against Vojvodina he got a bit of rest, but still stopped a fantastic fast break. Igor Churpyna certainly wasn't the player to blame in a loss to Vardar, as he had 13 saves in that match. These brilliant performances earned him a new contract with Tatran, and a place in Best 7 of SEHA December.
Left wing: Milos Grozdanic (Vojvodina)
Milos Grozdanic is sitting comfortably on top of the scoring list this season with 86 goals. With well over 6 goals per match, he has been a pleasant surprise this year for everyone. From 7 meters, wing or other position, he always finds the way to score the goal.
Left back: Aleksander Spende (Metalurg)
The Slovenian has been fantastic since joining Metalurg. In 6 matches so far, he scored 35 goals, including 22 in December. Spende had 6 against Vardar, 4 against Meshkov, 3 versus Nexe. But, his best match came in a win against Izvidac, with 9 goals, 4 assists and a game winning penalty in the last second. What a month for Spende, and plenty of great goals!
Centre back: Tomi Vozab (Nexe)
Tomi Vozab is Nexe's top scorer this season. He has 59 goals in 12 matches, and is fifth on the scoring list. In December, he was good in every match, and his shot from the spot is very hard to stop. Also, a solid playmaker, Vozab has been a huge piece of Nexe's success this season, with 13 goals this month, as well.
Right back: Sime Ivic (Meshkov Brest)
Sime Ivic has been unstoppable in SEHA December. The Croatian left hander scored 4 against Izvidac, went 10/10 versus Metalurg and added 5 more against Zeleznicar. Against Tatran Presov he scored three goals. Ivic has also been a good playmaker, averaging around three assists per match on the season.
Right wing: Darko Djukic (Meshkov Brest)
Darko Djukic has been fantastic all four wins for Meshkov this month. He was scoring from all parts of the court, wing, fast breaks, seven meters, he has it all. Djukic's talent was on full display versus Metalurg, when he scored a season-high 8 goals. Terrific scoring month is behind Darko.
Pivot: Leon Susnja (PPD Zagreb)
PPD Zagreb won all four matches this month, and it was due to terrific defense, led by Leon Susnja. Zagreb conceded 24 goals or less in each match. Susnja has also been solid on offense, with 10 goals in December, missing only 1 shot. After returning from an injury, Susnja has been PPD Zagreb's key defensive player!
Coach: Roberto Garcia Parrondo (Vardar)
Battling injuries and a tight schedule, Vardar managed to record 4 wins in 4 matches in SEHA December. A lot of credit goes to their head coach, Roberto Parrondo, who was able to get the most of his squad. Vardar defeated Metalurg, Zeleznicar, Tatran Presov and Steaua, and currently sit on top of the table at the end of 2018.