7m - Kastelic: "I'm slowly getting used to all the running..."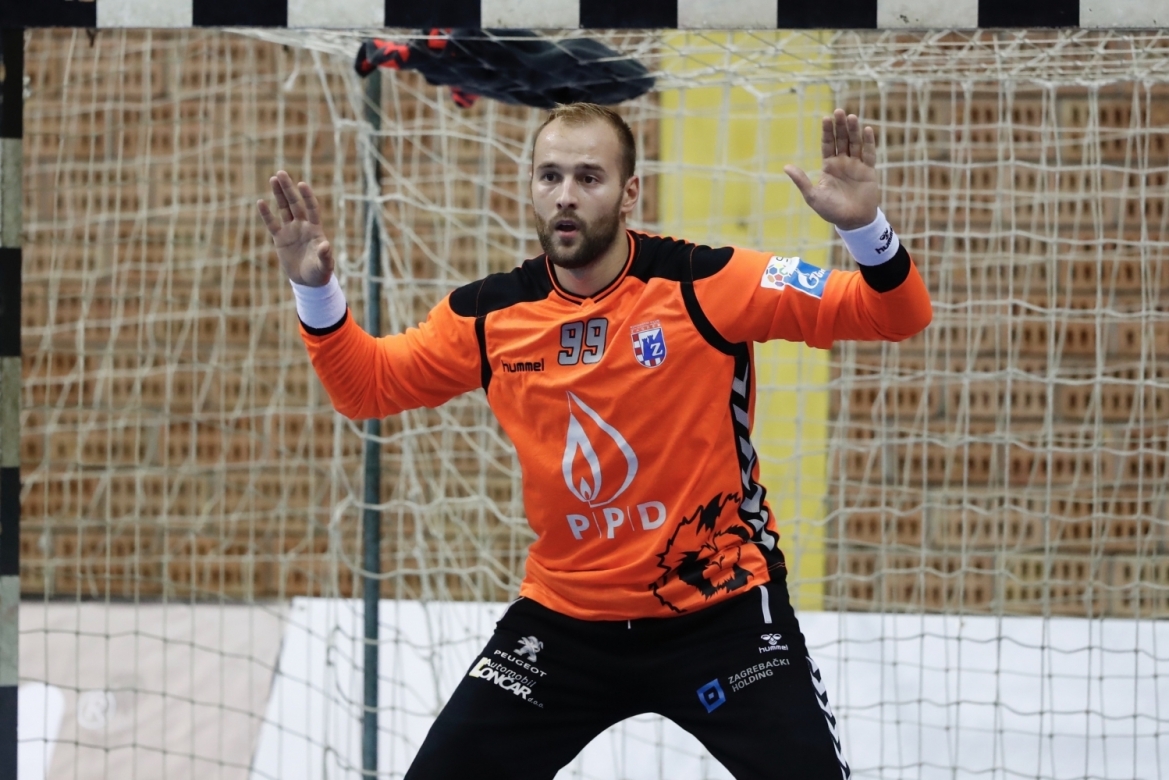 It did not take long for Urh Kastelic to become one of the cornerstone figures for PPD Zagreb. Despite of the fact he is only 22 years of age, this is already his second season as No.1 choice goalkeeper for Croatian champions. There are ups and downs, good and bad days but he's definitely proving to be a huge potential between posts. This season he's already played an important role in Zagreb's big win in Flensburg. Kastelic sees significant playtime in almost every match with Radivoje Ristanovic helping him in terms of reducing the pressure young Slovenian feels as PPD Zagreb's go-to goalkeeping choice.
"I have to say I feel like we're functioning great together. There is definitely room for both of us. Season ahead is quite long and the rhythm is tough as we're usually playing SEHA League on Tuesday and then Champions League during the weekend."
It does get hard sometimes…
"There were occasions when my teammates got angry with me, even yelled and that's surely not a great feeling at the moment. I mean, I understand them because when they are playing good and trying hard they obviously expect me to follow that pace. Luckily for me, in situations like, that I've been able to calm down and get back into the match in the proper way."
How do you deal with expectations?

"It is not easy to deal with expectations, think about what is everyone else thinking all the time but I feel like that's an aspect you improve in with experience. Jovic and I were the youngest goalkeeping duo in the Champions League and I definitely needed some kind of a psychological boost and that's something I'd like to thank coach Mario Kelentric for because he believed in me. Arian is now sidelined due to an injury and more experienced Ristanovic is here and I feel like we're doing fine so far."
What about pressure?
"That's a part of my job and I don't really feel it because I believe every encounter is an additional experience for me and I believe everything that happens helps you grow as a player. However, I feel bad for coach Kelentric when I don't do well because we're working so hard and he is really trying his best to help me remain calm and focused. I'll really be forever grateful for everything he did for me."
Defensive scheme has changes a lot comparing to the last season. Did you manage to adapt to all the changes?
"Well, it is definitely not the same. We're changing a lot and it is not easy to get used to all the variations but what matters the most is for defense to remain aggressive. When they are aggressive everything is easier."
Powerplay offensive actions are also bringing a whole new level to goalkeeping in general.
"We often play 7-versus-6 which means goalkeepers must be quick in those changes. It looks easy but it isn't really, especially when you're forced to sprint back to your goal. It does hurt goalkeeper's focus sometimes in my opinion, especially as the game is coming to a close and it takes some time for goalies to get used to it."
You're doing great in SEHA League and still have a chance to reach Last 16 in EHF Champions League.
"Point against Nantes is important. We could've reached both honestly but even this way we've made a solid step towards reaching the knockout phase which is good. Considering SEHA league, we're currently on top of the standings and we're planning to remain there. It is not easy to deal with all the challenges when schedule gets tough but we have what we have. Tough away match in Presov is ahead of us but I believe in this team and hope we'll use the opportunity to build up momentum for the match against Motor next weekend."