7m - Lapajne: "We have all the right to believe in Final 4 appearance this season"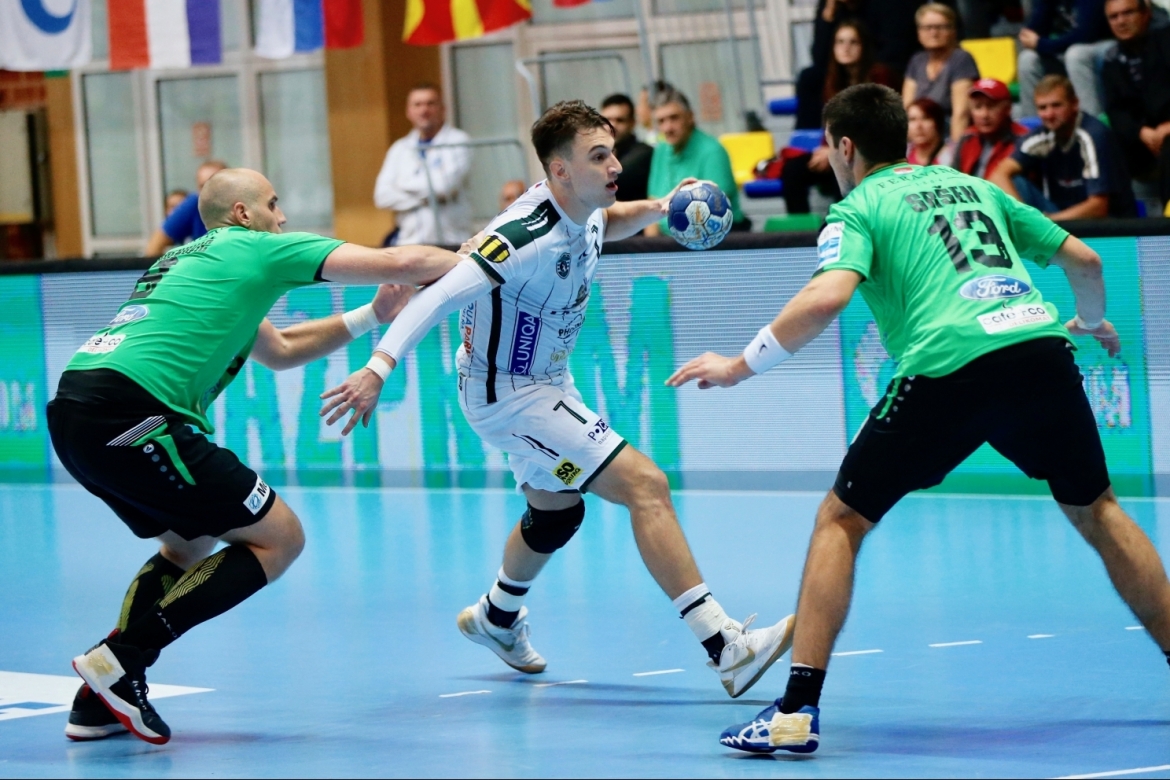 Tatran are having an amazing start of the season in both SEHA - Gazprom League and EHF Champions League. One of the most important parts of their recent success, especially on the attacking side of the court, is 23-year old Slovenian-born middle back Janus Lapajne. He arrived to Presov after spending some time playing for Paris Saint Germain and Metalurg and is this season proving himself as one of the most important assets for Tatran Presov as well as one of the best players in SEHA - Gazprom League in general which is more than enough of a reason to find out some more about him in this round's 7M interview.
1. Lapajne is a well-known Slovenian surname. Are you in any way related to former both goalkeeper and captain of Slovenian national team Beno? Are you honoring the tradition?
Yes, I am family related to Beno. He is my father's cousin. Handball, and sports in general, definitely have an important role in our family. I see it as a way of life rather than a tradition, just watching sports events, remembering exact results from 15+ years ago, learning about new training methods, talking about specific game situations and so on.
2. Your journey to Presov was quite interesting. How much did Paris and Skopje help you in your career?
I feel like every experience is a good one because you can learn from it. Two years I've spent in Paris were full of ups and downs. It was hard because I didn't really play well. I was over-trained; my head was too much into handball. Yet I learned French and was introduced into a more theoretical/tactical part of handball which I think is helping me now. Second year there was better despite of the fact I've never played for the A-team but I knew I've improved as a player and started a lot of friendships which is something I'm really proud of. The two months adventure in Skopje were not that good, but like I said, you can learn from every experience.
3. Slavko Goluza has provided you with an amazing opportunity in Presov. Do you like the way your career is developing at the moment?
It is true, I got a great opportunity with three of our left backs getting injured about a month ago. In general, I am happy with how things are developing as I'm playing well and we're winning games at the same time.
4. What about your ambitions as a player? Where do you see yourself in a few years and what do you think about SEHA - Gazprom League?
It's hard to say. When I was younger I used to dream a lot about playing for best European clubs but now it's different as I'm focused on having fun playing the game of handball at the highest possible level and doing my best each time I step out there. I know it sounds a bit diplomatic but that's honestly how I feel.
SEHA League is a well-organized competition that is uniting countries because we're always welcomed warmly, no matter where we're playing. All matches are broadcasted and we really have high-quality handball in this league. Ups and downs are always to be expected but I believe this league has a bright future.
5. Great start of the season is behind you as you're doing good in both SEHA and Champions League. What are the goals for the season?
Our goals are to reach SEHA - Gazprom League Final four tournament as well as EHF Champions League knock-out round.
6. In the next round you're welcoming still undefeated NEXE Nasice. What do you have to say about them and what do you think the match will look like?
First of all, NEXE Nasice are a quality, well-organized club. They've had more time to prepare for the match than we did. I also saw they are playing some friendlies in Slovenia. I think we can expect an exciting match and I hope three points will stay in Presov.
7. Which four teams do you see on this season's SEHA Final 4 and who do you eventually see going all the way in the end?
There are three major favorites – Vardar, Meshkov and Zagreb. NEXE are also doing good but we've already this season proved we can play all of these teams and I believe we have the right to believe we'll secure that fourth Final 4 ticket. Speaking of the tournament itself, I feel like in these four matches everything is possible so I think it depends where will the tournament take place.