7 METERS – Zarko Pejovic (Tatran)
02.10.2013.

•

SEHA GAZPROM LEAGUE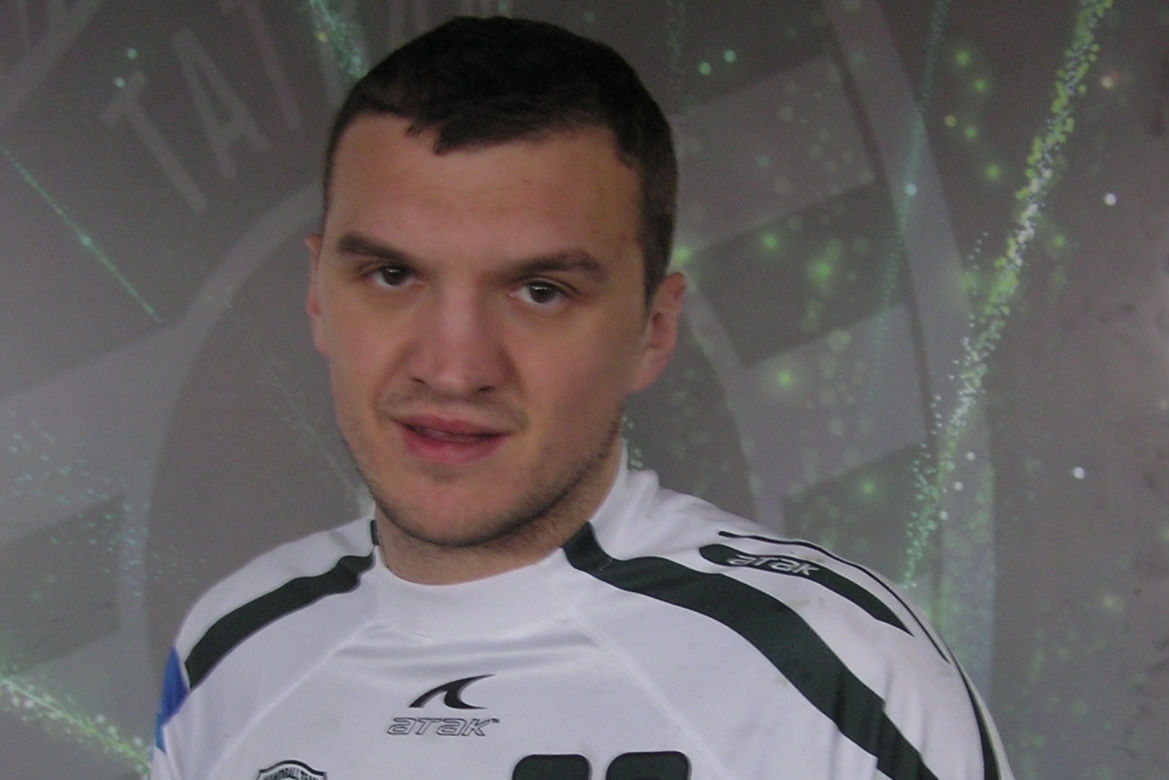 Second best scorer of Slovakian champion Tatran Presov, Montegrian NT member, Zarko Pejovic talks for SEHA GAZPROM SSL official website in traditional weekly interview - 7 METER.

1M: How are you satisfied with the team's performance at the start of the season? You have score of 2 wins and defeat in Croatia.
- We can be satisfied. We knew that nobody won in Brest last season, but we managed to do that. Our defense was so good in that match, while in attack our concentration was on high level. That we didn't have in Osijek, when we lost against NEXE. We underestimated them after winning success. Tatran have young team, players probably thought tha they already have won SEHA League after that success in Belarus. Defeat in Osijek was a good lesson to realize that all the teams in this League are the best in their countries - countries with rich handball tradition. That's why we gave our maximum against Vojvodina. For all visitors are difficult to play in Presov. That fact know teams like KIF Copenhagen or Rhein Neckar Lowen from the clashes in EHF Cup last season. We managed to lead 12 goals against Vojvodina. My team always play until the last second…
2M: Where is the place of Tatran in SEHA GAZPROM SSL 2013/2014?
- Our main goal is to play at F4 tournament. We achieved that in the first season, while two ties against Zagreb and Vardar left us out of the F4 tournament in Skopje last April. We all know about high quality of our main rivals. Two Macedonian teams are really strong, Zagreb and Meshkov also. Victory in Belarus gave us a boost of confidence. Fourth place would be very good result for us this year.
3M: Please give our readers more about Tatran's squad?
- I am the starting playmaker of the team. On the left back is Rabek, on the other side Kristopans. Other talented left back Dominik Krok is just back to the court against Vojvodina after injury break. Andrej Petro is the first line-player. We have very good wings, Antl and Urban. Tomas Urban has played for Veszprem, afterwards he was in Tatabanya also. Goalkeeper who give us a lot of confidence is Svetislav Verkic. He knows most of the players and play in very good form.
4M: Who is the first favorite to win the SEHA trophy?
- I will be sentimental and tell you - my ex team RK Vardar Skopje. I have played there, I know most of the team and that they have done a great job in the summer transfer window. They need time to adapt on the new system, but I am sure that my coach in Montenegrian NT, Zoran Kastratovic will make a strong squad until the end of the season. You can't forget RK Metalurg with two amazing goalkeepers - Stanic and Mijatovic, but also other great players. Zagreb are also one of the candidates, but Macedonian teams have advantage.
5M: Which are your goals in the other competition?
- Of course, we want to win everything in Slovakia. We want also to qualify for the EHF Cup Group Stage as last season, when we stayed out of 1/4 finals because of goals-difference. Hopefully we will manage to do that and Tatran won't get some German or French team at the Round 3.
6M: Is difficult to play alongside Latvian giant Kristopans who is 216 cm tall guy?
- No, actually it is very easy. When I don't know what to do with the ball, I just send to him. I know that nobody can intercept that pass and on the other side, I am sure that he wil pick up that ball.
7M: How are you personaly satisfied with the period in Presov?
- Club is organized very good. We have all the necessary condition and we play a lot of matches in domestic competition, Europe and SEHA. Tatran play all the time some matches. It is a great experience after also good time in Serbia, Macedonia and Spain - concluded Pejovic.