Luka Cindric: "I'm really enjoying these last moments of the season with Vardar"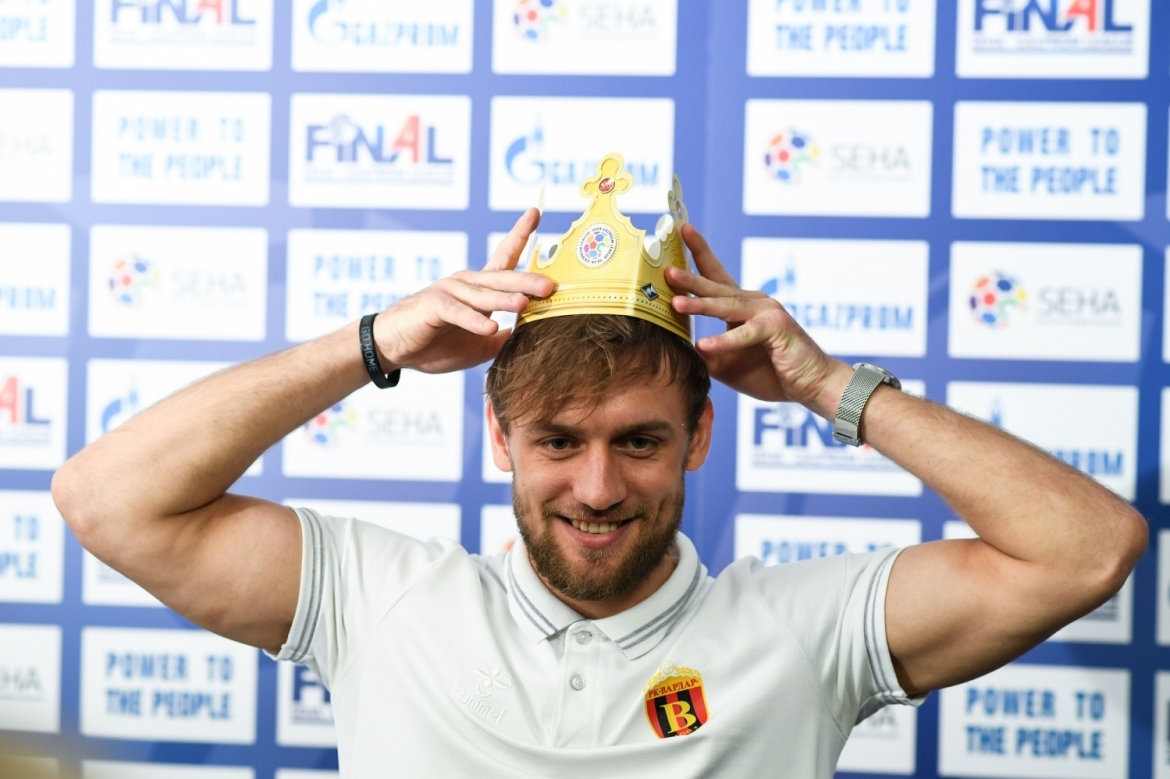 MVP of the SEHA - Gazprom League Final 4, fantastic player with amazing skills and SEHA Instagram star. It's time to read the second part of the story about Luka Cindric.
You have been with Vardar for a couple of seasons. Most of them when the club had its greatest achievements. Surely you know the secret to achieving such results?
I won't disclose the main secret. I'll keep it for me. But I'll tell you one fact; you can't make a team like Vardar in one year period. It takes a couple of years to reach this high level. We know each other very well. There is always a great atmosphere in the dressing room, and we are friends. That is our greatest strength.
Everybody knows your sports story, you were a good football player, but chose handball to be your profession. Did you ever hesitate about football?
I have always been a sports type. For 8 years I trained football, but my father was a handball coach, so I went to try handball, just for fun. Like all kids do, they try every sport possible. But I liked handball. So when the Nacional Junior team invited me, I continued training and stayed with handball.
What helped you become a good handball player?
It was the help of my parents and from my friends. Their faith and support in life as well as in handball made everything easier.
Why did you choose Vardar?
While I was with Metalurg, I became very fond of Skopje. So when Vardar gave me the offer, I didn't think and accepted it. I believed it was the right decision. I've already heard good things about Raul and Sergei, so that was that.
How would you describe your teammates?
Shortly, as a group of very smart people that, I guarantee, are ready to help any member of the team, at any moment. They are true friends.
You are an idol for young handball players, but do you have a handball player idol?
Of course, I've always admired Ivano Balic. Even today he's my example of an athlete. He was my childhood idol, and later with the Croatian National team, we used to communicate and I used to work with him. So both, as a human, and as a handball player, he is unique.
You are leaving Skopje this summer. What will you miss the most?
I have to admit that I like living in Skopje. It grew on me, and I'm really enjoying these last moments of the season with Vardar. I'll miss the teammates, as well as Skopje. It wasn't an easy decision to make, but in life, at a certain point, you have to make some changes. I'm moving to a new club, and for sure I'll miss Skopje, and I'm hoping that I'll come back one day.
What's the most memorable moment from Skopje?
Without any hesitation, the celebration in Skopje when we won the EHF Champion League title. That kind of festivity happens once in a lifetime. We were surprised, and unaware of what we did in Cologne. Even now I'm getting goosebumps when remembering the euphoria, but that's a memory for a lifetime.
In general opinion good athletes are always in the gym and training. What are you doing in spare time?
I don't have a hobby, but as a sports type person, even in my free time, I do some sports activities. I like tennis and basketball. Sport is a part of me.
You spend hours in buses or planes. How are you spending that time?
I like to play PlayStation and watch movies.
Who is best PlayStation player in Vardar?
Best at PlayStation is Jorge Maqueda.
In Macedonia socializing at coffee shops is part of everyone's lifestyle. Do you have a favorite place?
I like to be on the move, always visiting different places. But, since I live in Aerodrom, I spend a lot of my time in the neighborhood. This where I have my coffee time.
How are you defending yourself from people that are asking you for a photo?
That is ok. Usually, we have some polite conversation. I've never been in an unpleasing situation.
What will you take from Skopje as a memory when you leave for Kielce?
I'll take ajvar and pinjur.