Vardar crown record-breaking season with fourth trophy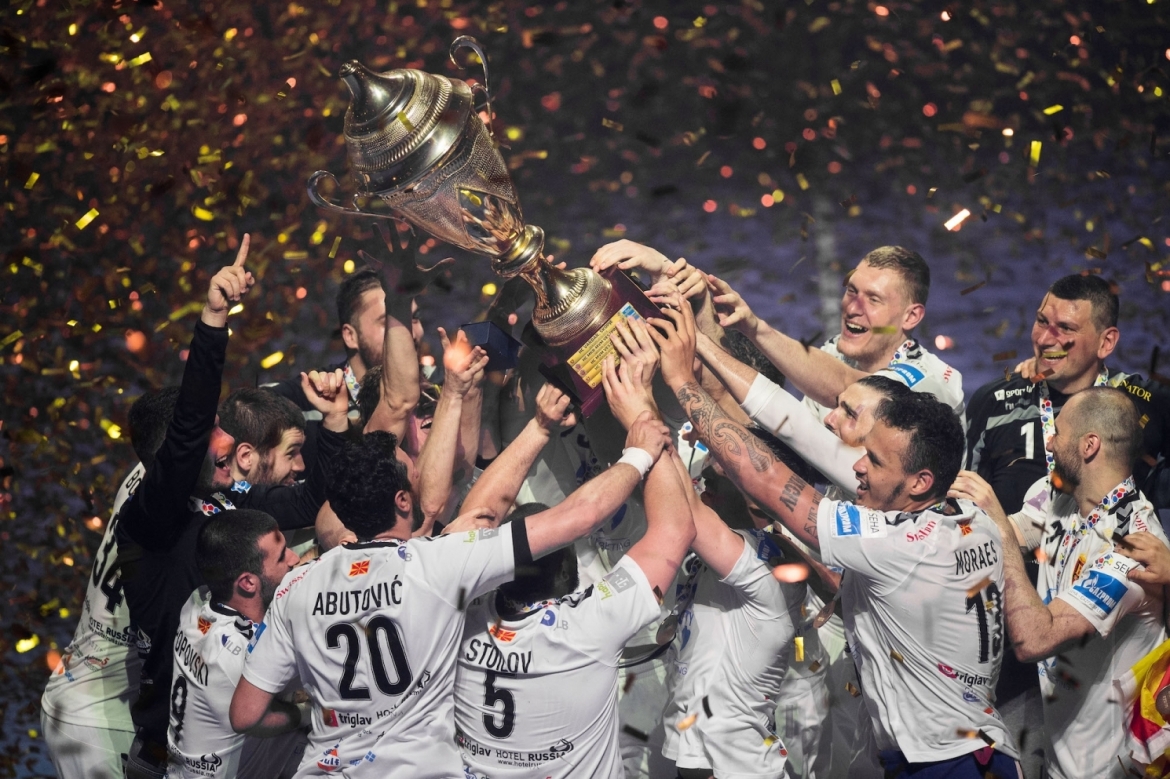 For the fourth time after 2012, 2014 and 2017, Vardar have finished on top of the winner's podium of the SEHA – Gazprom League. On Sunday night, the defending champions took a hard-earned, but deserved 26:24 (14:13) final victory against PPD Zagreb in the Sports Centre Jane Sandanski in Skopje. Thus, Vardar took revenge for the 2013 final defeat against PPD on home ground.
The match was extremely close, much more levelled than many had expected. Zagreb gave Vardar a tough fight, until the Final 4 host had crowned their record-breaking, unbeaten season with 19th victory in the 20th match. To raise the trophy again was a perfect motivation for the upcoming Champions League quarter-finals against THW Kiel.
Top scorers were Zlatko Horvat with eight goals for Zagreb and Dainis Kristopans and Luka Cindric with five strikes each for Skopje.
Final: Vardar – PPD Zagreb 26:24 (14:13)
More than 5000 fans in the fully packed Sport Center Jane Sandanski created a great atmosphere, long time before the throw-off. And the audience went cray quite early, as their team had a brilliant start, forcing PPD Zagreb coach Zlatko Saracevic to an early time-out, when the score was 7:3 for Vardar.
Tall Latvian shooter Dainis Kristopans was unstoppable in the initial period, leading his side to a clear advance. But after minute 20, the match changed completely. Zagreb improved in defence and attack, Skopje did not defend as strong as usual. After the 10:6 for the hosts in minute 20, Zagreb improved in defence and attack - including the 100th saves of the season by Urh Kastelic. Until the break, the Croatian record champions scored a 7:3 series and were close to turn the match fully around, with the halftime score of 14:13.
Right after the break, Zagreb levelled the result for the first time at 15:15 – and from that moment on until minute 52, the match was on full eye level, though the Saracevic team could not take the lead. Vardar had to fight much harder as expected, one reason was that goalkeeper Arpad Sterbik could not copy his perfect semi-final performance against Brest.
Zagreb fought bravely, Vardar were shaken. But when PPD defence boss Leon Susnja received a direct red card ten minutes before the end after a foul against Igor Karacic, the resistance of Zagreb was shattered. Vardar pull ahead from 21:20, when Susnja was sent-off, to 25:20, crowned by a triple strike of the wings Ivan Cupic (2) and Timur Dibirov. The deal was sealed, Zagreb could not comeback anymore.