7 METERS - Igor Karacic
26.09.2013.

•

SEHA GAZPROM LEAGUE
Vardar and Igor have much to say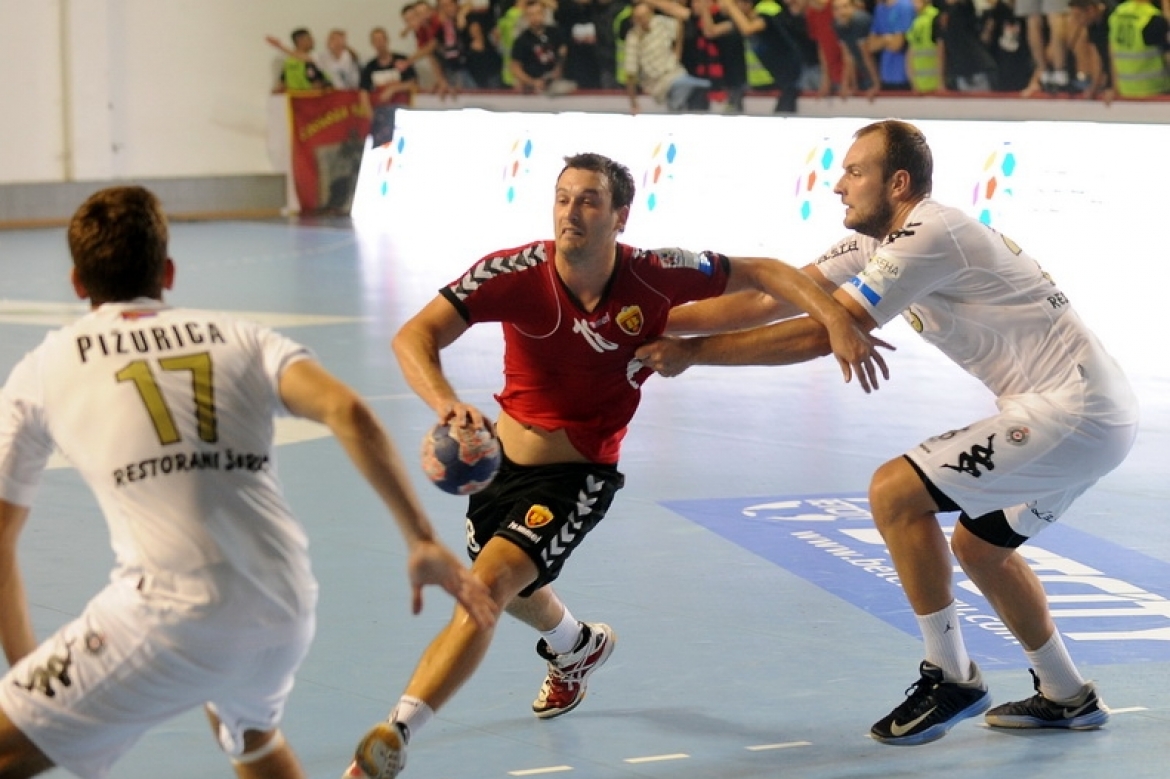 With him Vardar's attack looks unpredictable and dangerous in any situation. Shined last year, and now is part of the first squad, Bosnian born Igor Karacic believes that he and the club have more power and that this season will show what they really can. His good form has also been noticed by Croatian head coach Slavko Goluza, and he has invited him to participate in June on Mediterranean games in Turkey where Croatia won silver medal.
Last season he won the championship in Macedonia, played SEHA league final and was voted the best middle back of SEHA league.
1M. You shined last year in the final match against Metalurg when the team has won the championship trophy, and your excellent form lasts from back then. Match with Barcelona brought you to EHF CL's All star team for the first round. Do you still have space to improve?
- Currently our shape goes upwards, and hopefully it will continue that way. The team always creates individuals, today me, tomorrow someone else. I believe that we still have much to show and present.
2M. New coach, new teammates and probably new tactics. How do you fit into this "new Vardar "?
- Yes, this season Vardar has completely new team, new coach and tactics. We are slowly getting to know each other in the game and we're getting better together. Each match together brings better performance. Each coach introduces something new. My job is to accept it as soon as possible and to try to do my best.
3M. Is there pressure to "win something", go to Last 16 in EHF CL, SEHA Final four, domestic championship trophy?
- There is no pressure this year. The first goal is to defend the domestic title, everything else we do will be fantastic. And we can do a lot.
4M. In the following period you have several hard games in front of you, visits to Minsk, and Paris in EHF's CL and by that matches against Tatran and Vojvodina in SEHA league. Do you have enough strength to do it?
- Playing in the Champions League is always hard, but we have to live with it. We are well prepared, have large roster, so I don't believe that it will be a problem. Only important thing is to avoid injuries and I believe everything will be OK.
5M. Duel with Metalurg became "more than a game". How do you accept those matches?
- I admit that these games are particularly significant, but as time goes by, I see them as matches in which we must do our best to win. Metalurg has become a very strong team this season and those will really be hard matches for both teams.
6M. Your brother Ivan plays for Meshkov. How you feel when you have to play against him?
- No special feeling, we played a lot of games against each other so we are used to it. I respect him as a player.
7M. Who are the biggest favorites to win the SEHA league this season?
- At the Final 4 tournament will I think be Zagreb, Metalurg, Meshkov or Tatran and Vardar of course. Who will be champion? I think that will be decided after Skopje derby between Vardar and Metalurg.