7m - Zarko Pesevski: "When you give your best everything is possible"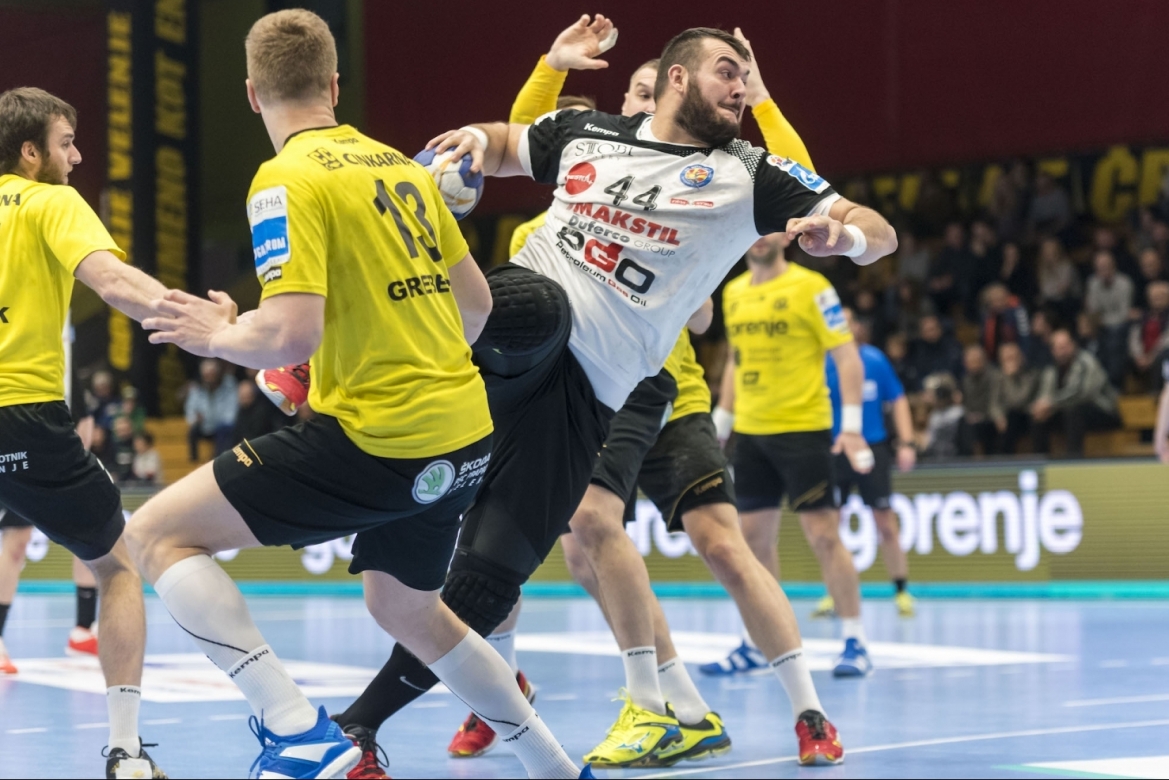 Handball in his hands in most occasions brings a lot of problems to his opponents as he either scores or draws a 7-meter shot often followed by a two-minute suspension. Strong but intelligent, Metalurg' line player Zarko Pesevski is playing on of his best SEHA seasons so far. Macedonian vice-champions have in last few season promoted almost a whole new young generation of players who are not only future of the club but Macedonian handball in general. Pesevski is clearly one of them with national team appearances from EHF EURO as well as WCh. This season he scored 59 goals from 71 attempts in 14 matches for Metalurg also earning 14 7-meter shots for his team.
This might be your best season in Metalurg as you are without doubt one of the best individuals on the team. Do you feel like you fulfilled your goals for the season?
This is without doubt my best career year and I believe I'll be even better in years to come. I'm playing better and better match in – match out and our fans are awarding it supporting me in every game.
What do you think about the upcoming match against Tatran Presov?
This is certainly a small derby between two teams of about the same quality level which is also visible on league's table. Matches against Tatran are always exciting and interesting and I don't see a reason for that not to be that case on Wednesday as well.
Do you feel like Metalurg could and should have achieved more this season?
You can always do more. Honestly, I believe we've even played above our realistic capabilities in some matches this season delivering quality performances in both SEHA Gazprom League and EHF Champions League. When we look back at the roster we had back in September and everything we've accomplished so far this season with the way we're playing, I believe we're having a great year.
Is it true you started your career between the posts? How come you decided to switch to the line?
It was a long time ago. I started in Metalurg handball school. It was nothing but a dream in the beginning, a great desire. I started as a goalie but one day coach told me it's time to try scoring goals instead of saving them and that obviously completely changed the course of my career.
You are not the only member of your family who is into handball?
Well my cousin Antonio Pesevski is a goalkeeper. He fulfilled our dream as a family to have at least one goalie. He spent some time in Metalurg too but now he's in Sweden. We've even played together for a while.
It's not hard to guess you're a line-player just from seeing you. How tough is it to play on that position?
Hahaha. Well either that or a goalkeeper. I'd say it's interesting. Of course, it's far from easy. Lot of struggle, punches, torn jerseys. There are however a lot of nice aspects of that position as well like when you score hard goals or earn a 7-meter shot for your team. Each positions has its pros and cons.
How do you handle your weight?
It's not easy but you have to know and accept things you can and can't do. It is important to train hard and eat as healthy as possible. When you give your best everything is possible.
You cooperation with back players is excellent. Sometimes you make plays even without seeing each other.
It's important to play together for a long time in order for that to be possible. Building that kind of relationship takes time but after that things come easy. Mutual understanding is important for good cooperation.
Which player do you find it the hardest to play against?
It's rarely easy but I have to mention Vardar of course. Their players are always giving their best, fighting for each possession. It can be really difficult to play against players like Ilija Abutovic throughout the full course of the match.
There were some transfer offers for you ahead of the start of the season but you decided to stay in Metalurg for two more years.
Yeah, and I didn't regret it. I'm playing my best season so far and expect to get even better.
Who do you see as SEHA League champions this season?
Vardar. No dilemmas for me about that really.
Can we expect Metalurg to surprise everyone next season?
Why not? Reaching F4 would serve the whole team and our fans great at this moment. However, everything depends on the roster we'll have next season.