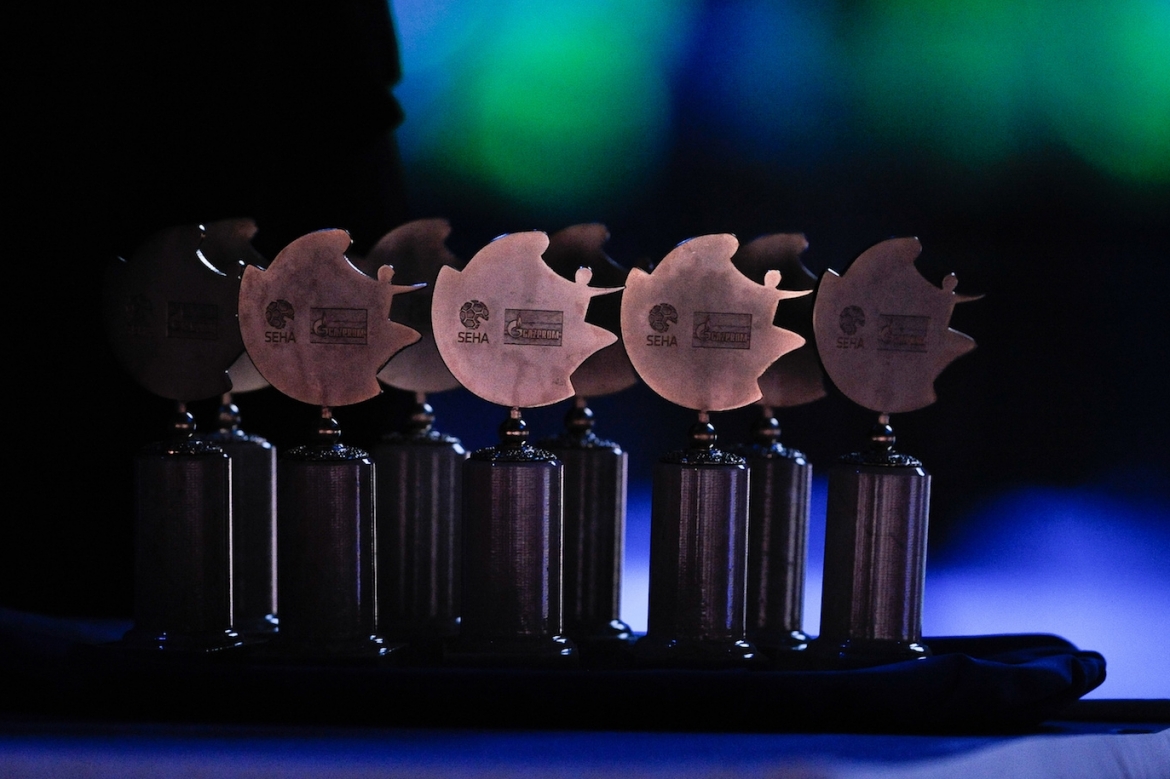 With 16 matches behind us in February, the time has come for SEHA - Gazprom League PRESS team to choose the best of the best. Vardar, Meshkov Brest, Gorenje and PPD Zagreb dominated the month with some high quality individual performances from lower positioned teams also ending up rewarded with a place in the lineup. Here are the best from February.
GoalkeeperStrahinja Milic - HC VardarWhen Sterbik is not around Jumbo is ready to step in for the challenge. Three double-digit performances - 12 saves in Zagreb including the crucial one in the end as well as 14 against both Celje and Tatran. Goalies are definitely one of Vardar's biggest strengths again this season.
Left wingerTimur Dibirov - HC VardarHe simply never goes 'cold', not even this season when Vardar don't really have a top-quality replacement for him. His ease and efficiency were paired with some great numbers in February - 9 in Brest, 7 against Celje, 9 in Presov and 5/5 in Zagreb as icing on the cake of a perfect month for the flying Russian.
Right wingerRok Golcar - HC Gorenje VelenjeEven after Brumen left, Gorenje are not experiencing struggles on the right wing position. Au contraire! Golcar is doing a great job with 6/6 in Novi Sad, 5/5 against Metalurg and 4 against NEXE. Amazing kind of performances for someone who was a second-choice winger less than two months ago.
Line playerMarin Sipic - HC NEXEHis outings in the month behind us are yet another proof of the fact that young Croatian national team player is on the rise this season. His great scoring skills were on display in February with 6/7 against Gorenje, 5/6 against Meshkov, 2/3 versus Tatran. Calm and focused in key moments of the game. Not something you often see in 21-year olds.
Left backBorut Mackovsek - HC Celje Pivovarna LaskoCelje did fall short in two derbies in Ferbuary - against Zagreb and Vardar, but Borut Mackovsek was surely not the reason for that. He's managed to keep the EURO form scoring 7 against Zagreb and 11 versus Vardar. Deadly.
Middle backDomagoj Pavlovic - HC PPD ZagrebBiggest win for PPD Zagreb in February was without doubt Pavlovic' return after an injury. He proved what he means for the team in Celje stepping up for the challenge when it was most needed scoring 8 from 9 attempts.
Right backZlatko Horvat - HC PPD ZagrebHis skills as a right back are probably Europe's biggest discovery in February. In a moment in which Zagreb can no longer count on Markovic, with Vuglac and Vekic sidelined and Miklavcic slowly getting back after healing an injury Zlaja did an extraordinary job demonstrating his all-around skills. Remarkable 8/11 against Metalurg, 2 versus Vardar, 7 against Celje and brilliant performances in Champions League. Saracevic' biggest concern at the moment is how to tell him it's time to go back to the wing once the time comes.
CoachSergey Bebeshko - HC Meshkov BrestGreat job for Bebeshko in February! He's managed to keep the performance level high in all competitions: domestic league, Champions League and SEHA helping Belarusian champs secure F4 position. Third season in a row! Not something you see quite often.