EHFCL Round 9 recap: Gorenje clinch another home win, Vardar remain unbeaten
26.11.2017.

•

SEHA League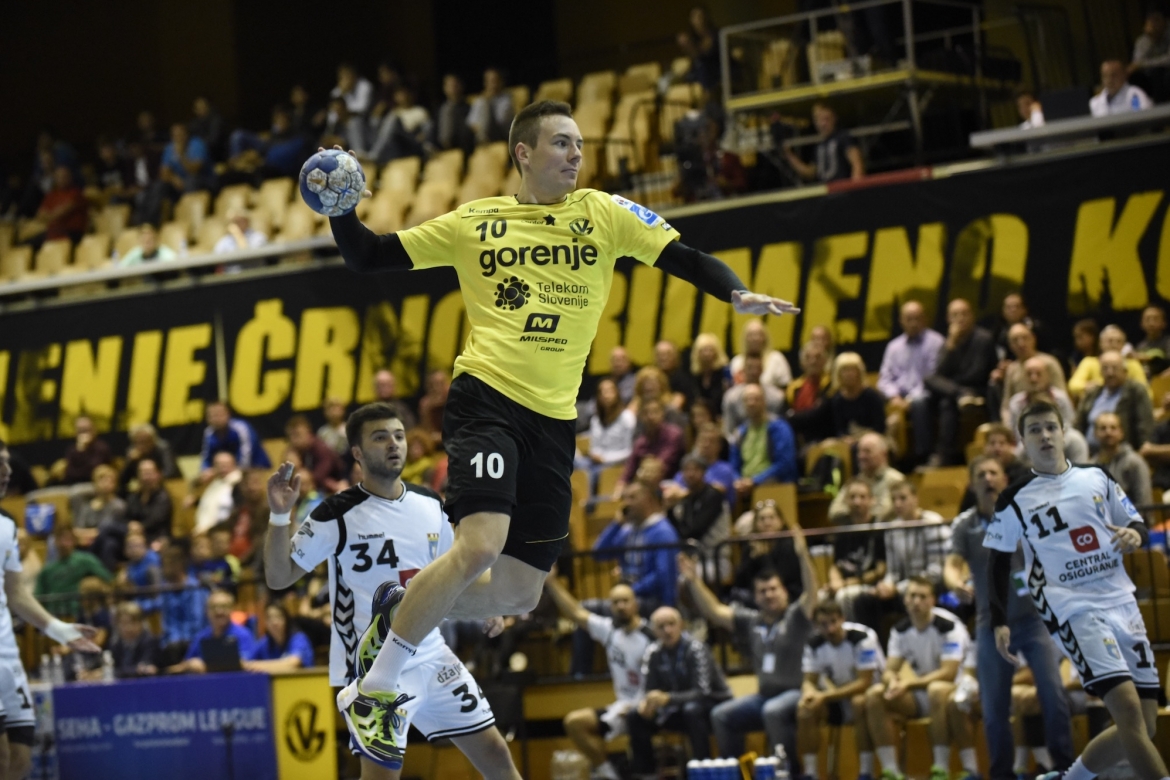 PPD Zagreb and Barcelona started the ninth round of the Champions League with a match in Arena Zagreb. Saturday saw Gorenje maintain their immaculate home record this season, but Metalurg and Meshkov recorded losses to Motor and Kiel. Celje and Vardar put up good fights against the German teams Flensburg and Rhein- Neckar Loewen, but were unable to win 2 points.
Group A: PPD Zagreb - FC Barcelona-Lassa 24:32 (11:16)
PPD Zagreb were without many players, but the absence of their top scorer Stipe Mandalinic hurt them the most. Barcelona started the match well, similar to the first one these two teams played a couple of weeks ago. Zarko Markovic took over the scoring role from Mandalinic, as he scored 6 goals to lead his team. On the other side, Barcelona were led by Dika Mem who scored 7, and two wingers Rivera and Tomas combining for 13. In the last 5 matches, Barcelona recorded just 2 wins-both against PPD Zagreb, whereas the Croatian team is still winless in the competition. They need to pick their form up, but Zagreb still have a chance to proceed to the next stage.
Group D: Metalurg - Motor Zaporozhye 22:30 (11:16)
As Metalurg were already far from the first two spots, they were playing without pressure of achieving a good result and decided to work on some new tactical approaches. Motor needed these two points, as they were second in the standings with a good chance of going to the next round. Darko Dimitrievski scored 5 goals for the Macedonian team, and Halil Jaganjac was again solid with 4 goals. Metalurg are now left with 5 points in Group D, holding the last, whilst Motor are second with 13.
Group C: Gorenje Velenje - Kadetten Schaffhausen 27:21 (10:11)
Gorenje were favorites entering the match, but they did not play well in the first half, as the Swiss team had the lead at the break. The Slovenians needed a win, and played much better in the second 30 minutes, scoring 17 and conceding only 10. Gorenje have now all 5 home matches they played in the Red Hall, having 12 points in total. Again, they were led by familiar faces, Niko Medved and Rok Ovnicek scored 5 each, with Cehte and Brumen adding 4 each. Kadetten are left with 6 points after 9 matches, quite a disappointing season for them in the Champions League.
Group B: THW Kiel - Meshkov Brest 33:23 (15:10)
Meshkov's recent poor form in the Champions League continued on Saturday, as they were heavily defeated in Germany to Kiel. This is their 4th straight defeat, with all 4 coming from German clubs Flensburg and Kiel. Once again, they were not playing well in the first half, especially defensively, as Kiel went on a 6-goal run to put the game out of reach early on. Wiencek, Vujin and Bilyk were the best performers for the home team, scoring 19 goals between themselves. For Meshkov, Kulak scored 5 and Yurinok added 4. This win gives Kiel 9 points in Group B, but Meshkov remain in a tricky situation with only 5 points after 9 matches.
Group B: Celje Pivovarna Lasko - Flensburg-Handewitt 27:30 (14:16)
It was a tough match for both sides, but Flensburg were the team clearly controlling the match, as they had the lead for a larger part of the game. Celje once again proved, no one can count on easy points in the Zlatorog Arena, but this they were not able to surprise everyone. Jan Jurecic stood out for the Slovenian champions, scoring 7 goals, but Daniel Dujshebaev was also a threat with 5. Jeppson and Steinhauser led Flensburg to their 4th straight victory, and 6th in total, by scoring 6 goals each. The German team now has 14 points and present a huge threat to everyone in Group B. Celje are currently 6th, ahead of Meshkov and Aalborg, but it is going to be a big fight for the next stage.
Group A: Rhein-Neckar Loewen - Vardar 21:21 (11:11)
In one of the most anticipated matches of the week, Rhein-Neckar Loewen were very close to defeating the reigning European champions. As expected, the match was really close all throughout, but perhaps Vardar will be the happier of two sides after snatching a point. Ivan Cupic scored the equaliser for Vardar in the last minute, but Arpad Sterbik was the ultimate hero, producing 14 saves. Dainis Kristopans and Timur Dibirov led all scorers with 5 goals each, and Canellas added 4 more. This is Rhein-Neckar's 4th draw of the group stage, and they have 12 points. Vardar now remain as the only unbeaten team in the competition, winning 7 matches and drawing 2, and of course they are the leaders of Group A.