Babic: "Future of Velenje handball was on the court today and I can say I'm proud of them"
Author: SGL, Published: 22.10.2017.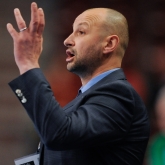 Gorenje Velenje - Vojvodina 37:20 (19:11)

(Brumen 9, Medved 6 / Grozdanic 6, Jovanovic 4)


Dragan Kukic, Vojvodina coach:
We started the match off in a good manner hoping we can achieve a good result. Locker room agreement was to prevent their fast breaks but we did not manage to do it. We were undisciplined, lacked focus. I'm sorry we were able to stay close for only 17 minutes because the audience was really wonderful.
Milos Grozdanic, Vojvodina player:
Well-deserved win for Gorenje Velenje. In the first half we did not do what we agreed to and our opponents were able to use our mistakes. After that we were better but it was far from enough to cut the lead.
Zeljko Babic, Gorenje coach:
We approached the match excellently, our young players showed their strength. Future of Velenje handball was on the court today and I can say I'm proud of them. I hope they'll deliver as good outings in national team jersey. In case that happens I'll be really happy because I was able to help them. At least a little. Against Serbian champions we showed solid, tough defense and on the other side we were patient in attack. Quality difference was obvious.
Jernej Drobez, Gorenje player:
Hard work is showing its results. It was an amazing feeling to score premier SEHA Gazprom League goal. I'd like to thank coach, my teammates and everyone else I wouldn't be able to do all this without. We followed instructions we were given before the match. We were disciplined, played good defense and scored some easy fast-break goals.
Photo Gallery